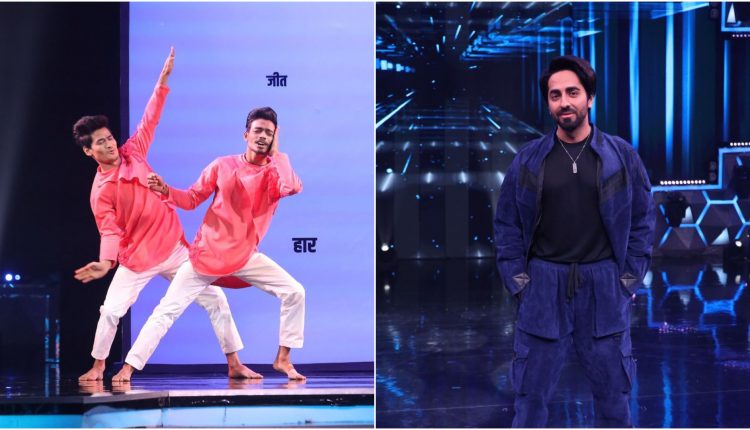 Also read in
[multilanguage_switcher]
Ayushmann Khurrana invites Silchar's Dibbay Das for a meal at his home on India's Best Dancer stage
The upcoming episode of India's Best Dancer 2 will see actor Ayushmann Khurrana and Vani Kapoor gracing the show. While they will be up promoting their film Chandigarh Kare Aashiqui, the actor will invite Dibbay Das for a meal at his home.
Silchar resident Dibbay Das has been working as a food delivery boy in Mumbai. While talking about his struggle, Dibbay will reveal that he has made a lot of deliveries in Ayushmann's building, each time hoping to run into him, however that never happened.
Upon hearing this, Ayushmann Khurana will graciously invite him home saying, "Dibbay, after the show, I will give you my address, and I invite you to come home and have chicken with me, since it's your favourite."
Not only this, Ayushmann wouldn't stop praising Dibbay's performance. "After looking at the act and what it conveyed, I am reminded of my own journey. I think, without failure, there can never be wins. Success is a very lousy feature, failure is your friend and philosopher in life. If you see failure early in life, it becomes easier for you to navigate through life. I know it because I have faced it. Dibbay, your journey is so inspiring. I often say this, success is nothing but when our preparation meets an opportunity. We just have to be prepared in life and you Dibbay – you've prepared to take on this opportunity. Congratulations guys, you were absolutely brilliant," he shared.
Dibbay Das will be in for a bigger surprise when host Maniesh Paul will make a call to Dibbay's mother in Assam. Seeing her after three years, the young dancer will break down looking at his mother. Dibbay's mother will complain that he never told her that he used to eat in langars everyday. Needless to say, their conversation will even get judges – Malaika Arora, Geeta Kapur and Terence Lewis emotional. They will even assure Dibbay's mother that his hard days are over, he's been doing his best and that they are so proud of him.