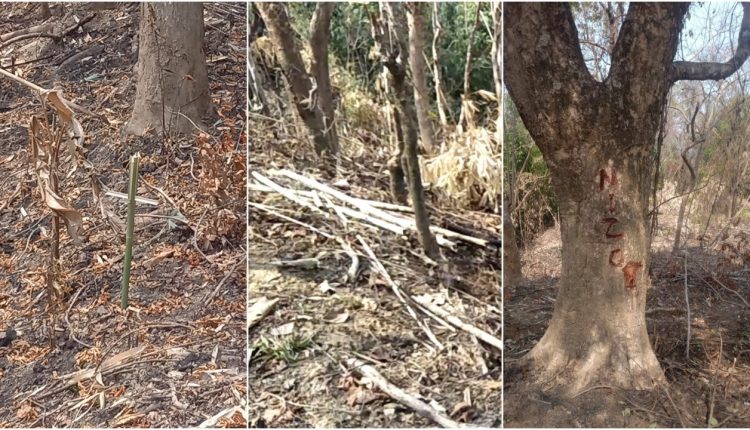 Another alleged Mizo intrusion; Bamboo with cross marks planted to demarcate land, forest area breached
The Assam Mizoram border dispute seems to be far from the tumble, as a new incident of intrusion and rampant deforestation of Assam Reserved Forest land has sparked a fresh sense of fear among the border residents.
As per the locals of the border area, when the Assam police forces have gone busy with the conduct of Assam Assembly polls, the Mizoram unscrupulous took to the misdemeanor of occupying Assam forest land and redrawing the border as per their own will.
It is also learned that the Mizo aggressors have demarcated their 'occupied' lands by planting around 50 bamboo sticks, with cross marks on them, across the Rengti hills in the Assam-Mizoram border.
Apart from this, the Mizo miscreants are trekking to the Assam side of the Rengti hill and practicing the unscientific Jhum cultivation to axe and burn trees, that were planted and nourished by the Assam forest department for years.
Recent images that have emerged from the said location also pictures 'Mizo' written over large trees, warning the forest area ahead of the point belonging to Mizoram side.
"Our team has reached the spot and will investigate the matter on whether the said land comes on Assam or Mizoram state. Jhum Cultivation is very well practiced on the Mizoram side," Cachar DFO Sunnydeo Choudhury said to this website when contacted.
Environmentalists have alleged that from the last few weeks these people have burnt down a massive amount of reserved forest land which is negatively impacting the environment and ecosystem. The locals shared deep resentment on the rampant deforestation and expressed apprehension of Mizo terror if central forces are not increased on the border.
The locals also took to complain against the withdrawal of armed force from Dholakal LP school, which was last year placed after border flare-up with the Mizoram.
All Cachar Karimganj Hailakandi Students Association (ACKHSA) Rupam Nandi Purkayastha on Wednesday claimed to have visited the border area and lashed out at the Assam government for failing to understand the seriousness of this ongoing Mizo intrusion. "The way Mizoram side is advancing to the Assam land is a serious issue and govt should immediately interfere in the matter. If state govt fails to wake from the deep slumber then the day is not far away when the entire Rengti hills will be on Mizoram map" Purakaystha quipped.
Mizoram shares a 164.6-km border with three districts of Assam. Several dialogues held since 1995 to resolve the border dispute have yielded little results. The two states are often at loggerheads over the boundary, which they dispute.