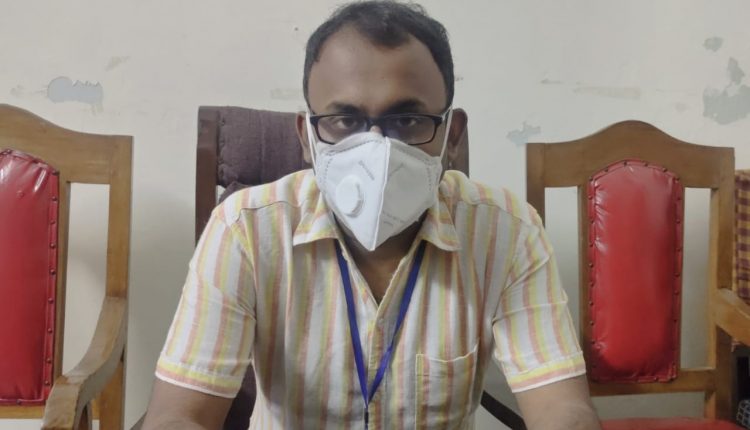 Cachar Health department responds to Jamal Uddin's allegations; says they're "bizarre" and "demoralising"
Yesterday, Barak Bulletin published an interview with Assam's first Corona patient, Mufti Jamal Uddin. During the interaction, Karimganj resident, who got discharged on May 6, said that he has his doubts if he was "at all infected by Coronavirus". Sharing his experience inside the COVID block, he said he was "mentally harassed". However, he thanked the Principal of Silchar Medical College, doctors, nurses, and other staff who attended him. He also appreciated minister of Health Himanta Biswa Sarma's efforts to connect with him.
Cachar district's health department has found his claims bizarre and insulting. Responding to the allegations made by Jamal Uddin, Suman Choudhury, media expert, District Health Department said those words were insulting for the staff that worked relentlessly to cure him as well as for those who are currently working round the clock. Speaking to Barak Bulletin, Choudhury said that Jamal Uddin was always "difficult" to handle for the staff at Silchar Medical College and Hospital.
Not only Suman Choudhury but few others in the medical college also reached out to Barak Bulletin after reading the interview and alleged that Jamal Uddin has always been a troublemaker. One of the staff who attended him said, Jamal Uddin had shoved a glass bottle inside the commode in the COVID block which clogged the drainage. "We had to send a plumber dressed in PPE in the isolation ward to get it fixed," said the staff.
In an interaction with Biswakalyan Purkayastha, Suman Choudhury responded to the claims made by Jamal Uddin.
Edited Excerpts:
Jamal Uddin questioned the integrity of the test. He said he has his doubts if he was at all Corona-infected, your comments?
Jamal Uddin is the first resident of Assam to test COVID positive. When we conducted his test at Silchar Medical College and Hospital we had our set of reservations too. The testing facility was at its infancy and we did not want to take any chances, that is why we decided to send the draft to NIV in Pune which is a renowned and recognised institution. They recognised the test done in SMCH and only after that we declared Jamal Uddin as COVID positive.
Wasn't he tested multiple times, is it possible that the reports weren't shared with him?
Whenever somebody is admitted to SMCH or in fact, any other hospital, there is a ticket that is issued to that patient, and a file is maintained for each ticket. Whatever medicines prescribed and the reports of the tests conducted are kept in the file. There is no question of him having any doubts regarding his diagnosis. Here I would also like to mention that the microbiology department at SMCH is working round the clock to ensure the tests are done in time with accuracy. Jamal Uddin's public statement questioning the integrity and authenticity of the diagnosis is actually an insult to all the experts in the microbiology department. It is demeaning and demotivating for them.
How many times was he tested?
We conducted 13 tests before discharging him. If he was not a Corona patient, why would we keep him at the COVID ward? Why would we test him so many times? After getting discharged and cured, it is really unfortunate that he is making such bizarre claims. The test kits are expensive, why would the government waste so much money if he was not a Corona patient?
He had other medical complications too and it took him the longest to get cured. Can you share some details about his medical history?
See, we can make each and every report public but we have certain restrictions and we need to follow the protocols. He is suffering from diabetes and blood cancer. Considering the comorbidity, the medical team in Silchar Medical College and Hospital consulted specialists in and outside Assam to ensure that they are not leaving any stone unturned. I can't share the medical history of the patient but can assure that the doctors had to work the hardest to get him cured. Instead of being thankful, he is bringing in some allegation which is heartening, demeaning and demoralising.
He also questioned the treatment offered to the patient from Hailakandi who unfortunately succumbed…
I think it is his mentality to question everything, especially the healthcare facility. The Hailakandi patient was treated with the utmost care and sophistication. The moment his condition deteriorated, he was shifted to the Intensive Care Unit. The doctors did everything they could to save him…
You spoke about mentality. How was Jamal Uddin as a patient inside the COVID ward?
COVID ward in an isolation ward and it won't be fair for me to disclose things that happened inside. I can say this much that Jamal Uddin was not an easy patient to deal with. He was not willing to cooperate at all and caused some trouble too. All of that is in the public domain already as Dr. Bhaskar Gupta (VP, SMCH) has briefed the press about such incidents whenever they occurred. Initially, he tried to hide his travel history multiple times and at times even fed us the wrong information. When he went to Cachar Cancer Hospital, he was asked by the doctors to get tested for COVID at SMCH, but he did not do that either…
Lastly, he made a claim that in his discharge slip, Corona or COVID is not mentioned anywhere… 
I have not seen his discharge slip and therefore I won't make a comment about that. However, if he feels he was cheated, instead of making bizarre claims he should lodge a Police complaint. We are also bound by law and we will answer all his questions legally. Why is he not doing that? We did not take a penny from him, we provided him clothes, we took care of his food, what is it that we didn't do for him? When he was discharged, he appreciated and thanked the doctors and staff. Why would he do that if he felt he was cheated?
To read the interview with Jamal Uddin, Click Here
Edited By: Anirban Roy Choudhury 
Please note: The interaction was done in Bengali and the English version is a translation based on our interpretation.