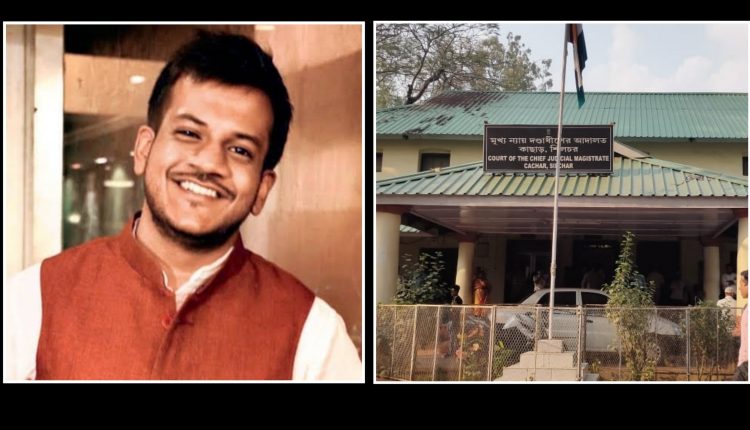 Controversial Facebook Post: Court grants bail to lecturer Souradeep Sengupta
Guest Lecturer at Gurucharan College's Department of Physics, Souradeep Sengupta who was arrested by Cachar Police on the basis of an FIR lodged by a set of GC College students has been granted bail.
Court of the Chief Judicial Magistrate Ranjan Bramha heard both the parties and after going through the Case Diary that was submitted by the Police judged in favour of granting the bail.
"Souradeep Sengupta's posts are anti-national and can provoke a communal unrest in the zone. Our submission to the Court was that he must not be granted bail immediately as that could derail the investigation. We also pleaded to the honourable court to ask Police to investigate the matter further as there could be a deeper connect with anti-national forces who are trying to wage a war against India," said Ratnankur Bhattacharjee, Government counsell.
Souradeep Sengupta's lawyer, Niladri Roy countered and said, "Law is above all. Bail is a part of the law and there is no reason why he should not get bail. We believe that anybody can criticise any Prime Minister in a democratic country and our argument was that Souradeep's post was blown out of proportion."
Roy added, "As far as his posts involving religious sentiments are in concern, he has already apologised."
The court ordered that Souradeep Sengupta is granted bail on two conditions, one that he will not leave Cachar without prior permission and two he has to cooperate with the investigating officer of Silchar Police Station.
Souradeep Sengupta's post that created the controversy read, "The BJP and RSS are trying to recreate Godhra in Delhi right now. People on the street are getting their IDs checked to see if they are Muslim – if they are, they are getting beaten mercilessly. Hindu houses are being marked by saffron flags, while Muslim houses and mosques are being petrol-bombed. All while these terrorists shout Jai Shree Ram. Sanatan Dharma my foot. We elected a mass murderer twice as PM – this is what we get. Everyone who voted for BJP should know they sold the country off for a few bucks."
In another such controversial post, a screenshot of which was attached with the FIR he wrote, "Hindutva is a Cancer. Wake up, people."
However, Sengupta deleted all such posts and apologised publically by posting, "I apologise for any religious sentiments I may have hurt by my posts. I made some irresponsible comments about a communally sensitive issue. It was a lapse of judgment. My intention was not to insult any religion at large."