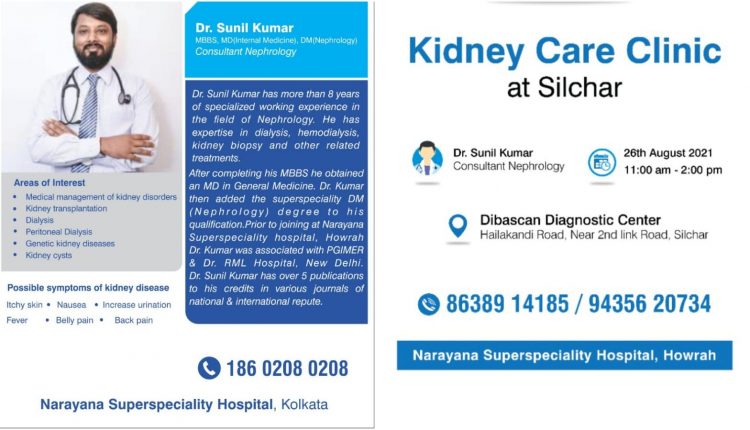 Dr. Sunil Kumar, specialist nephrologist from Kolkata will treat patients in Dibascan Silchar
Kidney disorders and complications are one of the most deadly and painful health issues people face these days. Due to an unbalanced diet and other issues, complications resulting from kidney issues have managed to take away many lives over the years.
Fortunately, people of Silchar, who otherwise have to seek consultation regarding such complications from doctors or experts from outside of the Northeast region for better treatment, can now avail kidney consultation and treatment of top quality sitting in the town itself. Dr Sunil Kumar, a renowned Nephrologist who works at the Narayanan Superspeciality Hospital in Kolkata, will now be visiting Silchar's Dibascan Diagnostic Centre on August 26 for a limited number of patients.
Dr Sunil Kumar has more than 8 years of specialized working experience in the field of Nephrology. He has expertise in dialysis, hemodialysis, kidney biopsy and other related treatments. After completing his MBBS he obtained an MD in General Medicine. Dr Kumar then added the superspeciality DM (Nephrology) degree to his qualification. Before joining Narayana Superspeciality hospital, Howrah, Dr Kumar was associated with PGIMER & Dr RML Hospital, New Delhi. Dr Sunil Kumar has over 5 publications to his credits in various journals of national & international repute.
Dr Sunil Kumar has expertise in areas like Kidney transplantation, Dialysis, Peritoneal Dialysis, Genetic kidney diseases, Kidney cysts. On August 26, he'll see patients from 11 am to 2 pm at the Dibascan Diagnostic Centre, near 2nd Link Road, Silchar. Those who want to book an appointment can do so by contacting one of these following numbers – 9435620734, 6003573699, 6003581230.