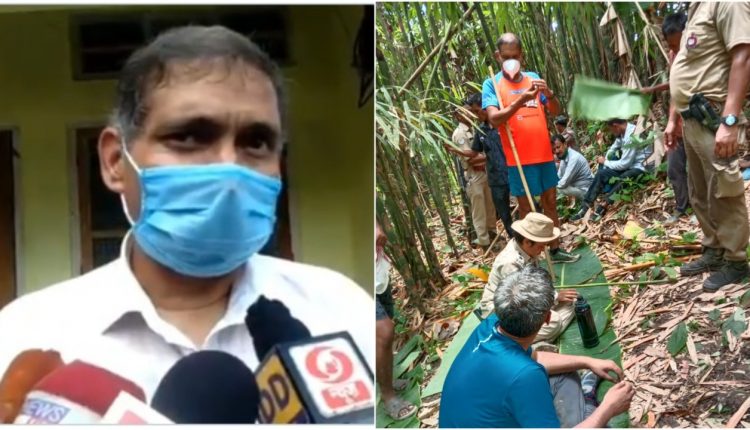 "Forest department will take action against encroachment, constructions," GD Tripathi after inspecting borders
Assam and Mizoram are neighbouring states since 1972 when Mizos separated away from Assam to be a union territory. In 1987, Mizoram became a state and the two states since have remained as friendly neighbours with unfriendly borders. Most of the 165km interstate borders that the two states share are dense forest. In the last two years, they have become tensed-dense forests.
Jawans of Mizoram IR Battelion guard most parts of the borders with guns and sticks. There are local Mizos too who don't fear taking law in their own hands. Last year, more than thirty houses and dwelleings were set ablaze in Hailakandi and Cachar in several untoward incidents. Schools were bombed and a resident of Assam was killed in the official custody of Mizoram. Locals of Cachar and Hailakandi reciprocated the Mizo-aggression by blocking the National Highway that connects Mizoram with the rest of the country. This disrupted the supply of essentials to the state.
Several meetings took place between the top bureaucrats of the two states and as they failed to reach a consensus, the Home Secretary of India Ajay Kumar Bhalla had to intervene. Visits of Chief Secretary, DGP Assam and several other senior Forest Officers continued. Assam broke to elections and the focus shifted away from the borders. But last week, again two houses were set ablaze in Hailakandi and that prompted the officials in all three districts to go for inspections. The officials found anamolies which were reported to the Commissioner & Secretary, Environment and Forest and CEO, ASDMA, Gyanendra Dev Tripathi.
Earlier this week, the top bureacurat visited Barak Valley to inspect the forest areas in all three districts. He was stopped by a few armed twentysomethings within Cachar. The Mizo forces are still guarding the borders and they continue to demarcate new borders deep into Assam. After completing his inspection in all three districts, GD Tripathi, in an exclusive interview with Barak Bulletin talked about his observation.
Here are the edited excerpts.
What did you observe in your recent visit to the inter-state borders in Barak Valley?
After the inspection of the Assam Mizoram borders in the Forest Area, we found that whatever forces were deployed by Mizoram on our side of the border which was earlier agreed that they should withdraw has not ben done yet.  That is what I could see at Karimganj and Cachar.
What about Hailakandi, where we saw fresh tension?
In Hailakandi district, I went upto that last point of inner line forest and there I saw that some new structures have come up. Construction of new structures is a violation of the Reserve Forest Act. The forest officials will take action against such structures.
Did you discuss about it with your counterpart?
Before visiting the borders in Cachar, Hailakandi and Karimganj, I have had a discussion with my counterpart in Mizoram on June 10. We are in continuous touch with the counterparts in the neighbouring state as well as the Central Home Ministry. That is a routine exercise – an integral part of border protection and development.
While Assam's border is well-defined, the chief secretary of Mizoram said they don't agree with these "imaginary" lines drawn without proper survey. He calls it disputed land…
There cannot be a dispute with respect to the boundaries of Assam. There can be a demand but not a dispute. They can demand that the boundaries should be something else. When they demand that this should be the boundary and that must be the demarcation, it is not that they don't know where the boundaries actually are. The boundaries of Assam are well-defined and known to them.
What will be the way forward, two houses have been recently set ablaze and the SP of Kolasib said Bangladeshis living illegally in Assam are creating these troubles as they have some vested interest?
I would not like to respond to that comment as these are plots to divert the attention from the issue we have in hand. We are very clear on our stand which is there is a clear-cut boundary demarcation between Assam and Mizoram and there is Reserve Forest within the territorial boundaries of Assam. Reserve Forest Protection requires certain actions by the Forest Officials which the Forest Department will take.
So the way forward would be dialogues while encroachment and unauthorised constructions continue?
The dialogue will continue with Mizoram and the Centre, as I mentioned these routine exercises to develop and protect borders. While the discussion continues, we will emphasise and urge the forest department to take action.