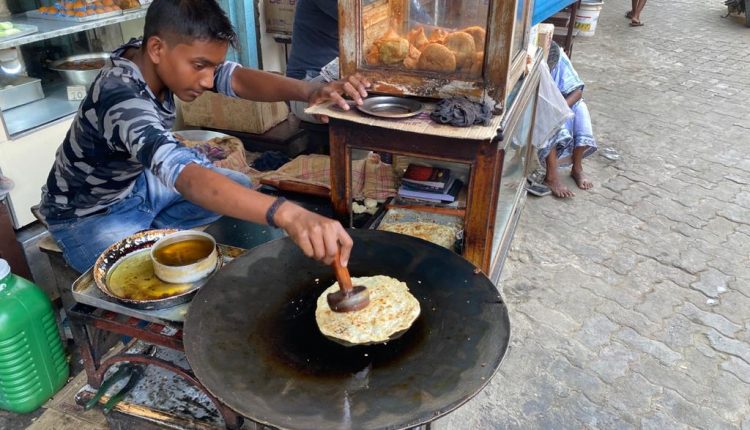 How "Aboundant" Road in Silchar became Porota Patty; What's lockdown done to the stalls
While walking from Khudiram Bose's statue towards the District Court in Silchar, after crossing the deputy commissioner's office, there is a small lane next to a temple. Many call it the Lakshmi Narayan Mandir but a little into the narrow lane, it becomes Porota Patty.
In 1975, during the emergency period, Pranesh Paul and Narayan Paul – both related to each other started selling Porota during lunch. They sat on tables with kerosene stoves and made one after another. "It was an instant hit," recalls their next generation. Soon two more stalls opened and primarily they cater to the visitors of what is known as "office para".
DC's office, District Court, Water Resources office, Settlement Office, PWD office, from buying a plot to selling house or job interviews and legal battles, people visited office para and continue to do so for a variety of official purposes. "While the office bearers got their lunch, the visitors had to rely on the food available by the street. Porota with gugni filled hunger and its slow digestion helped them sustain longer. Probably that was the reason it became so hit," says a store owner.
Pranesh Paul and Narayan Paul's table-top stall has now transformed into Hiranmoyee Mistanna Bhandar. Many say it all began with Hiranmoyee Mistanna Bhandar but a couple of store-owners debated it too.
The narrow lane witnessed footfalls in hundreds every day. And gradually it became Porota Patty. In fact, the word of mouth got institutionalised too. The municipality's milestone calls it Porota Patty.
What was it called before the Pauls started selling Porota? "Aboundant Road" is the answer. Aboundant is an obsolete spelling of abundant. Why the British called it Aboundant road and not Abundant road is something the remains unclear. Locals who run stores there are as clueless. However an old lady, who despite many requests refused to reveal her name, said that it was related to the supply. Apparently the ships were unloaded near Sadarghat and the supply "was abundant" in that stretch making it "Abundount Road".
While it would have been tough to believe that Silchar still has something called the Aboundant Road, there is a store that carries a signboard with that name.
Aboundant Road to Porota Patty was a pleasant journey for the shop owners. Also, it serves a purpose as Khao Galli does in Mumbai or UPSC Corner does in Delhi. Affordable but tasty food that fuels the working class. However, lockdowns last year and curfews this year is bringing more changes to the street. A couple of the shop owners have fired their cook – mostly young boys. There are more empty benches (porota patty has desk and benches and not chairs and tables), idle workers and more produce. "Sales are terribly down" they say.
According to the ongoing regulations, all stores need to shut by 1 pm. "Nobody feels like eating Porota before 1 pm. Our business started after 1 pm," says a shop owner selling Porota and Sweets for more than three decades. "We have now reduced our diary products. The produce hardly finds takers and they catch a foul smell too soon. Two brothers used to sit here at the store and now only one of us do while another is searching for some other job," the owner adds.
Hiranmayee Mistanna Bhandar, the first store and also the largest selling one is also going through a tough time. The owners say that earlier they used to sell Porota worth dough of 12 to 15 gamlas (large bowl) but now they only manage to sell three on good days. The sales are down to one fourth.
Unless the court, post office and other institutions of the office para start getting busier, the Porota makers will find it difficult to regain sales. How many "Karigars" (human resources) they will manage to retain is something that's worrying the owners of Mistanna Bhandars.