How Silchar's Sahil Tailors lost its joy during pandemic, flood: Looks forward to swift business during Durga Puja

While the shopping streets of the town are bustling with the hubbub of shoppers, there is another crowd busy negotiating the dates for getting their clothes fitted. Fall, pico, alteration, blouse stitching are among the lingua franca right now at any tailor shop, particularly ladies' tailor. This is an age-old profession and the tailors have taken the sacred oath of giving us our dream outfits.
Technology has not touched their profession much, they are still using the manual "Usha" or "Singer" machines which run with a tune in unison. Ready-made garments and now online shopping have undoubtedly ruined their business and above that, the two years of the pandemic. In context to Silchar, flood was yet another unnecessary evil. Barak Bulletin tried to understand their grief of one such tailor and the business now with the puja season in the air.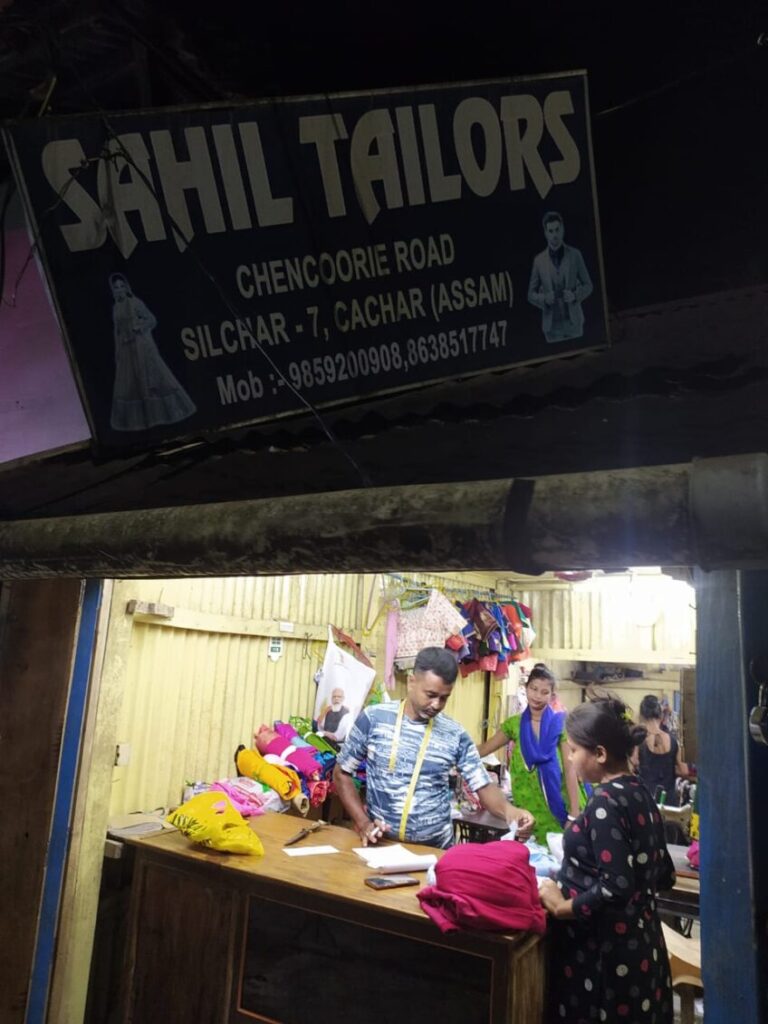 "Sahil Tailors", owned by Hilal Ahmed Laskar set up his shop 25 years back in Chengcoorie Road, Silchar, along with his brother-in-law, Badrul Islam Laskar as partners. He had 12 employees, who worked with him and his business grew with every passing year. Hilal was a happy family man and his life was a smooth sailing ship for 22 years of business until the COVID pandemic hit them. The pandemic had undoubtedly hit the entire world awfully, but the family of Sahil Tailors had to face some unthinkable hardships.
Hilal lost his business partner and support Badrul Islam to COVID. They were not able to open the shop for almost two years and were practically unemployed. In order to make two ends meet, Hilal had to sell his motorcycle and auto-rickshaw, but the worst was yet to come. He didn't want to be burdened with debt, but had to feed his family. So, he had to make the probable biggest sacrifice of his life that no parents would. He withdrew the admission of his children from a private school of Silchar, Ramanuj Vidya Mandir to the government-run Normal School. But that was not it, he also had to sell a plot of land to reopen his shop, with the hope to get back to life as it was.
But even after everything, the family did not lose hope. They resumed their work post pandemic and have been working twice as hard since then. But this year, they witnessed yet another cruel challenge–the floods. Among the thousands of affected families in the town, the Laskar family was one of them. The disastrous floods washed away their years of hard work. Three counters, nine machines and bundles of clothes were destroyed. "I don't have a problem if there's another pandemic or flood, nothing else is left of me to be taken", said Hilal in a rather sarcastic tone. Upon asking about the help from the government relief funds, his exact, rather shrewd reply was, "Yes yes, we received a ton of help from the government sure, they threw us a five rupee packet of Britannia biscuit from a helicopter worth more than a crore."
Their sales have still not caught up to the way it was before the pandemic. The staff has come down to 3 now. The sales plummet might also be due to other factors like the revolutionary rise of online shopping. Sahil Tailors started off with both ladies and gent's garments but now they have become typical "ladies tailors", as the gents' section business hit the rock bottom. The pandemic has made us all fairly used to online shopping and for obvious reasons their business took a serious hit.
Durga Puja, the most awaited and grand festival of the year, is around the corner. This is the busiest time of the year for Sahil Tailors. Their sales go up by one hundred percent during this period. Though they do not have to hire new staff members to lessen the workload, they work day and night to meet the demands of their customers. Ranging from bankers to teachers, from homemakers to lawyers, all count on this gentleman and his expertise of over two decades. Sahil Tailors has seen it all, highs and lows of business, and of life, and are moving forward hoping for the best.