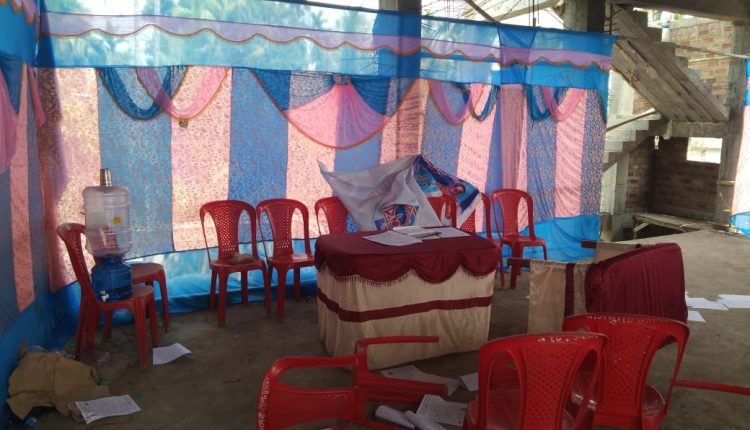 Independent Candidate Ashish Haldar's election office vandalised in Sonai; Allegations towards BJP
Independent candidate Ashish Haldar's election office in Sonai has been vandalised. The party-workers had left the office located in Sonai opposite Satsang Vihar (Anukul Thakur's Ashram)  at around 11:30 pm on Wednesday. When they reached the next morning, they say that the office has been vandalised.
"This office is located on the second floor of Juli Paul's personal property. We took it on rent and are working from it. When we walked in last morning, we saw that the chairs have been broken, the amplifier is missing, they took away the voters' list and installed posters of BJP after removing our posters," said an office-bearer of Ashish Haldar's election campaign.
It is worth mentioning here that Ashish Haldar is a former primary member of the BJP. He had asked for the ticket but the BJP decided to stick with incumbent MLA Aminul Haque Laskar. Dejected by the party's decision, Haldar decided to contest the elections as an independent candidate. His symbol is Auto-Rickshaw. He is contesting against AIUDF's Karimuddin Barbhuiya and former colleague in BJP, Aminul Haque Laskar. He has been playing the Hindu card all throughout in his campaign as the other two candidates belong to the minority community.
According to Haldar's supporters, Aminul Haque Laskar is rattled by Haldar's growing popularity and that is why they are vandalising the offices. Speaking with Barak Bulletin, Haldar said, "The attack on his office is unfortunate." However, he did not blame Aminul Haque Laskar or BJP supporters, instead said he was not there on the spot.
Aminul Haque Laskar's supporters ruled out any such attack on Ashish Haldar's office. Instead, they countered the allegations by putting the blame on Haldar's supporters. "They have done it themselves to get sympathy, but this won't help them as the people of Sonai trust Aminul Haque Laskar," said a BJP worker.