Malin Sarma, Sayantan Chakraborty, Dulal Paul; Will their deaths give birth to a political alternative?
I started writing this a week back and by the time I could finish, Falu Das also joined the list. Now that you are free from the detention camp, rest in peace Mr. Das. If you meet, Dulal Chandra Paul somewhere, do let him know that candles were lit in his memory…
Three recent deaths have awakened the conscience of a section of the population from its slumber. Malin Sarma – cause of death – road accident, Sayantan Chakraborty – cause of death – cardiac arrest, Dulal Chandra Paul – cause of death – Diabetes and Renal Complications. While these are the causes on paper there are more to it which is what got people to walk the road.
Malin Sarma was crushed by a speeding dumper truck in the heart of the town, Tarapur and the truck is still missing so is its driver. 25-year-old Sayantan Chakraborty needed to undergo angioplasty which Silchar Medical College and Hospital could not facilitate and hence he died. Dulal Chandra Paul needed regular visits to a mental asylum for treatment. The 65-year-old was kept in the detention camp while he needed to be at a health care centre and hence he died.
There is an obvious pattern to all the three deaths – negligence. A day after Malin Sarma's death, angry, outraged, hurt people started protesting, demanding, alleging and at times in an ill-mannered fashion. Few facebook lives, controversies, abuse were thrown at the administration and that is the end. The wound that Malin Sarma's death had left on people is now healed and it is just the scar that remains.
News of Sayantan's death broke in the evening of Bijoya Dashami. At a time when people were wishing each other "Subho Bijoya", Silchar realised that in a city where a 25-year-old dies due to lack of medical facilities, Bijoya cannot be Subho. If Malin Sarma's death brought the cultural fraternity to the road, Sayantan's death irked the youth. Don't get me wrong, he was very active and popular in the socio-cultural fraternity too, but the general youth made the difference in the outrage.
It started with an outburst on social media followed by an online petition then a candle march in the heart of the town, signature campaign, submission of memorandum. The outrage was more organised and millennial in nature. They reached out to the people in power. From Silchar MLA, Dilip Paul to the Health Minister of Assam and often recognised as the Amit Shah of East, Himanta Biswa Sarma. Thousand Sayantan (a group formed after the death of Sayantan Chakraborty) did leave a mark. But again, how long before the mark fades off?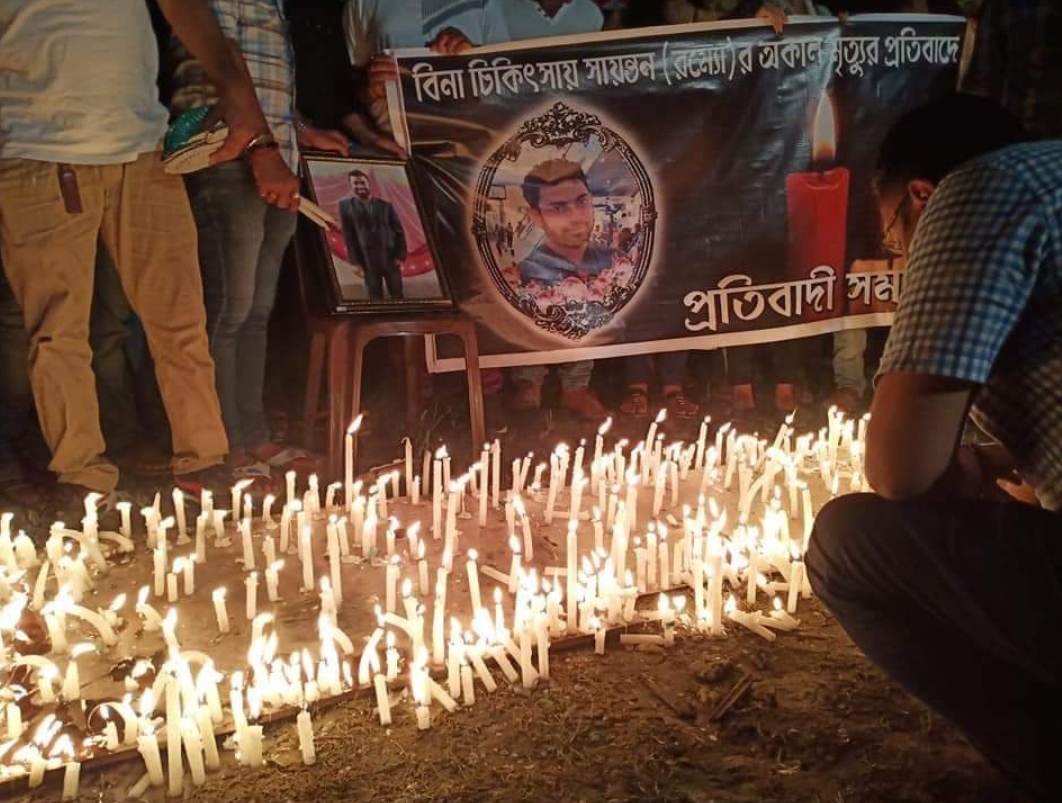 Dulal Chandra Paul's death at 65 would have gone unnoticed for sure if he was not a detainee at Tezpur Detention Camp. The ambulance that reached Gauhati Medical College and Hospital 15 days before Paul's death, had not stretchered him from his bed at home but it sirened out of the detention camp. That got a few political associations especially the ones inclined towards the right thinking. On one side when the Hindus are assured that they need not worry (about what) how is it that many Dulal Chandra Paul and Falu Das are dying in detention camps.
Mashal Michil was organised in Silchar, more demands, more accusations, more assurances and the cycle continued as it did after Malin Sarma or Sayantan Chakraborty's death. This is Barak Valley, the assurances do not mean much here. Take Prime Minister Narendra Modi's assurance to demolish detention camp or to rejuvenate Paper Mills. None happened. It is not only the current government, the Congress, in fact, assured the broad gauge and continued to delay it for as long as 20 years.
So, here comes the larger question. What are we going to get out of this candle marches and Bandhs and revolts?
The fight is Political and thus the Michils or candle marches bring in hope. Hope for what? Birth of a new alternative! If we all remember the 'Indian anti-corruption movement, which gained momentum in 2011 after activist Anna Hazare went on a hunger strike with the aim to pressurise the then government to introduce Jan Lokpal Bill. This is the movement that made Sharad Pawar resign as the Agriculture Minister of the country as he was accused of corruption by Anna and the team. Manmohan Singh government went to form a joint committee under the chairmanship of Pranab Mukherjee.
This did not end there. The movement gave birth to India Against Corruption which then went on to result in the formation of a political party, AAP (Aam Admi Party) in 2012. A year later it made its electoral debut in 2013 Delhi Legislative Assembly elections. After winning 28 of 70 seats AAP emerged as the second-largest party in Delhi. Congress offered its support to AAP and Arvind Kejriwal became the chief minister of Delhi. Within a span of a year, a civil society activist became the chief minister of the national capital. Political Pundits called him opportunist as he took support from Congress the largest party in the UPA government, the one Kejriwal himself was pointing fingers at.
However, APP could not pass the Jan Lokpal Bill in Delhi as it did not have a majority and so it decided to resign from the government bringing an end to the 49-day-tenure. While people started writing off the "Muffler Man" in 2015 when the Modi Tsunami was sweeping states after states (it still continues to win..) AAP stopped it in Delhi. Out of 70 it won in 67 constituencies and Kejriwal became the CM again.
I am not saying Kejriwal is a great political example. The fact that Yogendra Yadav and Prashant Bhushan are not in AAP any more itself says there are issues, both in the party as well as with the leadership. However, it was indeed the birth of a political alternative that took on the Goliaths and changed the political dynamics.
Poor traffic conditions or lack of medical infrastructure or people dying in detention camps. How do you fix these problems? The answer is simple, legislation and thus by joining politics. In Barak Valley, currently, the right is opposing and questioning and accusing the right. It is the NELECC, Hindu Samhati and the likes who all supported the BJP government before elections are now demonstrating, protesting against the same party. Which easily signifies that there is hardly any political alternative.
Will these three deaths, the movements, the candle marches give birth to a political alternative? An AAP or a Kejriwal? If not a new winner then at least a formidable competitor? A voice? An opinion? If that does not happen then there is no reason why, the death – movement – assurances – vote – death… should change.
There is a status quo and somebody is benefitting from the status quo. Change it and the Sayantan will not get out of the field retired hurt at 25.
The author of this article is a banker by profession and lives in Bangalore. The views in the article are his personal. He can be reached at avijit1965@gmail.com