Right from her childhood, Saikhom Mirabai Chanu had started showing signs of her immense physical strength. She used to lift heavy logs of firewood even as her elder brother found it difficult to do so. On July 23, 2021, when the 26-year-old girl from Nongpok Kakching town in Manipur won the Silver medal in weightlifting in the 49 kg category in Tokyo Olympics Mirabai displayed her mental fortitude.
She has overcome many tough hurdles on her way to achieve the remarkable feat in Tokyo which has catapulted her to a unique position in the annals of sporting history. Mirabai is only the second Indian woman after P.V. Sindhu to win a Silver medal in the Olympics.
It is for the first time since the Sydney Olympics which was held in 2000 that India has won a medal in weightlifting. Karnam Malleshwari had won the Bronze medal in Sydney.
Things did not look so bright back in Rio 2016
But things did not look so bright back in 2016 when Mirabai made her Olympics debut in Rio de Janeiro. She failed to register a single legal lift in Clean and Jerk while managing only 82 Kg in her second attempt in Snatch. She was one of the only two weightlifters who failed to register a total in Rio.
Following her dismal show Mirabai went into depression. It was a tough phase in her life as she was unable to come to terms with the disappointment of Rio 2016. She had to take help from psychologists to exorcise the demons of her mind.
No matter how difficult things were Mirabai refused to give up. She put in the hard yards-always striving to improve her game. Her efforts paid off and she made a brilliant comeback by winning the world championships in 2017.
Fought back from injury layoff
There was no looking back from then onwards for this brave sportsperson. She grew from strength to strength in every international tournament that she participated.
Mirabai set the world record in Clean and Jerk by lifting 119 Kg at the 2020 Asian Weightlifting Championships held in Tashkent. Even then the road to glory was not an easy one for Mirabai. She suffered a serious back injury in 2018 which even puzzled the doctors as they were unable to diagnose the cause.
It forced her to miss the Asian Games and World Championships in 2018. She remained undeterred and once again made a strong comeback.
There is something special about these Manipuri girls
It helped in more ways than one that Mirabai hails from Manipur. The Northeastern state boats of a rich tradition in sports and has produced many world class sportspersons. It is no mere coincidence that Mirabai is not the only Olympic medallist from Manipur. Mangte Chungneijang Mary Kom had won the Bronze medal in women's boxing in London Olympics 2012.
Mary Kom is also participating in Tokyo 2020 and can very well win her second medal in the quadrennial event. Mirabai, who at some point in time in her career wanted to be an archer, was inspired by another world class weightlifter from Manipur, Kunjarani Devi to take up the sport. She wanted to emulate Devi who has as many as 7 Silver medals in the world championships in weightlifting.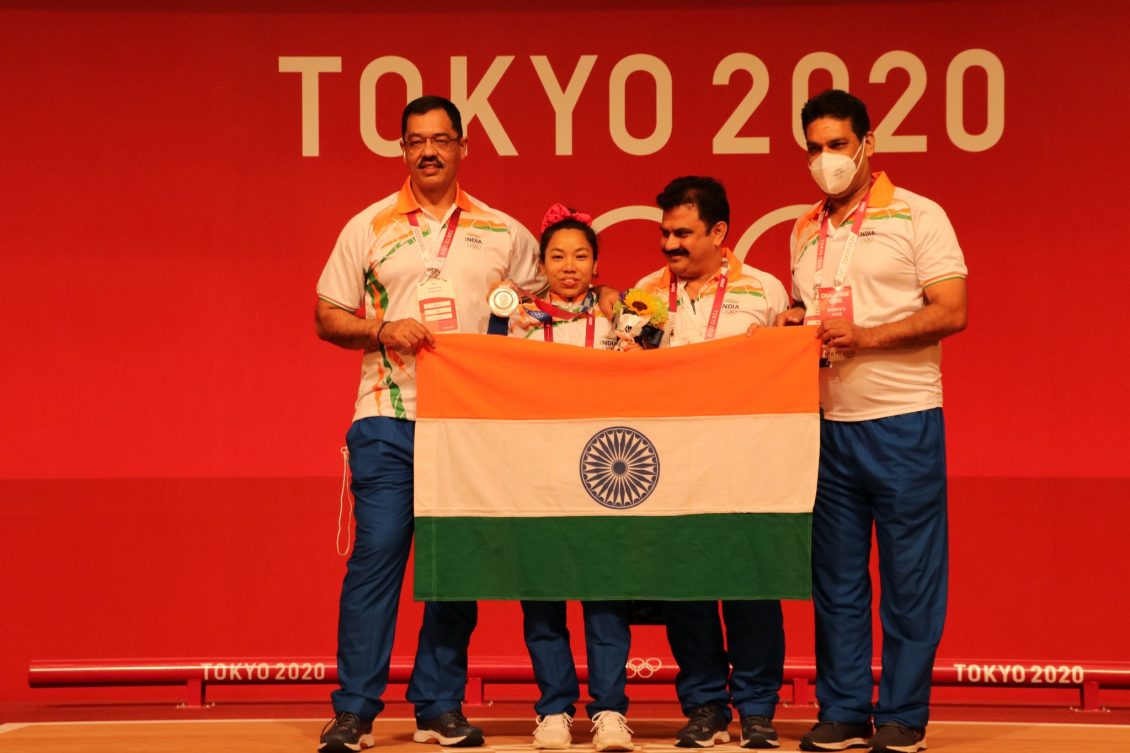 Mirabai enrolled herself in an academy to become a weightlifter. She had to travel a distance of 22 Kms from her town to reach the academy every day. On most days she used to travel in trucks.
It is only through sheer dedication combined with the hardships she faced early in her career she has managed to reach such heights of sporting glory. L.Anita Chanu who is one of Mirabai's childhood coach also belongs to the same state. There is something special in these Manipuri girls which separate them from the rest.
Rose to the occasion
Mirabai entered the Tokyo Olympics as the world number 2 in her category. She is the only weightlifter who represented India at the ongoing Tokyo Olympics. The expectations of every Indian were riding on her shoulders.
She rose to the occasion and performed brilliantly. The weightlifter put to rest any doubts one had regarding her vulnerability in Snatch by lifting 84 Kg in her first attempt. Her best lift in Snatch was 87 Kg.
In Clean and Jerk Mirabai successfully lifted 115 Kg to end up with a total of 202 Kg that earned her the Silver. China's Hou Zhihui won the Gold with a total of 210 Kg and Cantika Aisah grabbed the Bronze by registering a total of 194 Kg.
Hasn't been easy for anyone
In a world ravaged by the Covid-19 pandemic Saikhom Mirabai Chanu's achievement assumes even greater significance. It has not at all been easy for anyone to cope with the "new normal" circumstances that the world is facing. Even the Tokyo Olympics had to be postponed by a year.
What Mirabai has done fighting against odds serves as a reminder that nothing is impossible. The first Silver medal in weightlifting for India is an embodiment of the undying human spirit, something which the Olympic movement stands for.
To put in Mirabai Chanu's own words, " It's really a dream come true for me. I would like to dedicate this medal to my country and would like to thank the billion prayers of Indians which were with me during this journey. I like to thank my mother for a lot of sacrifices and believing in me. Also special thanks to our government for supporting me…I would like to give special thanks to my coach Sharma Sir and support staff for their continuous hardwork, motivation and training".