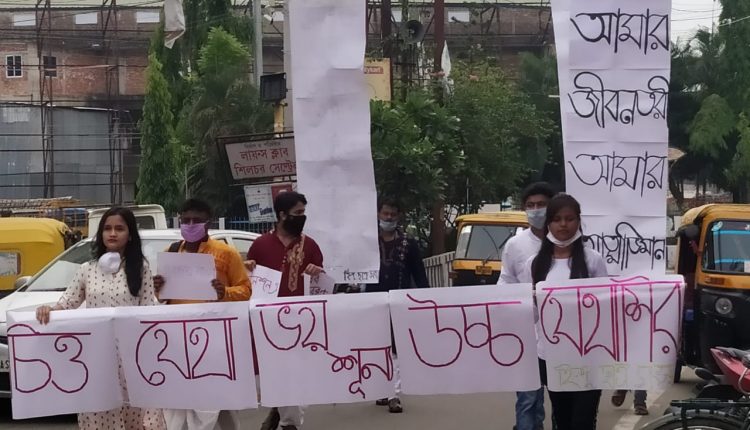 Subha Prasad Nandi Majumdar, his family gets harassed during Facebook live; Time to speak up!
I failed. We failed. I hold myself accountable and as mature adults it is my responsibility to apologise in public without twisting or turning anything. I apologise as the admin of one of the most engaging Facebook pages in Barak Valley and probably in the whole of Assam. Let me make it clear that I do not applogise on behalf of all Facebook pages nor do I believe all admins owe an apology. But I do.
Under the impression that most of the people living in Barak Valley would be missing what they normally do on May 19, I and a fellow colleague of mine decided to chalk out a plan. Our agenda for the day had a few Facebook lives – a panel discussion featuring three individuals, who in our view were the most informed about the importance of the day. When I write most informed, I mean most informed in the world. Then we had two musical performances and interaction with an individual, who walked along with the 11, who laid their lives on May 19, 1961.
I am not apologising for our plan. With all modesty, I think, we did a fantastic job. Here is what I am apologising for- during the first-panel discussion that featured Subha Prasad Nandi Majumdar, Aminul Islam (Liton) Choudhury and Shabnam Surita Dana. A group of people kept commenting stuff that I never thought one could when the speakers were talking about martyrs and martyrdom. I do not know if I should be terming it underestimating or overestimating, but whatever it is, this was my mistake and this is what I am apologising for. I invited them as guests, they agreed within seconds, gave us their time but I as the admin could not guarantee them the minimum respect.
Subha Prasad Nandi Majumdar and the page admin, which is me got called 'Dalal'. We were accused of doing "business" in the name of celebrating 'Unish'. His daughter and the other guest from Bangladesh were also abused. Subha Prasad Nandi Majumdar's wife, who was not even a part of the programme was also dragged into the dirt created on the page, which is called MySilchar. Did Subha Prasad Nandi Majumdar ask for money to be on the panel? No! Do I have the money to afford a concert featuring all three, who are well established in their respective fields? NO! Then, 'Business', 'Dalali'…? Well, I understand, sometimes we do run short of words.
The point is, you can abuse, criticise, unfollow and report the page or its admins. In extreme circumstances, you can even take legal action. We the page admins have not forced our live sessions through your throat saying, "either swallow or vomit." You don't like it, don't watch it, you don't like it and feel you need to protest whatever is happening, fine, comment and then let that go. Threatening, "I would see the admins", "we must catch hold of the admins" and then getting all personal by dragging families of the people involved in the programme is not an act of wisdom. And admins singing words of wisdom- "Let it be" when all this is unfolding would be an act of a coward.
We started MySilchar in 2013, worked relentlessly for over seven years to make it what it is today. In 2018, we decided to grow the page further and launched Barak Bulletin, a hyperlocal news platform focusing on whatever is happening in Barak Valley. Till yesterday, more than two million people read us, we get more than five lakh unique users every month with close to 45 per cent reading us from outside Assam. We do not hate the Left, the Right, the Centre and we are not in love with any of them either. Politics, political ideology, political parties do not determine the path we choose. Subha Prasad Nandi Majumdar is entitled to have his political beliefs, he has all the rights to voice his opinion and when I am talking about May 19, what matters to me is what he knows about May 19 and not what he thinks about a politician or political party. He is a professor, singer, composer, lyricist, and over and above all, he is a son of Silchar.
He has voiced his opinion against us many times, several occasions he did not like the way we covered particular stories and wrote about it, but on his Facebook wall. He never intervened while we were interviewing MLAs, MPs, doctors, professors with philosophies which were poles apart from what Majumdar subscribes to. He did not comment while others performed on the page (the number has crossed 100 so far)… that is why MySilchar invited him in the past, MySilchar will continue to invite him in the future whenever we feel he is the right person for the right moment unless the law of the land prohibits us to do so. We believe in the system and we follow the law. If you have a problem with it, you are free to not watch the content and come back when there is something you like. But if you abuse him or any other guests we will simply mute you exercising our rights as admins of the page.
To everyone, who called us, threatened us, messaged us, asked us to pull the video down. Let me take you back to November 13, 2017, 6:32 PM. We had uploaded a video on MySilchar, it was called the 'Theme Song of Namami Barak'. The video was yet to be launched officially. One of our journalists got it and we shared it. The official launch of the theme song kept getting delayed and when it was unveiled, a man wearing red kurta went missing, his name is Subha Prasad Nandi Majumdar. He is still there in the video uploaded by MySilchar page. We got many calls back then too from various parts of the country asking us to delete the video, we did not delete that video, we will not delete this video either. When we are wrong, I will take full responsibility and apologise. If needed, we will face the law, but when our team gets it right, no matter what you say and who you are, you won't be able to bend us by an inch. That video has got more than two lakh views and is still counting…
You are judging us by one live programme but in the last two years, we interviewed, Padma Shri Shankar Mahadevan, Padma Shri Ravi Kannan, Health Minister of Assam Himanta Biswa Sarma, MP Rajdeep Roy many bureaucrats, entrepreneurs, activists… When young kids Sourav and Supriya went missing we were the first ones to report and cover the story in detail. When a poet was attacked in Silchar, we were are first ones to cover that story too, when a professor posted something controversial and students complained about it we were the first one to report that. In fact, many other national and international publications quoted us during their coverage of the same story. When Principal of a government school in Barak Valley made 'Hijab' a compulsion we were the first ones to report it and then national media followed. When a stage built for Durga Puja got named after Moinul Haque Choudhury and students protested it, we were the first ones to report it, when an activist decided to innovate and turn Scooters to Ambulances to deal with heavy Silchar traffic, we were the first ones to write about it and we have hundreds of other firsts in our credentials. We never took sides, never passed judgments, we do not believe in media-trials and yet we got called 'saffronised', 'IT Cell', 'Urban Naxal', 'anti-nationals'… and we took it in our stride and kept running, we are here for the long run and more often than not, you will find us as your first source of credible information when it is related to Barak Valley.
We have the editorial liberty to cover the stories that we feel deserve space. As a citizen of India, we have the right to invite, interview whoever we want and if I break the law while doing so, the judiciary is there for us as it is there for anybody doing any other business. At the same time, you are free to criticise, abuse… but always remember, your right to swing your fist ends where my nose begins.
To all who think you can dictate us, our coverage, as Aaron Sorkin would say, we are not waiters serving food in a restaurant who would bring you the stories prepared as you want it to be. We will bring you the facts, put it in context, put up opinions from all sides, and by doing so we aspire to inform the electorate as that is most important for any and every democracy. In our journey, be with us, as a critic, friend, contributor but if you are a dictator, you are on the wrong bus.
On the issue of inviting guests from all around the world across ideological beliefs, honourable MP of Silchar, Dr. Rajdeep Roy was asked during his interaction with Barak Bulletin and here is what he said, "Anybody can come and give me a sermon but it is up to me to decide what I must accept and what I should not. If I like something I will learn and if I don't like it I would just ignore. I have gone to Kolkata many times and gave my speeches and people from Kolkata can come here and give their speeches. I don't believe that by delivering a couple of speeches they can change the political dynamics of Barak Valley as I cannot change the dynamics of Kolkata. I had expressed my concern when a guest was allegedly attacked and violence is the last thing that I will support. We need to rise above all this…"
The MP has summed it up in a very well-articulated manner for everyone to understand. He also narrated two lines from Tagore's famous point to remind us about what we stand for, "Where the mind is without fear and the head is held high, where knowledge is free…."
Anything you read on Barak Bulletin, anything you find on MySilchar, we take full responsibility or each and every bit of it. If you want to comment on our coverage, you can reach us at barakbulletin@gmail.com.