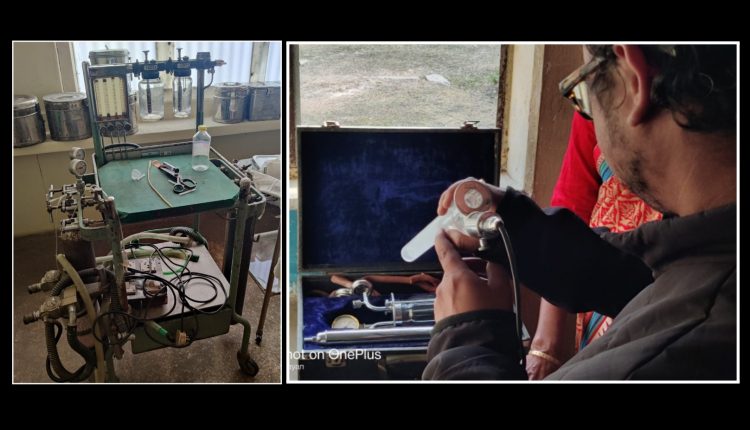 Time travel: An inside view of vintage medical tools at B.P. Kedia Central Hospital
Soon after the annexation of Cachar in 1854, the first Tea Garden was established in Barak Valley. Macneill & Barry Ltd started its production in the Cachar District in 1863. It is fascinating to look back from our vantage points in a post-Covid world to a time when tropical diseases like malaria, kala-azar, tuberculosis and typhoid fever were rampant public health hazards. The biggest threat to the expanding British Emipre were not kings and local chiefs but the malarial parasite. The British Crown funded scientific inquiry into the vexing malady of malaria, much like governments across the world who in the recent past have facilitated research on the coronavirus.
The Labac & Lakhipur Medical Practice (renamed Labac Medical Practice in 1920 and currently formally known as B.P. Kedia Central Hospital, (Labac) was established in the late 1880s against this backdrop and had Dr Henry Joseph Glover as its first Chief Medical Officer who joined in 1890. His successor Dr Graham Col Ville Ramsay invited his friend Dr Ronald Ross to study the menace of malaria in his locality. The microscope used by Dr Ross is housed in the Central Laboratory. Sir Ronald Ross won the Nobel Prize in Medicine in 1902 for his discovery of the malarial parasite inside the stomach of a female Anopheles mosquito which led to founding a basis for combating the disease. The Hospital received gifts from the military station in Kumbhirgram during the Second World War.Post-Independence, the Hospital had the first properly equipped X-ray plant of the Barak Valley in 1950. In 1963, the tea company was purchased by Jay Shree Tea & Industries Limited. In 1973, the Hospital was renamed in the memory of Shri B.P.Kedia, Founder President of the company and a pioneering Indian tea planter.
A visit to their OT is an endeavour in time travel. There is a feel of antiquity about everything-the lights, the washbasins, the furniture and the instruments from an era gone by. The hospital records date back to 1960. There are some vintage textbooks in their collection, the oldest being "MANUAL OF OPERATIVE SURGERY" by H.J.Waring published in 1898 from the publishing house of YOUNG J PENTLAND-London and Edinburgh.
As medical science constantly drives its frontiers into the realm of the unknown and the unexplored, Labac Hospital remains a glittering source of inspiration for passionate researchers who dispel the gloomy voices in their heads night after night to focus their microscopes as they "set their sails and drift the wave from all the monsters under your bed"
Thank you Dr Arindam Bhattacharjee for the pictures and Thank you Chief Medical Officer Dr Tarat for the amazing hospitality.And Thank you Sister-in-Charge for taking us through your incredible OT.
Pic Courtesy Dr Arindam Bhattacharjee