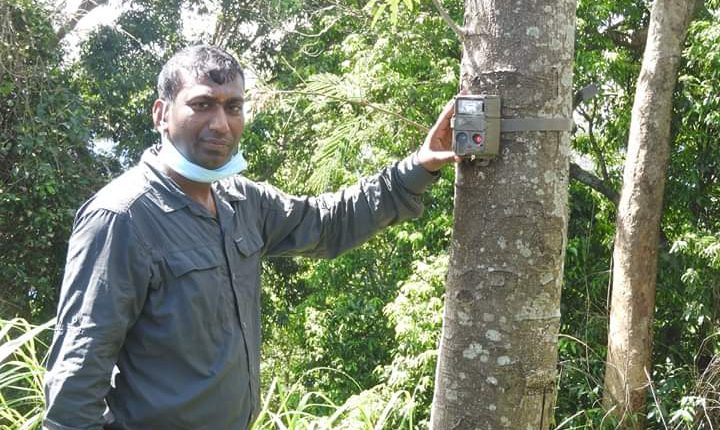 Trap Cameras in Borail Wildlife Sanctuary; "We can develop it as a tourism spot," DFO Sunnydeo Choudhury
With an aim to explore the undiscovered and study in detail the endangered fauna of Borail Wildlife Sanctuary, Cachar Forest Division has taken up an initiative to install around 50 Trap Cameras, which the Divisional Forest Officer (DFO) believes will help in better management of the Wildlife Sanctuary.
"We only know the name of Borail Wildlife Sanctuary but what are the species/animals found inside it, no one knows" Cachar Divisional Forest Officer (DFO) Sunnydeo Choudhury told Barak Bulletin reasoning the need of such cameras.
The department hopes to capture photographic pieces of evidence of Chinese pangolin, Flying Fox, Slow Loris, Assamese Macaque, Rhesus Macaque, and Capped Langur among others, which are said to inhabitant the Borail Wildlife Sanctuary.
"We are installing 50 trap cameras at strategic locations, for which survey is underway. It will take around 2 months to complete the whole project with 1 month devoted for the survey and the next one for installation," DFO Sunnydeo Choudhury informed.
A camera trap is a remotely operated camera that is equipped with a motion sensor or an infrared sensor as a trigger. Whenever an animal passes by it, the camera captures it on film without disturbing the animal.
"At Barak Valley, we don't have any tourist place where on weekends, families can go and spent quality time seeing the wildlife. If we get to know the different fauna of Borail Sanctuary, then surely we can develop it as a tourism spot" opined Choudhury adding "If we are calling it a Sanctuary then it should have the supporting infrastructure".
On asked whether there is any hope of discovering new animals, DFO replied the department is quite optimistic about it. "Based on the dialogue with the locals, it is quite evident that there are some wild animals which are pertaining to the current rainy season, confined at the paramount of the hill. Once we install the cameras, the knowledge will be clear."
Meanwhile, Cachar Forest Division has obtained administrative approval for a wildlife rehabilitation centre to be set up at Rajnikhal of Cachar district. "We are soon going to float tenders for it," DFO informed.
The rehabilitation centre once set, will cater to the need for space for keeping and taking care of rare species found here. Also, it would have facilities like veterinary health centers and food-processing units.