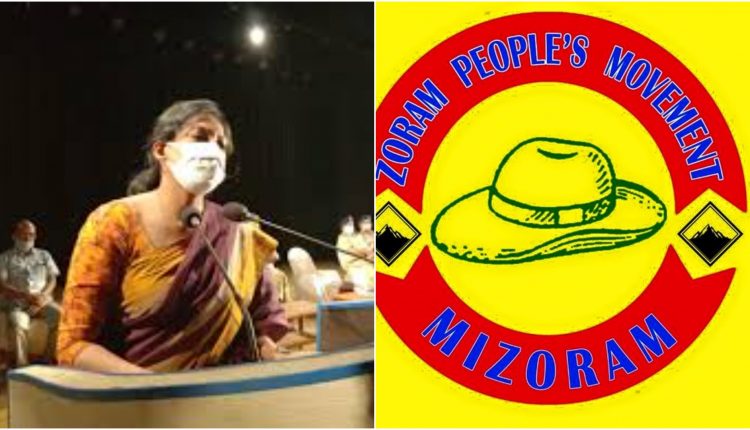 ZPM's Youth Wing targets DC Cachar; "Unfortunate that such personal attacks are being encouraged," Keerthi Jalli
After officers in Mizoram Government issued a controversial show-cause notice to the deputy commissioner of Karimganj, now the Youth Wing of a political party has launched an attack against the deputy commissioner of Cachar, Keerthi Jalli.
Youth Wing of the biggest opposition party in Mizoram – Zoram People's Movement has issued a press statement launching an attack at the Cachar DC. The residents of Assam in Mizoram border have often alleged that the cadres of ZPM's youth wing are involved in escalating tensions in the border.
In its press statement, the ZPM's Youth Wing mentioned "On the 28th of October, 2020, the DC of Cachar, Keerthi Jalli, IAS, stated that if the MZ IR forces at Saihapui V, Mizoram territory were not removed, the roads to Mizoram would be sealed off. Upon the DC of Cachar departing from Saihapui V at around 1:00 PM, all vehicles en route Mizoram via Lailapur and Hailakandi were promptly blocked."
The press statement adds, "Amid such tense situation, such ultimatum coming from the DC of Cachar, Keerthi Jalli, with regards to blocking the highways is cataclysmic and unfortunate, and we sincerely condemn these actions of her and her cohort Assam's Addl. DG (Law & Order) GP Singh IPS."
ZPM's Youth Wing goes on to vehemently question the integrity of IAS officers, "It beckons the question as to how such officials, who seemingly disregard the Constitution of our great nation, could hold positions as IAS/IPS officers? We, the ZPM Party Youth strongly request these officials in question, who took an oath to safeguard the unity of Indian citizens, to immediately discontinue these cowardly, thievish measures. We call on the higher authorities to take full action against these officials."
Yesterday, ADGP Law and Order GP Singh visited the bordering areas to inspect the situation. After inspection, Singh gave a media statement, however, DC Keerthi Jalli was not seen interacting with the press.
She denied making any such statement and instead said that she has been wrongfully targeted. "It is unfortunate that such personal attacks are being encouraged," said DC Jalli while speaking with Barak Bulletin.
She added, "An Assam school has been bombed in Kulicherra area of Cachar district. The area still has the presence of Mizoram police. Locals are apprehensive about where to send their children to school now."
It is true that there are hundreds of trucks parked on Assam's side of the border, however, it is not because of a blockade installed by the Cachar administration or Assam Police. "These locals are the drivers and handymen plying vehicles and are hesitant to travel as they see Mizoram armed personnel within the territory of Assam.  They feel the situation has not returned to normalcy and should not risk their lives by plying vehicles," asserted Jalli.
She informed, "The administration and Police are actively talking to these groups trying to convince them to resume movement. However, there is no restriction imposed on highway movement and will never be. Vehicles that are opting to move are still plying towards Mizoram."
The types of machinery deployed by Mizoram have been causing problems for the officers of Cachar and other districts that border Mizoram. A couple of days back when Divisional Forest Officer Sunnydeo Choudhury went to patrol the forest area under Hawaitang Forest Range Office, Dholai, he was stopped and threatened by heavily armed individuals who addressed themselves as Jawans of Mizoram Indian Reserve.
"Government servants don't use such language and threaten in this manner. I doubt there is an involvement of external elements," said IFS Officer Sunnydeo Choudhury. He had gone to patrol the area under his jurisdiction and found there are camps set up by Mizoram Police. They have earmarked certain areas and claimed that those mark the borders.
"How is it possible that the forest areas that were in Assam ten days back have suddenly become parts of Mizoram," Choudhury questioned the men from Mizoram guarding the area. Instead of responding to him, they started asking him to move back while making gestures that are insulting.
GP Singh, during his inspection yesterday, went to Khulicherra where the LP School was allegedly bombed by the Mizo miscreants. He said that he has a feeling it was done intentionally to terrorise the locals living in the area. Accordingly, he has directed Cachar SP to move the court.
After today's letter from the ZPM's Youth Wing, it becomes clear that the tension is far deeper than just a few armed men at the border. How the two neighbouring states deal with the scenario and when the Centre decides to intervene with more might remains to be seen.