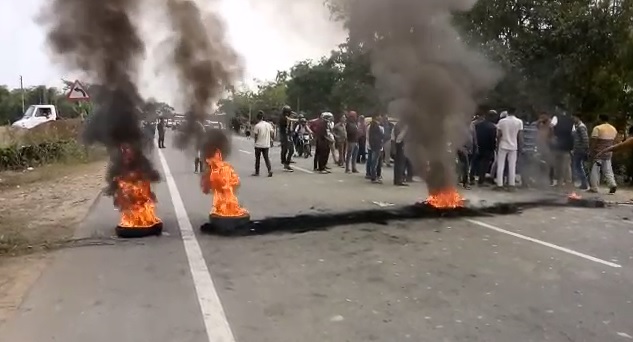 250 arrested in Sonai, 7 in Silchar, Katigorah 33; "Situation under control," SP Mugdhajyoti Dev Mahanta
While it is just another day in Silchar town, the outskirts witnessed some protest against the Citizenship Amendment Bill 2019 which got passed in Lok Sabha yesterday. In the early hours of the day, protesters were spotted blocking roads, burning effigies and raising slogans against the bill. The police got to act soon to prohibit any large gathering or mass protests which could result in a law and order situation in the district.
Barak Valley, baring a few exceptions is largely in support of the bill and hence any protest against it followed by a counter-protest against the protest is something the administration is determined to avoid. "So far we do not have any reports of any sort of violence in Cachar," says Mugdhjyoti Dev Mahanta, SP, Cachar Police.
He informs that in several parts in the outskirts of the town area there were protests from various political outfits but those did not last long. So far, 250 protesters have been arrested in Sonai, 7 in Silchar and 33 in Katigorah. "We have seen people burning tires and blocking roads in some areas. But whenever the Police reached, they disassemble and gather again as the van leaves. These are few and far and nothing to worry about. The situation is under control," adds Mahanta.
He assured that there are security officials deployed in sensitive areas and they are keeping a close eye on the development. The Citizenship Amendment Bill 2019 is scheduled to be tabled in Rajya Sabha tomorrow.