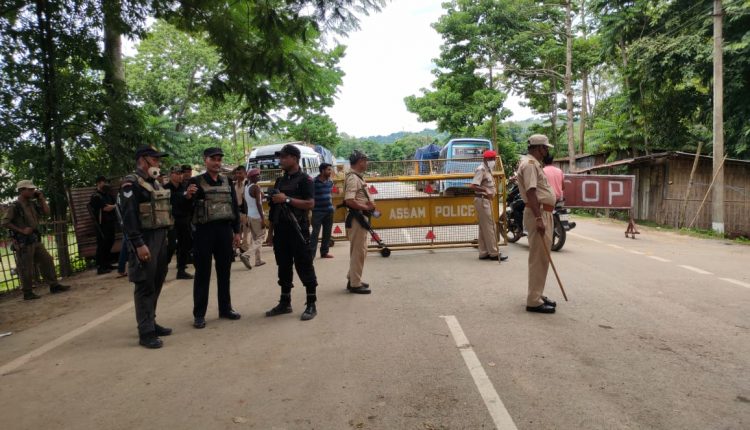 6 Companies of CRPF and 4 Platoons of Assam Police Black Panther Commando arrive at Assam-Mizoram border
Due to the ongoing border tension between Assam and Mizoram in Lailapur, the security of the entire region has been tightened up. The Cachar Police Superintendent has said that neutral forces will be guarding the border region and will assist the Assam forces from this side. As of Wednesday afternoon, 6 CRPF companies had been sent to the Lailapur border and 4 platoons of the Assam Police's Black Panther Commando had arrived. For the time being, ordinary people are not being allowed to enter the area as there is always a chance that the miscreants might launch an attack at any time. Some freight vehicles coming from Gujarat, Uttar Pradesh, etc. are stuck inside Assam, but the vehicles that were stranded in Mizoram have been allowed to enter Assam though.
No ordinary people are being allowed to go beyond the Lailapur police station. Security forces are arriving one by one and taking charge of guarding the controversial place. A member of the force said, "Trained soldiers from different parts of the country, including Jammu and Kashmir, are being sent to the Assam-Mizoram border. More jawans will arrive in the future on the further instructions of the central government. For the time being, we are not allowing civilians to enter the area where the firing took place."
As a result of the firing on the border of Mizoram and Assam on Monday afternoon, 6 policemen from Assam have been killed so far. Swathes of people across the state, including the Barak Valley, have already started protesting against it. Several organizations, including the Barak Democratic Front (BFF), called for a 12-hour shutdown against the violence. On Wednesday, the people of the Cachar district spontaneously supported the ban by keeping everything in the town closed.
The protests in the Cachar district have affected all the vehicles entering Mizoram. People from Kabuganj, Nutan Bazar, Dholai Lailapur, etc., who used to deliver goods to Mizoram by vehicles, made it clear that they would find other jobs if necessary but would not support Mizoram.
Many people took to the streets on Wednesday in support of the ban, even though they were not part of any organization. In the Kabuganj area, local drivers helped set up barricades in the middle of the road to enforce the ban. They said, "The biggest thing at the moment is to show Mizoram that we are not dependent on them. Being a citizen of the Indian state, a civilian from Mizoram fired at Assam police officials, we can never accept that. How much pain is felt in the minds of those whose family members have lost their lives, do the people of Mizoram not understand that? On the contrary, videos of them rejoicing after the incident have surfaced on social media. This time we have collectively decided to boycott them altogether."