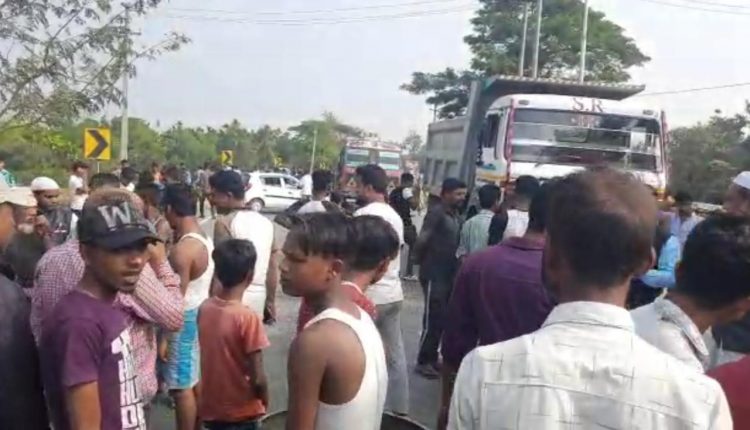 7-year-old girl dead in another road accident in Kalain; Police allegedly manhandles her uncle
A seven-year-old girl died on the spot in a tragic road accident that occured between Karochura and Bhatpara on National Highway No. 6 near Kalain around 12 noon on Saturday. According to eyewitnesses, the girl Saniya Begum was returning to their Tarapur home with her mother and grandmother along National Highway No. 6.
After reaching the place between Karochura and Bhatpara, a speeding Iris car (AS 11 BC 3595) heading towards Gumra from Kalain hit Saniya hard and she fell on the side of the national highway due to the impact. A car's revving wheel soon crushed her head, leading her to die on the spot.
Her mother and grandmother also fell some distance apart from the national highway, and recieved few injuries.
Soon, locals blocked the National Highway No. 6 and also informed the Kalain police about the incident.
As per eye witnesses, the girl's uncle relentlessly asked the police to ask the driver if he had consumed alcohol or drugs. It is alleged that  the policeman instead beat him up. As the locals turned frenzy, the police personnel were forced to flee the spot due to protests. Consequently, the situation became more tense and hundreds of people protested against police atrocities.
On hearing the news, OC Nayanmani Sinha rushed to the spot from Kathigorah. He tried several times to convince the agitated people but failed in his efforts. Locals claimed that the policeman had beaten the girl's uncle and they won't allow the dead body to be moved unless the policeman apologized.
Meanwhile, AIUDF leader Jabir Ahmed, Kalain GP President Mridul Chakraborty and Former President Sandeep Das rushed to the spot. They spoke to the District Police Superintendent over the phone. Besides, OC Singha also tried to communicate with the crowd and assured that the girl's family would get government aid. He also resolved that strict action will be taken soon against the policeman who misbehaved with the deceased girl's uncle.
After repeated assurances by the OC, the agitated crowd lifted the road blockade about a couple of hours later. The Police recovered the corpse and sent it to Silchar Medical College and Hospital for autopsy