A last ode to Tarun Gogoi, a father figure to me: Writes Subimal Bhattacharjee

Writing an obituary on Tarun Gogoi is one of the toughest task I felt in the last few days as he passed away on November 23, 2020. I was almost remembering every moment of those few days after I had lost my father way back on May 2007. Many moments of emotion, those long discussions on so many issues ranging from personal advice to state politics to global geopolitics. It took me a long time before I sat to write this today. I was reminded of one of the first consolation calls that I received from the then chief minister of Assam when I had lost my father, and then, when my father in law passed away in January 2013. That sombre emotional choked voice yet reassuring on both those occasions was ringing in my ears every time I tried to write and the next moment I felt that in reality I've lost someone who was an endearing well wisher and a visionary for the state of Assam.
I've known Late Shri Gogoi since 1995 when I was a student of Delhi university and he was the minister for food processing in the Narasimha Rao government and an MP from Kaliabor in Assam. As the general secretary of Mansarowar hostel, I went to invite him for an event and I remember him telling me 'making a mark in Delhi helps one to get recognition in a competitive world' and I should push ahead and do my best. Subsequent to that, on and off I used to meet him when he was MLA Margherita and then MP Kaliabor again from where he took over as chief minister Assam in May 2001. All these 15 years that he has been the CM Assam I've met him regularly either in Guwahati or whenever he came to Delhi. In March 2001, when I got married to Joyeeta, the relationship attained another dimension as Late Shri Gogoi and my father in law Late NR Choudhury, former MP from Assam were friends and shared flats on opposite sides in North Avenue in the early to mid 70s. For a short stint, I was also appointed as the Adviser (IT) to CM Assam in November 2001. I never called him sir but always comforted in uncle.
What most attracted me towards him was his friendly affection and a propensity to discuss on so many issues that impacted the state. Most of these sessions would be towards the end of his day so that his long list of appointments was over and he could chat in a more relaxed fashion. I used to be super impressed with his minute information and trends around most of the corners of the state. Most people in Assam knew very less about Dima Hasao then North Cachar Hills district although its capital Haflong where I was born is still the only hill station of Assam. Despite the presence of an autonomous district council taking care of day to day matters, yet he had full update on what was happening on the ground. He used to proudly tell visitors and colleagues who met him with me that I was from NC Hills. There is no topic that I've not discussed with him: even speaking against his ministers' digressions and why he wasn't correcting them. He used to never get upset at my speaking the extra word that a chief minister shouldn't be told. On the night that Rumi Nath then a sitting MLA was beaten up in a hotel by a mob in Karimganj in June 2012, I was sitting with him in his hotel in New York. I saw how tough he was on two warring ministers over phone. I asked him what he planned for the MLA, he told me 'people will give the answer- who am I to correct'! He gave space to everyone and that's how you saw the rise of Himanta Biswa Sarma and Rockybul Hussain who became powerful in no time. He was someone who would often phone and ask if some ideas were right. I always felt very happy to spend those hours meeting him, sometimes over soup as he would sit upright in his chair and have those laughs over many incidents that he would have experienced. I still remember how he had narrated to me smilingly how he attentively took care of the 13th Finance commission's visit to Assam under Vijay Kelkar's leadership and convinced them to allocate more resources to the state. Many of these moments used to make me feel that I was getting my hands on training if I really wanted to be a politician.
Late Tarun Gogoi always kept an interest in emerging trends- technology or solutions that could address some of the burning problems of the state and if such trends were successfully implemented somewhere in the world. In his visits abroad, he made a point to visit such initiatives and also interact with people who could manage to give some genuine ideas. I had organised two of such sessions in the US in two of his visits. The first one was the dinner session with the team of Indian Institute of Science Alumni Association of North America in San Francisco in September 2009 where some of the successful alumni touched on the latest aspects of energy, life sciences, flood control and environmental issues, education & research and technology & entrepreneurship. I wasn't present at the session but Subbarao Gunupudi the president called me to tell how interactive it was and the volley of questions that Shri Gogoi had. Later when I shared the photos with him, he was clearly mentioning about his excitement and wanted to invite a few of the alumni to Assam. The second one was the lunch session with a few members of the Harvard Club of New York in their premises in New York in July 2012 where the then additional chief secretary of Assam Jitesh Khosla was also there. I was also present in the meet where late Tarun Gogoi gave a nice lecture inviting the alumnis to explore Assam and there was a palpable interest to look at the solar energy and IT opportunities. Of course in those visits abroad he used to enjoy the freedom also from the constant commando security around when he is in the country. I remember in June 2010, after a dinner in New York we had, he insisted on taking a yellow taxi back to the hotel at midnight despite myself offering my car and Mrs. Dolly Gogoi also saying so. That was also at display his simplicity and the yearn to remain a common man always. He would go across from his hotel to enjoy the walks at Central Park in New York. Once in June 2010 he told me and Joyeeta to visit the Queens Botanical Park in Queens New York with him. We chose a Saturday morning and drove in my car and both ways we had some interesting conversations about those days in Assam when everything stopped at dusk and even attending weddings were so difficult and risky. But at the park, he walked a lot of the 39 acre expanse that we wanted to do with ocassional wheel chair rounds because Bipul Gogoi his special protocol officer would never want him to be uncomfortable. I also remember in one of the visits he had an upset stomach and at the Pierre hotel in 5th Avenue, there was one Ali from Bangladesh who was in the staff and got him almost home-cooked food from the hotel kitchen. When we went to the hotel, he introduced us to Ali and spoke to him in Bengali and told him to get some good food for us and not his health food. Ali loaded the room with savouries and told us how affectionate Late Gogoi was with him in the three days that he was there. Once in Paris, he was in a session and an attendee had told him there about me and he praised me there and next day even spoke to me. Many anecdotes would abound but would just like to say that he was always an open man with a smile and could adjust with anyone of any age in any geography.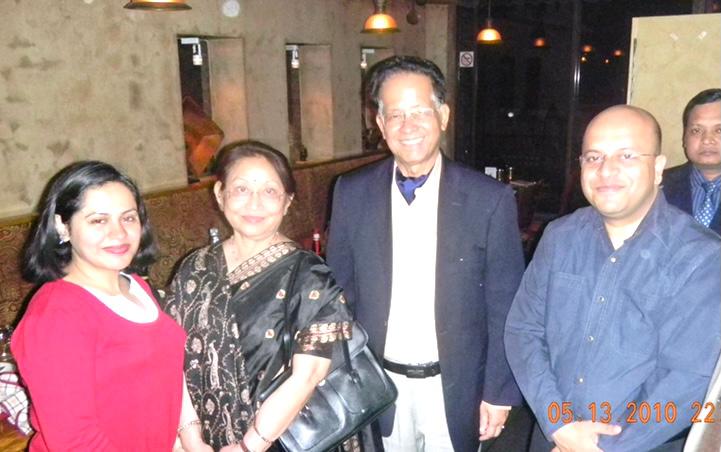 He would also not miss the contribution of many who would try and stay away from public limelight. When Jayant Bhuyan former Secretary General ASSOCHAM passed away due to a botched surgery in Delhi in September 2008, he told he that we should initiate a lecture or something in his memory and I should deliver the inaugural as I knew his strength and contribution in Delhi for north east prospects in those days. We had the lecture in December 2012 on Jayant Bhuyan's birthday which Shri Gogoi chaired.
For me it was always heartening to see that he always introduced me first as someone from Haflong with that pride and also next as his friend's son in law. One of those moments was on 15 July 2010 when a US companies business delegation of AMCHAM met him in Guwahati led by Beth Payne US consul general Kolkata. As introductions were happening of all delegates in a rain-ravaged Guwahati that day, he stopped Ms Payne as she uttered that I led General Dynamics in India and instead said he is our pride and from NC Hills district in the state. After the session as usual he called me to the room and asked if everything went well. Many people don't know that as a minister in Delhi under Narasimha Rao he gave the green signal for Coca Cola, KFC and other US food giants to operate in India and now this is history.
I looked up to late Tarun Gogoi with that awe and reverence because he was a politician with a difference and meant to carry everyone along. He was straight forward and made his displeasure known with his expression. Even ministers and bureaucrats got the message when he thus looked. But deep inside he had a very comprehensive understanding of everything and before any decision thought through every angle. The manner in which he handled the ULFA and other insurgency movements in the state and took away their fangs and the manner he gradually rescued the state's economy definitely puts him in the annals of the history of the state as an epoch. Of course politics and its increased practices around intrigues and short term gains has had its impact on his tenure but he was walking at his own pace with the knowledge and support of Delhi. I had once told him why he didn't push for more optimal delivery with such majority, he replied to me that he even if he ran and his majority still walked, he would either be alone or stumble. Later as ex chief minister he remained active and his voices in NRC and CAA was still the strongest Congress voice.
Here I also cannot stay away from saying a line about his worthy son Gaurav Gogoi who has made a mark for himself with his exemplary performance as a parliamentarian in his two terms and Gaurav would have been privy to a lot of the sagacity of his late father in being in public life. I would also like to mention about Bipul Gogoi who was a great support to late Shri Gogoi. He was such a passionate officer handling the appointments and all other aspects with such deft and perfection. As special protocol officer, he handled those 15 years and looked after his boss so sincerely. Late Shri Gogoi told me once how much care Bipul Gogoi took of him, just like someone does for his parents and much more than an officer is required to do. There are many officers, policemen and staff in Assam who swear by the late Tarun Gogoi for his simplicity and caring nature.
In the death of Tarun Gogoi the state has lost one of his leading beacons and for many like us as someone whom we could look upto. He was the last set of gentlemen who led the state of Assam with all the wider ramifications in mind to consider all the complex issues that characterise the state. He is someone who had friends across the political aisle and across all age groups. As the current chief minister Sarbananda Sonowal has repeated a few times that Late Shri Gogoi was a father figure to him, so would I say. I would always cherish those memories with Tarun Gogoi and pray that his soul be in eternal peace. His blessings will always be on the state from wherever he is. Peace and brotherhood in the state ushering in steady economic prosperity would be the best tribute to him from everyone in the state.
The author of this article, Subimal Bhattacharjee is a policy analyst on cyber issues and the director of Jookto