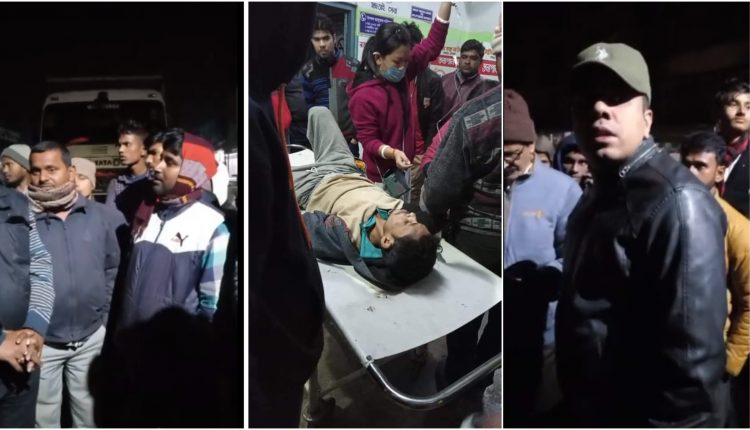 Again tipper runs over a cyclist in Kalain; Circle Officer rushes to spot, removes road-blockade at 2:00 am
Accident-prone zone in Barak Valley, the Lakhipur-Kalain National Highway has witnessed another unfortunate incident. What has emerged as the death-stretch in the last few months, especially after the death of five students in December, this road is often at the center of attention for all wrong reasons.
Last night, at around 9:00 pm an allegedly overloaded tipper ran over a man riding on a cycle. As per available information, Raju Paul was riding home after his day's work and that is when a speeding truck collided with his cycle. The locals said that Paul is a resident of Boroitoli village in Kailain.
"One of his legs got 100% damaged and his condition is critical. He is the only breadwinner in the family and was cycling back with a packet of biscuits for his children. Overloaded trucks are running a ruckus in this area. Police officials take Rs 50, Rs 100 and leave the overloaded truck to ply illegally on the road," accused a local resident while talking to the circle officer of Katigorah.
Agitating locals blocked the road at around 9:15 pm and thousands of trucks and busses got jammed on either side. The protesters demanded a senior official from the district administration to visit the spot and engage in a dialogue with the protesters.
Circle officer of Katigorah, Pranjit Deb went to the spot post-mid-night and urged the locals to remove the blockade as that is causing harassment to the general public. The locals said they will only do it once the officer assures immediate compensation to the victim. Deb kept on explaining that there is a government procedure that needs to be followed before sanctioning any compensation. However, the locals said that the victim admitted to the hospital is so poor that his family will sleep hungry till he recovered and therefore, the procedure needs to be immediate.
The two parties kept discussing back and fore and eventually, at around 2:30 am (last night) the blockade was removed and the national highway was open for vehicular traffic.
Speaking with Barak Bulletin, the victim has been transferred to Silchar Medical College and Hospital for treatment. In the past also this road was blocked by protesters as they kept dead bodies on the road and agitated for hours.
"Such blockade causes harassment to the general people who are traveling for important professional or personal work. They said they have allowed ambulances without any obstruction, but it is possible that there are patients traveling on a night super or private vehicles," said Circle officer Deb.
The truck has been towed to the local police station.