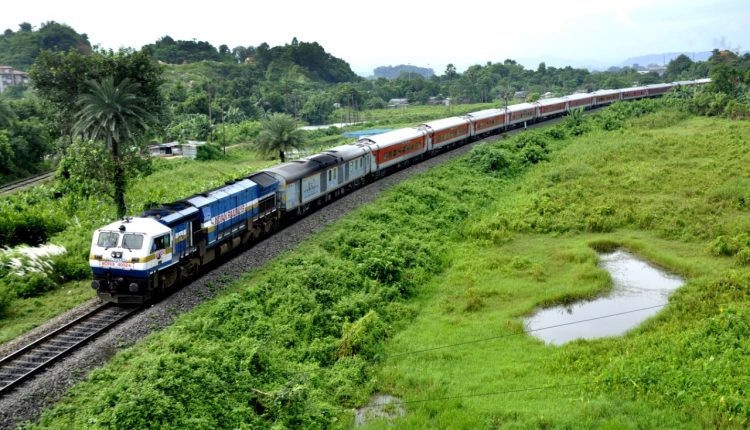 Agartala - Deoghar trial via Badarpur among 8 new special trains announced by NF Railways 
Ministry of Railways has decided to operate 40(forty) pairs of additional special trains on specific routes w.e.f. September 12, 2020. These will be fully reserved trains and will be in addition to the special trains that are already under operation. The composition and route of these trains will be as per existing regular trains.
Trains will have both AC & Non AC classes and General Coach with reserved seat. There will be no unreserved coaches. These trains will be Special trains on the pattern of Regular Trains.
However, "stoppages will be restricted in view of the suggestions of various State Governments," informed NF Railways in a media statement.
At present 230 special passengers carrying trains are running throughout Indian Railways connecting different cities of our country by observing necessary COVID related guidelines. Of which 15 pairs of Passenger Special AC trains (30 trains) being run since 12th May 2020 while 100 pairs (200 trains) started operation w.e.f. 1st June 2020.
In NFR area the following special trains will start operation on their nominated day's w.e.f.12th September 2020 as per the details given below:
NF Railways informed that the Booking of tickets will commence from 10th September 2020. "Only asymptomatic passengers with confirmed tickets will be allowed to enter the Railway station/board the train. Passengers are encouraged to carry their own food and drinking water," informed the media statement issued by CPRO, NF Railways, Subhanan Chanda.
The statement added, "Passengers must download Aarogya Setu App, and strictly observe social distancing both at the station and on trains. Wearing of face covers at the entry and during travel is a must. On arrival at their destination, the traveling passengers will have to adhere to all such health protocols as are prescribed by the destination state/UT."
It may be mentioned here that in NFR area the following trains are running at present:

1.    02423 / 02324 Dibrugarh – New Delhi – Dibrugarh AC spl2.    02501 / 02502 Agartala – New Delhi – Agartala AC spl
3.    02377 / 02378 Sealdah – Alipurduar – Sealdah spl express.
4.    02407 / 02408 Amritsar – New Jalpaiguri – Amritsar spl express.
5.    05484 / 05483 Delhi – Alipurduar – Delhi spl express.
6.    05955 / 05966 Delhi – Dibrugarh – Delhi spl mail.
7.    05645 / 05646 Guwahati – LTT – Guwahati spl express.
8.    02067 / 02068 Guwahati – Jorhat Town – Guwahati Intercity spl express.