Ahead of Durga Puja, Silchar's idol makers troubled by floods aftermath and budget slash
Durga Puja has officially been declared an Intangible Cultural Heritage on the representatives' list. Even though it has only been declared in Kolkata, Durga Puja, celebrating Bengali across the world has considered this a win. Unarguably, the 4-days of Durga Puja are the national festival for Bengalis throughout the world. Durga Puja is just a few days away and right now the markets are swarming with people and their heavy bags of clothes for the four days of puja. Kash flowers are starting to appear here and there, shiuli flowers are about to bloom and the whole autumn air will smell like puja. After two years of the COVID pandemic, this is the first worry-free Puja. Even though the floods in Assam, especially Silchar might have been a bummer, can it stop the Bengalis from celebrating the biggest festival?
The preparation for these four days starts almost a year in advance for the idol makers in their workshops. Right now they are adding the finishing touches to the idols they have been preparing with utmost devotion for months. Their brushes are busy with the final stroke of details as Durga Puja is just 21 days away now. Barak Bulletin talked to some of the idol makers in their busy schedules to understand the process of idol making, the business this year, and their woes.
Sujit Paul, who is the proprietor of Debraj Shilpalay in Silcoorie Bazar has been making idols since he was a kid and is the third generation idol maker. He owns two workshops and has been managing the business for 20 years now. Sujit Paul's state of mind right now is ecstatic and at the same time quite preoccupied. The reason behind both is that he has to deliver 65 Durga idols this year. Sujit Paul said, "This year we got one of the highest orders and we have been working for the last three months on Durga idols only. Combining both the workshops we have 20 artisans this year who are trying their best to fulfil the overwhelming orders that we have received". Sujit Paul's family members including his brother, nephew and cousin are also into the same work and are working day and night to maintain the best level of detail and accuracy.
Talking about his process of idol making Paul said, "Soil plays the most important part here, we get it from two sources: ponds and the river bed. After making the kathamo (the frame made out of bamboo and wood) we make a basic structure out of straws and then start shaping with clay. That's the most important and difficult part, not just because the details depend on this but also because a huge quantity of clay is required and it takes quite long to dry to proceed into the next step". Sujit Paul considers himself lucky that this year's weather was quite good for him and all the idols they were working on dried on time. "The next step is colour, which now is done using machine spray, but details need brush strokes. Then we add the garment, which we have to paint again and towards the end, we add the weapons and ornaments. All these goods come from Kolkata. The final stage is painting the eyes, which has a special tradition and is done on Mahalaya".
Satyaranjan Paul, another idol maker from Radhamadhab Road in Silchar, tells a rather disheartening story about this year's Puja. Paul, who learnt idol making from his father, has been working in Radhamadhab Road for more than 35 years now. "This year", he said, "I didn't get many orders for idols and the idols that I've been working on were mostly damaged due to the flood. My shop was damaged and included all the tools and goods that I had in stock". When asked the reason why orders were less this year, even though this is the first big Puja since the pandemic, he said, "You didn't see the flood? The flood has ruined all of us, the clubs that were planning on big-budget puja are running short on funds above that I have to spend twice the time on idols just for the damage control. Most of the orders I got are from household puja".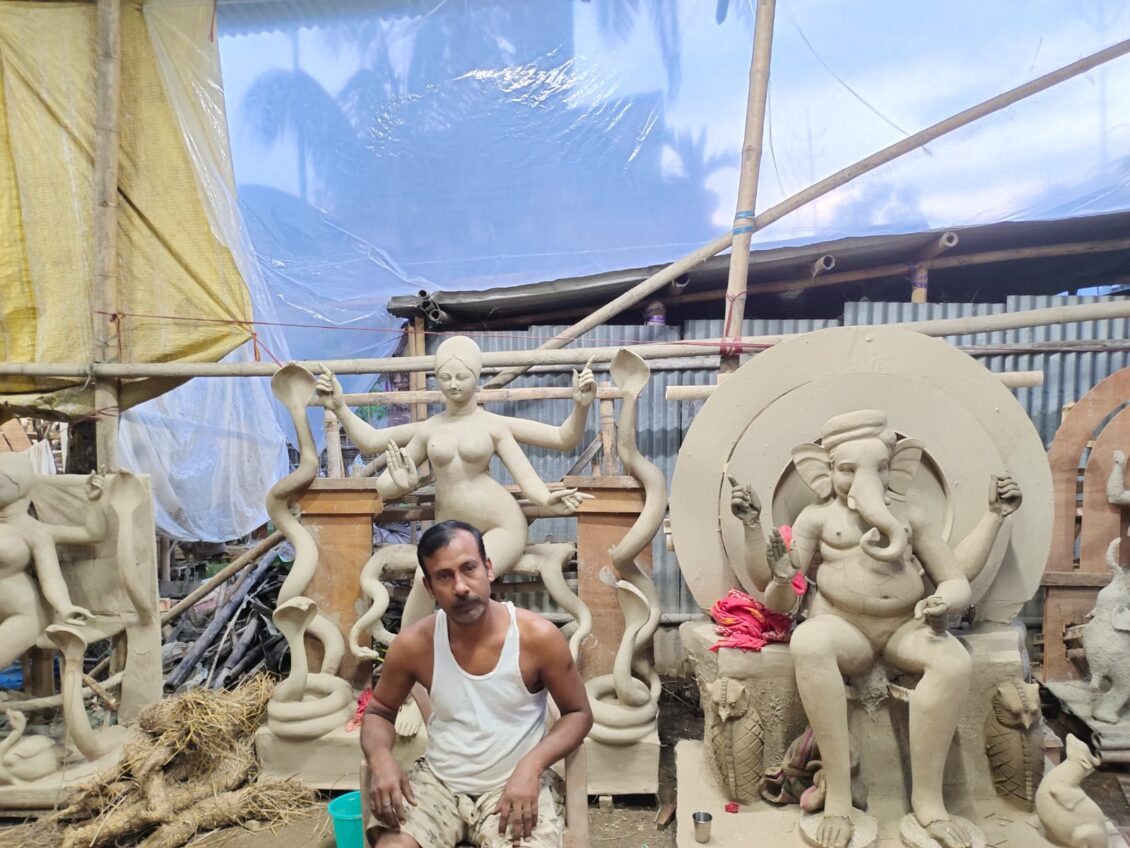 Two idol makers who come here just for four months before Puja to make idols have also seconded Satyaranjan Paul. Sukhdev Paul and Ujjwal Pramanik are both from Nabadwip who come here in search of work before the Puja. They have been making idols for the last 22 years in their temporary workshop on Chandmari Road. They said the number of orders is quite less since the pandemic and the budget has also been reduced. This year, they didn't get a single order from any clubs or big-budget puja in Silchar. In these conditions, they are rethinking their decision to come to Silchar next year again.