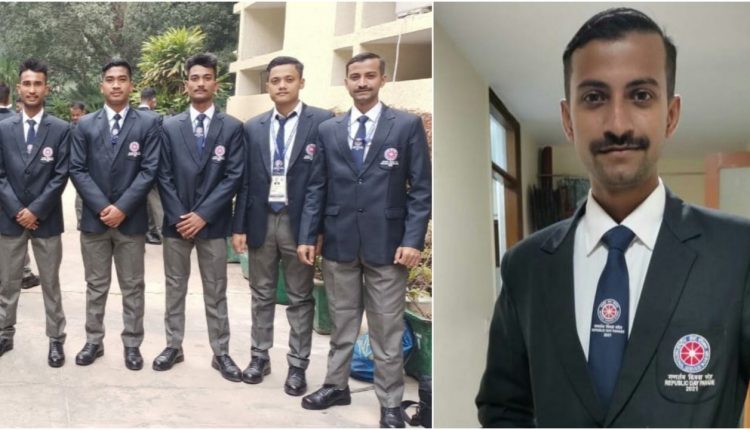 Aritra Dhar shares his "goosebumps" experience attending Republic Day parade live at Rajpath
Hailing from a humble background, Aritra Dhar understands the value of an opportunity. When life gives a lemon he believes in making lemonade. The former general secretary of Assam University's Students' Union, stood at Rajpath on January 26, 2021. The 72nd Republic Day proved once again, where there is a will there is a way.
Millions of dollars cannot get one entry into the Republic Day parade at Rajpath, New Delhi. Aritra bagged it through skills and dedication. He stood there and saw the "vertical charlie" by a single Rafale aircraft. The bird flew at 900 kilometres per hour speed and was the major attraction of the parade.
Not only India, many other countries across the globe had tuned in to television screens to see the Rafale fly in style. The modern aircraft recently imported from France did not fail to live up to expectations. The attendance was cut down to 25,000 this year from 1.25 lakh last year. The entire audience watched in awe as the Rafale flew horizontally from Rashtrapati Bhavan side and got lost in the blue sky within moments, albeit after a few twists, rolls, and turns.
"I was staring at it as I am sure everyone else was. The sound was majestic. It was so fast that it disappeared within moments. But watching it fly, live in front of my eyes was a moment that wrapped me with goosebumps," said Aritra Dhar, sharing his experience from Delhi.
He added that the events that unfolded right in front of his eyes, inspired him. "All throughout, you just get only one feeling, you want to join the armed forces. Be a part that protects, be a part of the team that is braving the snow in Siachen. I too feel like joining the armed forces after attending this parade," shared Dhar.
He became the first student in the history of Assam University Silchar, to have got selected to attend the parade. A pre-Republic Day Camp is organised prior to Republic Day Camp in order to select NSS Volunteers who are the best in parade and cultural activities. There are five pre-Republic Day camps organized throughout the country. They are divided in East, West, North, South and Central zones.
In Pre-Republic Day Camp, 200 NSS volunteers are selected for participation in the Republic Day Parade Camp along with 15 Programme Officers. The duration of the Pre-Republic Day Camp is ten days. They are organised from last week of September to 1st week of December.
From the various universities of Assam, a total of 40 NSS volunteers have attended the East Zone Pre-Republic Day Parade Camp at Siksha O Anusandhan University, Bhubaneswar. A total of four boys and four girls got selected from it. Among them, Aritra Dhar is the only cadet from the South Assam Region who made it to the list.