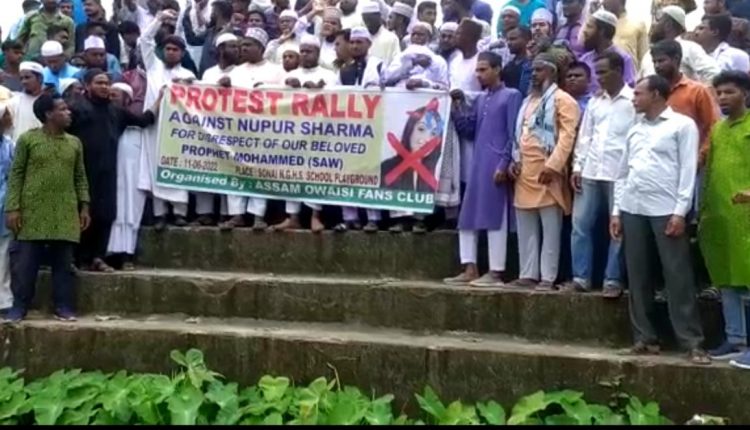 Assam Owaisi Fan Club stage a protest against ex-BJP's Nupur Sharma in Cachar
The global outrage caused by former BJP spokesperson Nupur Sharma's statement during a TV show continues. Her statement was deemed to be offensive by a section of Islam followers and therefore they resorted to condemning her words and gathered in protests in various parts of the country.
A big protest rally was planned in Cachar district's Sonai by Assam Owaisi Fan Club. Sensing that this protest can turn into a communal violence, breaching peace and tranquility, the Cachar Police administration prohibited any procession or march.
However, the gathered members of the Assam Owaisi Fan Club and supporters of the cause went to cricket field in Sonai and continued with their demonstration. Slogans condemning Nupur Sharma's words against Mohammad (PBUH) were raised at the demonstration. They also demanded exemplary action against the former BJP member.
It is worth mentioning here that BJP suspended Nupur Sharma's primary membership to the party for her comment during the TV show. The action came from the party after there was a global outrage, especially from the middle east and south Asian countries.