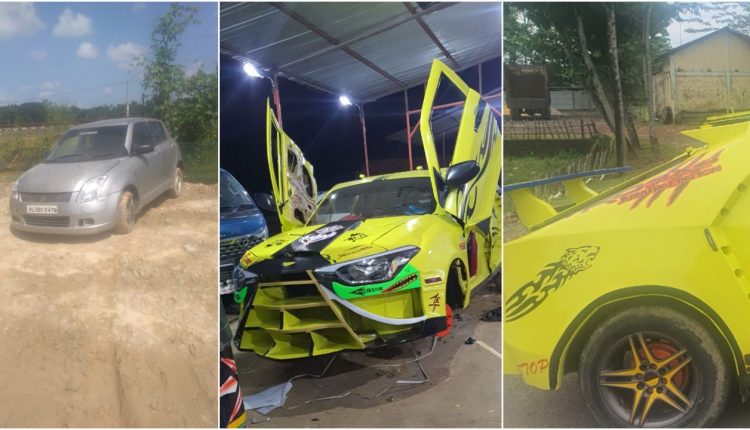 Barak Valley boy modifies Maruti Swift to make his own version of Lamborghini; "Next, a version of Ferrari", he says
Big budget action movies have often exposed us to costly sports cars possessing powerful engines. Films like the Fast & Furious franchise with their captivating looks have long tempted us to dream about owning sports cars like Ferrari or Lamborghini. But rarely do common people get to see or witness such gorgeous cars in their lifetime, especially for a small town or rural people. But what resources can't get you, talent always can. And it has been proved once again in the district of Karimganj, where a garage owner has made his own version of Lamborghini, the popular Italian sports car manufacturer. 
Nurul Haque of the Bhanga area of Karimganj has utilised the entire duration of the pandemic to build a custom car that is heavily inspired by Lamborghini. He is a mechanic by profession and owns a garage in Bhanga named N Maruti Car Care and makes his living by fixing vehicles. After lockdown hit the entire country, he decided to make his own version of Lamborghini by customising on an engine of a Maruti Suzuki Swift car. And the result is a gorgeous piece of machine architecture, that resembles the original Lamborghini car to an unbelievable extent.
While talking to Barak Bulletin, Nurul Haque said that it was his life-long dream to own or drive a Lamborghini. But being a small-town guy, it's hard to see the chance of happening so any time soon. "Hailing from a place like this, it's not possible to witness sports cars in such places as we'd expect in metro cities or bigger cities. But I've always wanted to drive or own a sports car, so I decided to make one myself", said Nurul about his initial inspiration. He used a Swift engine and architectured all the other parts around it to his customisation to make it look like a replica.
While talking about the experience of making the vehicle, Nurul said, "Due to lockdown, I had to order all the raw materials and parts through online mode. For 8 months, I with the help of my staff workers toiled around the project and finally made this car to fruition." From buying the engine and the raw materials to giving it the final shape, he said the total expenditure of the project was around ₹6 lakhs 20 thousand.
Naturally, this achievement of his spread like a wildfire in his vicinity as seeing a Lamborghini whirl past the road is very much a rare sight here. After the news had reached every nook and corner of this valley, he was even invited by the Barak Valley Sarbadharma Samannay Sabha's Sutarkandi branch for the inauguration of his vehicle. Nurul has also expressed his desire to be open to perhaps selling it to someone as enthusiastic about sports car as him if such an opportunity arises.
After Lamborghini, what's next? Nurul said that next, he's planning to make a customised replica of Ferrari soon. But as of now, Nurul 'The Garage Man' is living his life drifting past the roads and highways of Karimganj with the 'Lamborghini Ghumaaye Jaane Ho' song blasting out on his car stereo!