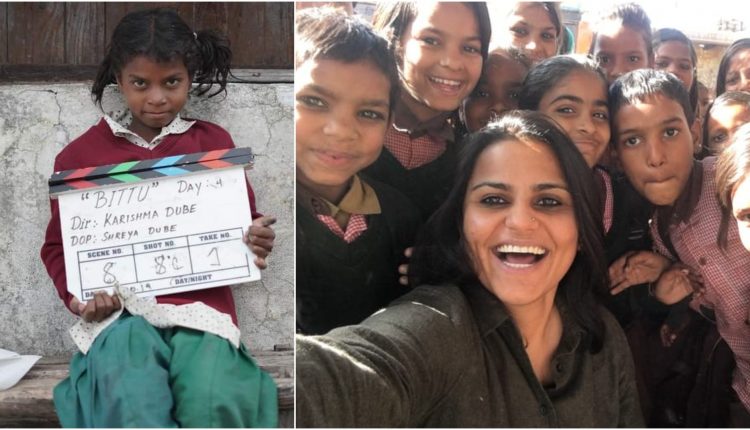 'Bittu', Oscar and the Silchar connection - Karishma Dev Dube; "Anger" was starting point, says filmmaker
The coveted Academy Awards of 2021 has recently announced the first shortlist of candidates for its different categories. Scheduled to be awarded on April 25, in Los Angeles. 'Jallikattu', which was India's official entry in the Best Foreign Film category, got out of the Oscar race but Indian filmmaker, Karishma Dev Dube is still keeping the Indian dream alive of bringing an Oscar home.
Her most recent film, 'Bittu', a short film running 17 minutes, has made it to the list of 10 finalists in the Live Action Short Film category of the 93rd Academy Awards. A New York University graduate in Film Program, her debut short film 'Devi (Goddess)' has played in 58 festivals worldwide including BFI London Film Festival, Edinburgh Film Festival, and Outfest LA where it won the Grand Jury Award for 'Best Narrative Short'.
'Bittu', inspired by the infamous school poisoning of 2013, already winner of the 47th Student Academy Award has also been screened at innumerable film festivals across the globe.
"Bittu definitely was based on the tragic school poisoning incident where 23 kids died. It had such a big impact on me that it stayed in my chest for a long time. But I never wanted to investigate that poisoning incident rather I wanted to tell the story of this little girl who is like an individual in a herd and often gets misunderstood by the people around her," said the filmmaker while talking to Barak Bulletin.
Over a telephonic interview from her New York residence, the award-winning filmmaker shared that she first started writing it in 2014 from what she calls "a place of anger".
Coming from a family of strong women, Karishma also happens to be the niece of former MP Sushmita Dev and granddaughter of former Union Cabinet Minister late Santosh Mohan Dev. Primarily taking inspiration from her elder sister Shreya Dev Dube, who's a cinematographer known for shooting Ronny Sen's 'Cat Sticks'  and Raja Ramamurthy's 'Achcham Madam Naanam Payirppu', Karishma went to NYU in 2014 to become a filmmaker.
She recalled that "It was only after coming out of India that I realised that sometimes you gotta keep it simple and true and not do too much, which is a pretty different style of filmmaking as opposed to what I was conditioned to back in India."
Talking about which Indian filmmakers influenced her, she said that she doesn't have any particular favourite director as such, but some contemporary directors like Hansal Mehta, Gurvinder Singh, Chaitanya Tamhane, are her current favourites.
"I think 'Devi' came from a very personal space where I was trying to explore the meaning of 'class' more than anything else. About how class cuts through every interaction we come across in India. With 'Bittu', I wanted to talk about just how vulnerable our children could be, in small and big ways, even in a safe space like school. But yeah, the movie has also become a lot about my own experiences, in school and classrooms, where English is used as a tool of superiority over many people. So it's like a tribute to my formative years in school," asserted Dev Dube.
Unlike mainstream films, Karishma Dev Dube made 'Bittu' with amateur street actors rather than casting professionally trained ones. The protagonist Bittu, played by Rani Kumari, was selected after going through a series of acting workshops that the producers of the film organized with the cast in the location.
In a way, she said, Rani resembled her, and through Rani's Bittu character, the auteur could express her non-conforming and rebellious side. "The challenging thing about this film is that with every actor we needed something different. We were working with children who needed to understand everything from their own experience and perspective. The Principal and the shopkeeper were also played by real people, they were on film sets for the first time. There were a lot of Pahadi people also, the two girls were basically migrant labourers from Bihar. So it was difficult at the start but then we got to spend a lot of time together which created a lot of memories to reference back to while shooting." said Dev Dube when asked about the making of 'Bittu'.
The film is presented by Indian Women Rising (IWR) which is an initiative of Ekta Kapoor, Guneet Monga and Tahira Kashyap. When asked about how she ended up collaborating with this beautiful initiative IWR, she said that it was only after 'Bittu' won the Student Academy Award that she came in contact with Guneet Monga. Karishma says, "I asked Guneet to help me raise money in Mumbai. That manifested in the initiative which has been their vision for a while, and 'Bittu' happens to be their first project to come out. They're associated with the film as the executive producers who help us with the marketing."
Grew up in India, learned the craft in the US, Karishma Dev Dube aspires to be a filmmaker whose works could reflect both her worlds that she grew up knowing. Currently, she's producing her first feature-length film 'Burning Well' in New York, which is directed by Mary Evangelista, who also happens to be the producer of 'Bittu'. Besides that, she's also developing her own feature film based in Assam. "I have a big love for Silchar and have some strong memories there that I want to recreate. It's inspired by the people that I've known growing up, but I'm still in the process of figuring out" says the award-winning filmmaker when asked about her future projects.
"I miss Silchar and how it smells. I miss the food there". Even though she has been living in NY for years now, her love for the native countryside is still the same. And Silchar reminds her of that only. "I love being around my aunt and get inspired by her relationship with the place. I have fond memories of following her to different places of Cachar while campaigning."
'Bittu' has been screened in festivals like BFI London Film Festival, Telluride Film Festival, Palm Springs Shortfest, and Short Shorts Asia Film Festival. And now it is on the verge of bagging another accolade.