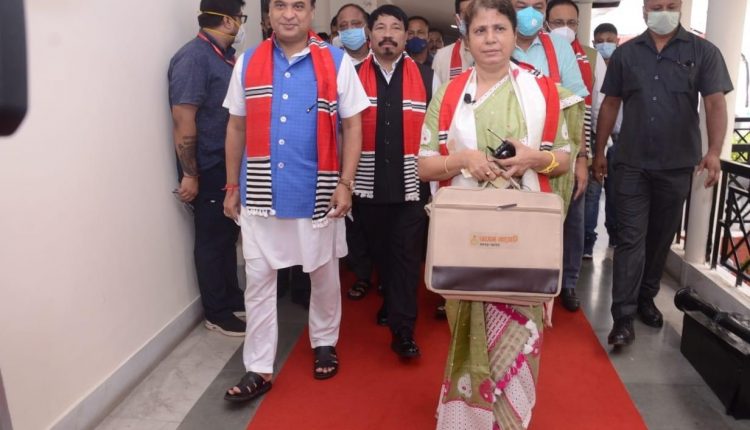 Budget: Zoo in Silchar, Cancer Hospital in SMCH to be ready by 2022; More uncertainty over Karimganj Medical College
Ajanta Neog became the first women in the history of Assam to present the budget as Finance Minister. The former minister in Congress's Tarun Gogoi cabinet switched party before the 2021 general elections to the Assembly and her switch was rewarded with a top portfolio.
After she tabled the budget, the Chief Minister of Assam, Himanta Biswa Sarma lauded her decisions and termed it a "pro-people" budget. He said the budget focused on middle class and the funds allocated to several schemes are "historic and pathbreaking".
Under Orunodoi Scheme, the beneficiaries will now get Rs 1000 per month instead of Ra 830 earlier and the Finance Minister said that this will help these families become self dependent.
Assam Government has also decided to provide free smartphones to the students of class IX and X studying in Government School who have started to lag due to the digital divide. Most classes are happening online, and the Finance Minister said that she observed, students from underprivileged and marginalised families don't have the devices and so their classroom education is in halt. So, the fund has been allocated to provide free smartphones.
What comes as highlight for Silchar is that the government has decided to establish ultrasound facility and critical care unit for veterinary in 5 districts and announced that 10 Animal Ambulatory clinic would be established. In Silchar (and other districts) Township Milk (gakhir) Service Scheme is to be set.
The finance minister also said that It has been aimed to complete the cancer hospital of Guwahati, Silchar and Diphu Medical Colleges by 2022.
The finance minister proposed to establish Anundoram Administrative (proshoshoniyo) Academy in Silchar.
Ajanta Neog's budget institutionalised what Himanta Biswa Sarma's cabinet decided a few days back. Neog announced that to fast track investigation and provide forensic help to a crime scene/ crime, Assam govt. has decided to establish Forensic Science and Investigation Centres in Silchar, Dibrugarh, Tezpur, Jorhat and Bongaigaon.
The Government of Assam sees Silchar as startup hub and to mushroom business ideas, Ajanta Neog's budget announced that an Incubation Centre to be established in Silchar along with Bongaigaon, Tezpur and Dibrugarh for commerce/business (udyog).
She also announced that a Zoo will be setup in Silchar to protect the wildlife.
What comes as a huge worry for Barak Valley in Ajanta Neog's budget is the complete ignorance to Karimganj Medical College which was already proposed. It was expected that she would allocate fresh funds to kickstart the project but there wasn't any mention of the proposed Medical college. She instead announced that five new medical colleges will be built in Assam, one each in Golaghat, Dhemaji, Morigaon, Bongaigaon and Tamulpur. Rs 16 crore has been allocated for each of the proposed Medical Colleges.