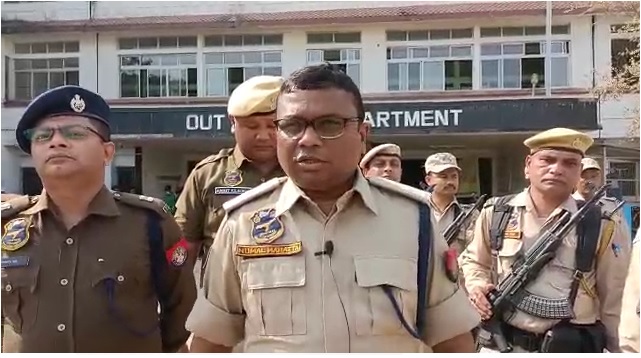 Cachar SP speaks on firing in Silchar; 'Lal' is a kingpin, mastermind, running multi-state car-lifting nexus

Today morning, police personnel confronted the "most-wanted" car lifter, Afzal Hussain also known as 'Lal'. Resident of Durganagar, Udharbond, Lal has reports against him in several Police stations of Cachar.
According to available information, Lal was confronted by Police today morning in Silchar. When the Police officials were escorting him to the Police van, he removed his knife and stabbed a Police official, identified as Anwar Hussain. The remaining Police officials on the spot started chasing Lal and opened fire at him near the Silchar Bara Masjid in Gopal Ganj.
The alleged criminal, Afzal Hussain (Lal) and Police personnel, Anwar Hussain have been rushed to the Silchar Medical College and Hospital. Sources in the hospital informed that Anwar Hussain's condition is stable and he is being treated further to ascertain the extent of the injury.
Speaking to reporters about the incident Cachar SP Numal Mahatta said, "Last night we got an input about infamous car lifter Afzal Hussain Barbhuiya aka Lal. He is the kingpin of car lifting in entire Barak region. He used to steal cars and bikes and sell them in neighbouring states. We were searching for him since many days and he was evading police carrying on car and bike lifting alongwith his associates."
The senior officer added, "Based on the input we received, a team led by OC started a search operation today morning. He was hiding at a certain location in Silchar city. He came to know about the arrival of police and attacked one of our personnel with a knife at his stomach, threw him to the ground and tried to evade. While trying to escape, the police fired at him and he got injured. He is now admitted at Silchar Medical College and Hospital. During the confrontation one of our police constables also got injured. His treatment is going on at Silchar Medical and Hospital and he is out of danger."