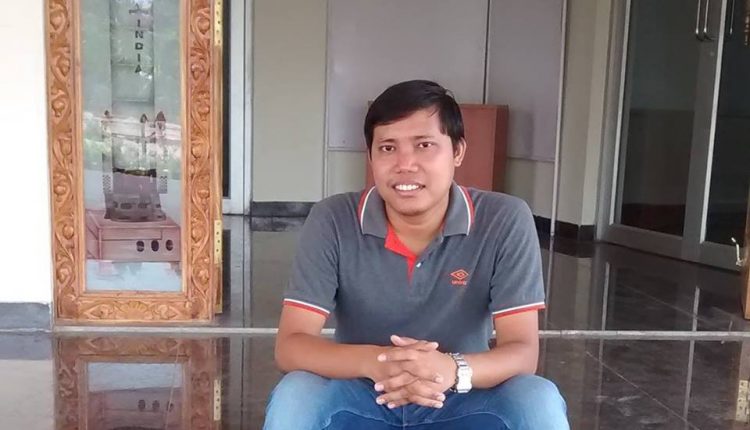 Chandrayaan 2: JNV Pailapool alumnus Hidam Rajeev Singh in India's mission-moon team
After a smooth countdown lasting 20 hours, (Geosynchronous Satellite Launch Vehicle) GSLV MkIII-M1 vehicle majestically lifted off from the second launch pad at the Satish Dhawan Space Centre SHAR (SDSC SHAR), Sriharikota. ISRO confirmed that GSLV MkIII-M1 successfully launched the 3840 kg Chandrayaan-2 spacecraft into an earth orbit on July 22, 2019. History was made, Indian mission moon got a lift-off.
Hidam Rajeev Singh an alumnus of Jawahar Navodaya Vidyalaya Pailapool, Cachar played a role in the lunar mission. As a matter of immense pride for Barak Valley and entire Northeast, Hidam Rajeev Singh was one of the very few who got to be part of the team that worked in the production of the 1st stage Solid rocket boosters for Chandrayaan 2.
Jiribam, Manipur born Hidam Rajeev Singh after completing his school from JNV Pailapool studied Chemical Engineering at Assam Engineering College, Guwahati. After completing his BE he started working at Hindustan Zinc (HZL), a part of Vedanta group (globally diversified metals and mining company), India's only and World's second-largest integrated producer of Zinc-Lead-Silver.
After a brief stint at Hindustan Zinc, he joined ISRO in 2009 as Scientist/Engineer-SC at Satish Dhawan Space Centre (SHAR) in Sriharikota. According to the official alumni page of JNV Pailapool, Hidam Rajeev Singh, is currently working in the field of solid propellant area for producing solid boosters required for ISRO launch vehicles. "Presently (he is) posted at the Propellant Mixing Facility. SDSC SHAR as Scientist/Engineer-SE," read the post on the official alumni page of the school.
The post stated that Hidam Rajeev Singh was a student of the third batch of JNV Pailapool, "Congratulations brother Rajeev, JNV, Pailapool, Assam. Keep the flag flying high as always .." the post concluded.
While that post congratulated Singh for his achievements,  ISRO chairman Dr K Sivan congratulated the launch vehicle and the entire team involved in this challenging moon mission. He said "It's a historical day for Space Science and Technology in India. I am extremely happy to announce that GSLV MkIII-M1 successfully injected Chandrayaan-2 into an orbit of 6000 Km more than the intended orbit and is better."
The chairman added, "Today is the beginning of the historical journey of India towards Moon and to land at a place near (the) south pole to carry out scientific experiments to explore the unexplored. On July 15, 2019 ISRO intelligently observed a technical snag, Team ISRO worked out, fixed and corrected the snag within 24 hours. For the next one and a half-day, the required tests were conducted to ensure that corrections made were proper and in (the) right direction. On July 22, 2019, ISRO bounced back with flying colours."