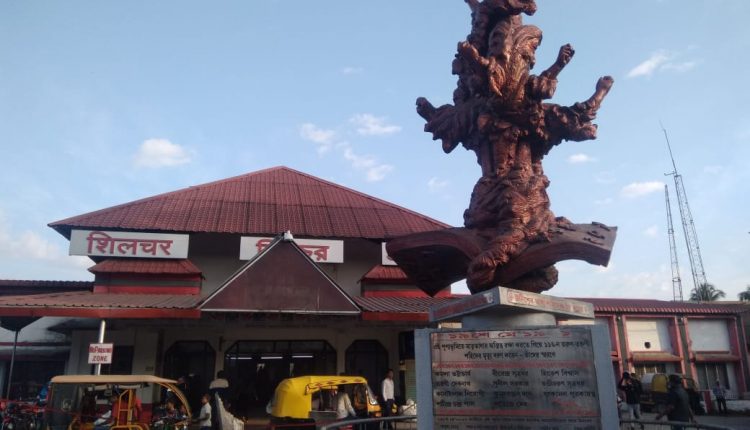 Clause 6: Silchar Station to be renamed after Cachari King Govinda Chandra; "Divide and rule tactics," experts
Silchar Medical College and Hospital to be renamed as Moniul Haque Laskar Hospital, SM Dev Civil Hospital as Phesai Mia Hospital, Silchar Railway Station after Cachari King Raja Govinda Chandra. Silchar Women's College to be renamed as Rani Induprabha Women's College, Sadarghat Bridge as Jananeta Hijam Irabot Singh Bridge.
As per the documents made public by members of All Assam Students' Union on Tuesday, these are the suggestions listed in the "high-level committee's" report submitted to the government. The report made public states, these are among many suggestions made for recognition, protection, preservation and conservation of the indigenous people.
The 141-page-report consists of other recommendations too and Barak Bulletin published a detailed story with remarks from the experts on the cutoff being 1951, reservation… to read click here.
On the issue of nomenclature, a set of people feel that the committee is trying to achieve smooth implementation of Clause 6 by enforcing the age-old divide and rule tactics. Few even believe these are noise created by AASU as they would like to enter politics in a full-fledged manner with Clause 6 on the backdrop. There is another section which is recommending to just wait and watch.
Barak Bulletin reached out to a set of experts and here is what they had to say
Dilip Paul, MLA Silchar
It is an extremely important issue and one must study it carefully before drawing conclusions. The committee was formed which traveled all across the state and submitted the recommendations based on the inputs they have received from various segments in the society. The committee has done the job it was constituted for. But there is no reason for us to believe that the government will accept all of them. It is written nowhere that the committee's words are the last final words. I am sure that both the State and Central Government will discuss the recommendation further and reach a conclusion after taking all views into consideration.
Dr. Rajib Kar activist, Bhasha Sahid Smaran Samihiti
If I have the right as a citizen of India to not abide by the Assam Accord then I wouldn't. However, I strongly oppose the implementation of Clause 6. When the accord was signed, nobody asked the Bengali population for an opinion. The committee, in its recommendation, has not only ignored the sentiment of the Bengali population but also insulted it. Naming hospitals, roads, making halls and everything else is still understood why do they have so much hatred for the 11 dead bodies? Why Railway Station?
This is the time for the people of Barak Valley to realise that in order to safeguard the essence of Barak Valley and live as Barakians we must move for a separate Barak. Also, the member of parliament and the other elected representatives must understand that if these recommendations are accepted then they will only remain as voters and never get to contest an election.
Overall, these recommendations are made to ensure that people of Barak remain locked-down in Barak Valley itself.
Arijit Aditya, veteran journalist, author, playwright.
AASU had told that they will make a political party so whatever they leaked, is part of their election manifesto. Premising upon it they want to contest the upcoming elections. Second thing is that they want to keep BJP under peer pressure. Thirdly, there's a tug of war between Hindutva and Assamese regionalism among the Assamese. Bengalis are made a scapegoat. This is a great leap forward in creating an Assam devoid of Bengalis.
The way BJP is using Hindutva as a tool to create division among Bengalis in that very way the Assamese are appeasing Muslims to divide Bengalis. Otherwise, why would there be a proposal to rename Silchar Medical College and Hospital as Moinul Haque Choudhury Hospital? There's nothing written about improving the infrastructure of Medical College so what good will a name change do? A proposal has been made to rename the Railway Station after a Cachari King. There's only one agenda – Chanakya's divisive plan.
If Hindu and Muslim Bengalis don't unite then both are sure to get doomed.
Vivek Podder, Northeast Linguistic and Ethnic Coordination Committee (NELECC)
My personal opinion is that we must wait until we get something official. When the entire world is dealing with a pandemic, it is important to analyse before reacting. Whatever we have got so far is not official. The committee has met several organisations including us and based on that they have made some recommendations.
The Modi government has already made its stance clear on Citizenship and immigrants by enacting Citizenship Amendment Act. As far as the change of names is in concerned, it is possible that some organisation must have recommended it. Just because someone made a proposal public it does not mean the names are being changed.