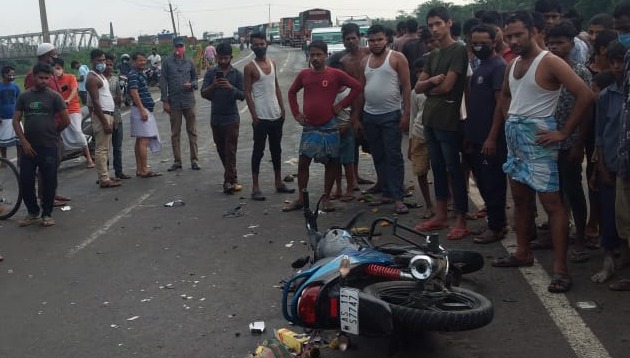 Collision between oil tanker truck and motorcycle in Karimganj leaves one dead, another severely injured
In a horrible road collision in Karimganj today, one person has lost his life rendering another critically injured. The accident happened in the Puamara area near Kanishail of the National Highway 8 when an oil tanker truck collided with a motorcycle.
The deceased's name is Gopal Das, aged 40, who is a resident of Fakuagram village near Ramkrishnanagar of the Karimganj district. The other person who has been severely injured in the accident happens to be Sridhor Namasudra, aged 50 years, of Karimganj.
According to Karimganj Traffic Police incharge Supriya Bhattacharjee, as soon as the collision happened, onlookers and pedestrians nearby rushed to the scene and stopped the oil tanker truck. One of the two riding the motorcycle, Gopal Das, couldn't survive the collision and died at the spot. The other one, Sridhor Namasudra was already in critical condition severely injuring himself. He was immediately sent to the Karimganj Civil Hospital. Not much else information was available at the time of reporting this incident. But the number plate of the motorcycle is AS 11S 7747 and that of the oil tanker truck is AS 11BC 0544.
Although nearby onlookers were able to stop the truck after the collision, they couldn't stop the driver from evading the scene. The police also said that the investigation is still on.