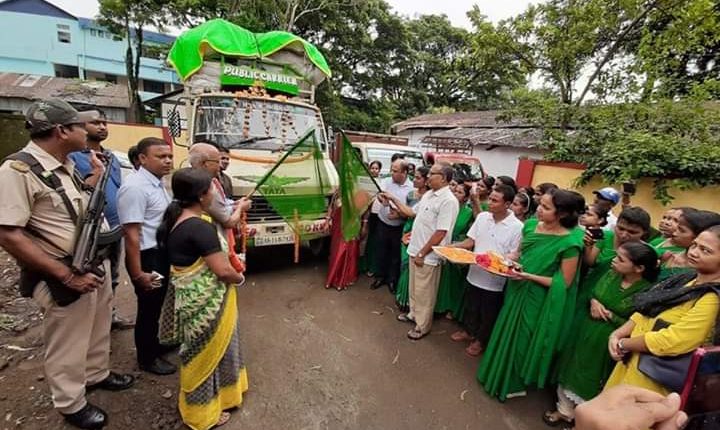 Consignment of 1010 Kg inorganic waste flagged off for selling outside
In what could be called a significant development towards making Silchar, the second biggest Urban sprawl in the state a trash free and plastic free destination, the Solid Liquid Resource Management centre made a significant leap courtesy coming up with a consignment of 1010 kg of inorganic waste in just 79 days since beginning it's journey.
Silchar MP Dr Rajdeep Roy, Deputy Speaker Aminul Haque Laskar Silchar MLA Dilip Kumar Paul along with Deputy Commissioner Laya Madduri and SMB chairman NN Tagore flagged off the consignment which has been sold to a local scrap dealer at Rs 15,000. Deputy Commissioner in her speech mentioned that it is possible to transform Silchar into dumping site free city. It needs participation of public and proper planning from Municipality with the support of district administration.
While speaking on the occasion MP, Silchar Dr Rajdeep Roy mentioned that among 10 top most uncleaned cities Silchar is in 8th position, though these are according to the past record (SS result declared in March 2019), he mentioned that keeping this thing in mind we must realise where to work, how much efforts we are to give. He also mentioned in his speech that Prime minister Narendra Modi announced in his speech on 15th August that from 2nd October single use of plastic is banned in this country, so from 2nd October use of single use plastic material is a punishable offence,he also said much before this notification comes in to effect, MP, MLAs had a discussion with District Administration Cachar with participation of SMB at DC'S Office to announce the ban on single use plastic in Cachar and he expressed his deep satisfaction over the implementation of such order in Silchar town one month ahead of the scheduled date.
In his speech he also thanked the workers of SLRM training center for the untiring efforts to make it a most successful project. People should not neglect the workers and should not humiliate them as they are dealing with garbage and instead they should be respected for the services they are rendering, he mentioned many of the workers here are educated.
He praised C.Srinivasan, who came all the way from Vellore to impart his knowledge to SLRM workers, he thanked him for his relentless efforts to make it a successful one. He also mentioned that he has already informed District Administration Cachar and SMB to emphasize on the main commercial area of Silchar town i.e. in ward number 6 during festive days by distributing bins to the shops for segregation of wastes,it will create a mass awareness in broader periphery as many of outsiders generally come to Silchar town. In the future trenching ground at meherpur will not be required, instead of trenching ground a big building will be constructed at the site of Meherpur and a big SLRM center will be there at the site for tertiary segregation, storing before selling them to industry as raw material for recycling. He appealed to all concerned for their active participation to make it a successful project.