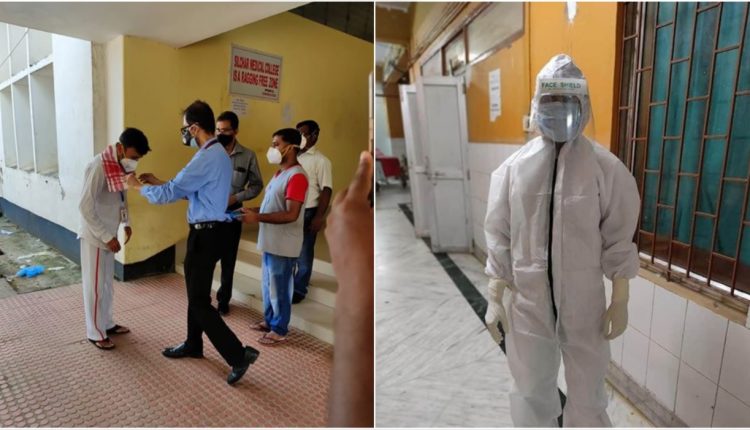 COVD19 warrior a Lab technician on Swab collection duty at SMCH tests positive
Team Silchar Medical College and Hospital has scored more than 60,000 runs in the COVID 'test match'. Today, one of the top-order batsmen has retired hurt. "Down but not out! will be back soon and stronger," the warrior hummed.
From the outside, it looks all normal. Peep inside the microbiology department and you would realise it is a war. The department in SMCH tests samples for COVID19 round the clock. Yesterday, Laboratory Technician, Dibyendu Roy, posted at Central Composite Laboratory (Microbiology Section), under Hospital Management Society, Silchar Medical College Hospital tested positive for the virus.

As per available information, he was on swab collection duty. "As a protocol, the technicians on swab collections duty collect samples for seven days and then the remain a week in quarantine at a hotel. After completing the tenure and testing negative they go home," said an official of the microbiology department.
Dibyendu Roy becomes the first lab technician to test positive for the virus in Silchar. There are 75 employees in the microbiology department at this moment but it is the technicians who collect the swab informed the official. "They remain inside a PPE throughout their course of collection and often the person they are collecting the sample from sneeze on them. They remain exposed to the infection," he added.
The technicians also go and collect swab samples from the patients admitted to the various departments in Silchar Medical College and Hospital and at times even from dead bodies. Roy has done several shifts before and was felicitated by the superintendent, Dr. Abhijit Swami and Vice Principal, Dr. Bhaskar Gupta after completing the COVID19 swab sample collection duty & hotel quarantine.
Roy's current shift started on July 29. He was examined using the rapid antigen test kit yesterday and after testing positive he has been admitted to the COVID block in SMCH. The officials Barak Bulletin spoke with from the department wished him a speedy recovery.