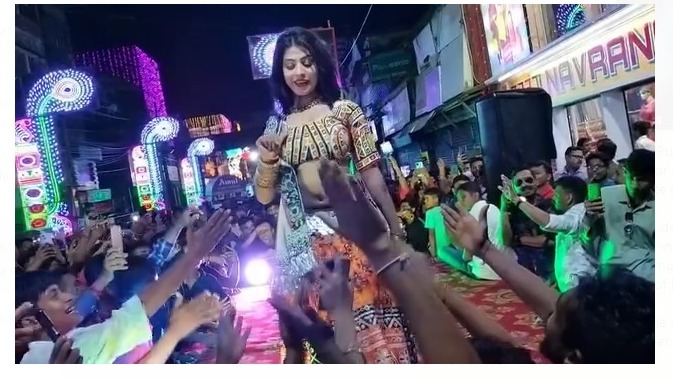 Dance Performance in Janiganj Ignites Outcry in Silchar; "Was Recommended By Marwari Members," Puja Committee

A dance performance during the Kali Puja celebrations in Janiganj, the heart of Silchar and a prominent destination for the festival in Barak Valley, has stirred controversy and sparked public debate on cultural appropriateness.
The event, which took place on the middle of the road, featured a woman performing what is commonly known in cinema language as an "Item Number." The performance drew criticism from numerous netizens who deemed it a cultural misfit, particularly within the context of Kali Puja celebrations. During the dance, men surrounded the stage, engrossed in what onlookers describe as voyeuristic pleasure, further intensifying the backlash against the performance.
Raju Paul, President of the Puja Committee, defended the event, stating that Janiganj is an area characterized by a cultural amalgamation of people from various communities, including Bengali and Marwari. He clarified that the controversial dance was part of the three-day cultural program lineup that had many other performances.
View this post on Instagram
However, Nanda Dulal, Chief Advisor of the Puja Committee, expressed his disapproval, stating, "We are not very proud of the dance performance that unfolded, and it didn't seem appropriate in our eyes." He highlighted the diverse lineup of cultural programs, including Shyama Sangeet, Assamese performances, and Rabindra Sangeet in the preceding days.
He added, "On the first day, we had Shyama Sangeet programmes, then we had Assamese programmes, we also had Rabindra Sangeet and Rabindra Nritya being performed by participants on the stage. Last night, we had a dancer from Rajasthan come and dance and it was a recommendation from the Marwari population in the region. They took the song and the dance well but it did not seemed appropriate to us."
It's noteworthy that Rajasthan boasts a rich folk tradition with famous traditional dances such as Ghoomar, Kalbeliya, Kachhi Ghodi Dance, Bhavai Dance, Kathputli Dance, Chari Dance, Gair, Dhamal, or Chang. The dance performed during the Kali Puja event did not align with any of these recognized forms.
The incident has ignited a broader discussion on the balance between cultural diversity and appropriateness in public celebrations. As the controversy unfolds, many are questioning the selection process for cultural performances during religious festivals, emphasizing the need for sensitivity and respect for the sanctity of such events. The Puja Committee is expected to face scrutiny as the community seeks clarity on the decision-making behind the controversial dance performance.