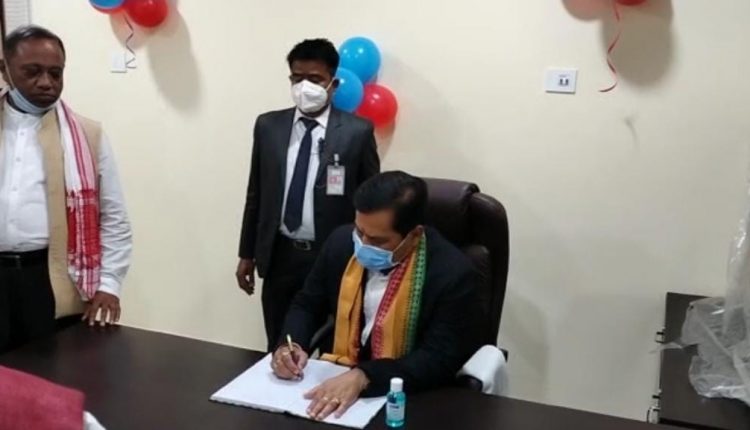 Dholai's bio-diversity park named after Atal Bihari Vajpayee; Sonowal urges to nourish it like a child
The new Bio-Diversity Park at Dholai has been set up at the initiative of the State Forest Ministry where more than one thousand valuable plants are being planted and preserved. Chief Minister Sarbananda Sonowal inaugurated the park with his own hands on Sunday evening. Speaking at the inauguration ceremony he announced that the park will be dedicated to late Prime Minister Atal Bihari Vajpayee.
Last month, a statue of the former Prime Minister was erected at Zero Point of the East-West Corridor, making it the first such statue of Vajpayee in Northeast India. This time the bio-diversity park got dedicated to Atal Bihari Vajpayee.
After officially inaugurating the park, Chief Minister Sarbananda Sonowal said, "This park is not just for spending leisure hours or sightseeing. The main objective of this park is to preserve the state's natural resources and create awareness about it. We want our family members, especially students to come to the park and discuss how these exotic plants are conserved here. The Bio-Diversity Park will become a centre of learning. As education is something revered and sacred, so we are dedicating this park to the former PM Atal Bihari Vajpayee. He has served the country all his life and that is how today's educated youth have learned to respect and admire politicians. If we all can together maintain this bio-diversity park as an educational center and spread environmental awareness in the society, it will be a tribute to the late Prime Minister. At least that's what I believe. "
The Chief Minister appealed to everyone in Barak Valley, including Dholai, to learn to love the park as their own child. He said, "The park has been built with a lot of care by the state government, but it has the contribution of many people, including forest officials which made it possible. Many exotic species of plants have been collected and preserved here. However, these cannot be protected by government officials alone. The common people need to come forward and help. They can learn many important things about the natural resources of Assam and Northeast through this park. The locals have to keep a close watch on the trees lest they get damaged and look after the beauty of the park. Visitors from other parts of India and abroad will come here in future and it is the responsibility of locals to ensure that they have a good time appreciating the park's beauty. "
The Chief Minister in the meeting praised the work of State Forest Minister Parimal Suklabaidya. He said, "The Forest Survey of India has specially appreciated the forest conservation activities of Assam. In addition to forest conservation, the condition of wildlife has also become much more protected and beautiful. It has been made possible by goodwill and tireless work. Specially, the no. of tigers in Assam has increased which enriched our prestige to the rest of India. I believe that under the supervision of Forest Minister we will be able to set a precedent for the rest of the world in wildlife conservation in the future. "
The Forest Minister told that many valuable trees ranging from orchids have been planted in the bio-diversity park and they will be conserved. Many exotic trees of North-East India, which are nearing extinction, will be planted and preserved here, as well as showcased to the youth. He said, "We cannot save rare species of plants through just one park. The present generation is much more aware and if we can explain to them then they will save exotic trees not only in Barak Valley but all over the North-East. Dedicating this park to Atal Bihari Vajpayee, the Chief Minister gave us further encouragement. There are also plans to build a zoo in Cachar district in the future. Work for it will start this year only. "