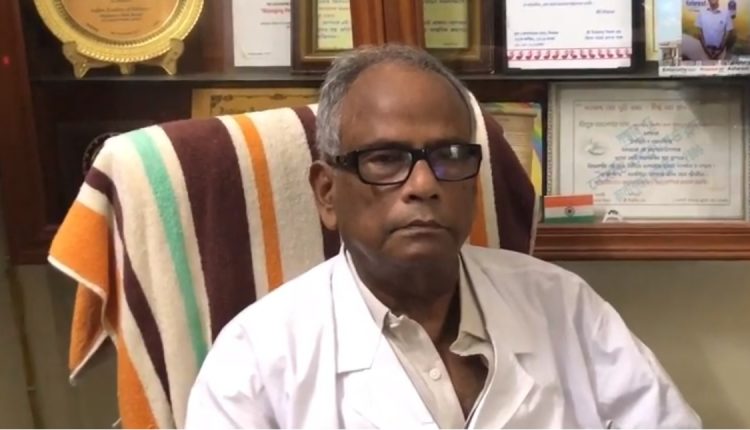 Don't know about me but my mother would have surely died had Dr. Chandrasekhar Das not been there
By the time I arrived in this universe, my mother had already lost a child. Her first child, a daughter, died at the age of four at All India Institute of Medical Sciences (AIIMS).
So obviously, I grew up over-pampered. Till I was probably a teenager, my mother never said no for anything I asked. I was brought up spoilt but it was not all hunky-dory. I had to make frequent visits to Dr. Chandrasekhar Das and at times unnecessarily too, in fact, at one point in time, I visited Dr. Chandrasekhar Das more than my own grandparents living in Tarapur.
By the way, I was born and brought up in the quarters of Regional Engineering College which has now become National Institute of Technology. Reaching Ambicapatty from REC was no mean feat back in the early 90s. Asthma, skin disease, cold, and cough were my best friends while growing up. Often I would lose my breath late at night and my family would rush me to Silchar Medical College and Hospital. While for a major part of Northeastern India that was the final stop when it came to health-care, for me it was Pratibha Bhawan in Ambicapatty, the residence of Dr. Chandrasekhar Das.
When I turned 11 and was in Class V, during my annual examination, I fell terribly ill. On my way to South Point school, my mother was contemplating if I must appear for the examination or not. While she was obsessed with my studies it was nowhere close compared to her concern for my health. While the entire group of students wearing white and blue got down from the bus at the National Highway point, I remained seated. She took me to Dr. Chandrasekhar Das instead of dropping me to the school, and the doctor did not appreciate it at all. I clearly remember, he took me to the nebulizer kept on the table and after 15 minutes without writing a prescription asked my mother to drop me to school. She refused and he was forced to write me a medicine, it was Dabur's Honitus. It did not matter what medicine he was prescribing, for my mother, they were God's message for her son and nothing else mattered. I took my test and all I remember is I passed my paper.
I turned 12 and Dr. Chandrasekhar Das told my mother that she must start taking me to general physicians gradually. That was probably something she never imagined. Later I got to know why Dr. Chandrasekhar Das always had to say the final word when it comes to my health. The first child of my parents had a hole in her heart. Back then, my parents used to stay at Ambicapatty and they were Dr. Das' neighbour. He visited her frequently at our erstwhile home and had known her medical history well. Some doctor suggested my parents to take her to AIIMS and get her operated. AIIMS was then and is still now the best hospital in the country and my parents decided to go there. Dr. Chandrasekhar Das did not like the idea and insisted otherwise. Even today, in the month of November, my mother murmurs a couple of times, "Dr. Chandrasekhar had told us that she is too young to undergo surgery."
My late sister's name was Ankita Roy Choudhury. She had a successful surgery at AIIMS in 1988 but the next day she collapsed and became late Ankita Roy Choudhury. My parents did not return with their daughter from the capital and therefore no one, no other doctors, relatives or even my father ever thought of a second opinion in my case. Dr. Chandrasekhar Das had the final say!
By the time I turned 12, my skin disease was over, and I stopped getting regular asthma attacks. After 14, we only met Dr. Chandrasekhar whenever we had bumped into him somewhere on the road. When I turned 17, I got diagnosed with pulmonary tuberculosis. Lucky for me, I had just started coughing blood and the treatment started. It was panic for both my parents and not my mother alone this time. Believe it or not, while I was being treated by a chest specialist, my mother took me to Dr. Chandrasekhar Das to show him all the reports. He was not practicing that day as he was not keeping well, yet, he said, "Wait you have come all the way from REC, tell me what happened." He saw all the reports and said there is nothing to be worried about. He added, "This won't spread to others, so let him be…"
That was the last time I saw Dr. Chandrasekhar Das. As selfish we human beings are, I never even bothered to say hi or hello to him all these years. I moved to Maharashtra for higher studies and then got a job, but my visits to the doctors did not stop. Tore my muscle and was treated by the best sports orthopedic doctor in Pune, visited Kokilaben Hospital in Mumbai, Max in Delhi, Apollo in Kolkata and off late frequently to Surana and Tata hospital in Mumbai.
As I relive the moments spent at Dr. Chandrasekhar Das' chamber, it is the simplicity that separated him from the rest of the doctors I have interacted with. With respect to each one of them, they are somewhat intimidating. The robe, certificates screaming about the gigantic achievements, fluent English and high-tech-machineries, the sophistication…it's great that the healthcare sector is developing and getting modern, but somewhere we are losing the human touch. The way Dr. Chandrasekhar Das would check me with all his heart and then explain to my mother with all his patience is what healed me and cured my mother's obsession.
Dr. Chandrasekhar Das' simplicity was the sophistication and human touch was the biggest medicine. We, who grew up in your hands will miss you Sir, and so will the thousands of mothers who are living happily with their children because of you. Life is all about letting go, but what hurts the most is not taking a moment to say goodbye, I wish I took that moment out… today I regret. Wherever you are doctor, I am sure you would make that a better place.