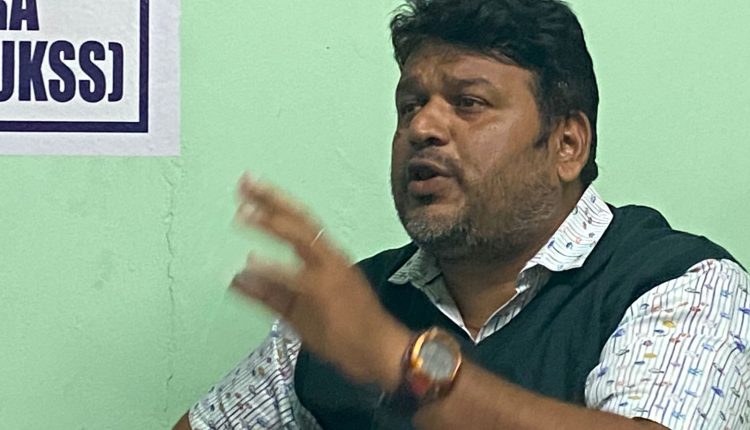 Silchar District Sports Association's general secretary Bijendra Prasad Singh, much like his cricketing career, decided to step out and lodge a counterattack. He has been at the crosshair of many, especially after the association under his leadership decided to cancel the voting rights of as many as 20 clubs and institutions for remaining inactive in sporting activities for at least two consecutive terms.
At the Barak Upatyaka Kreeda Sangbadik Sangstha (BUKSS) organised, 'Meet The Press' event, the general secretary opened up about the ongoing controversy. He said, there are many clubs in Silchar that remained neglected all these years, yet they were active in all sporting events as an associate member. In contrast, the inactive members were enjoying all the benefits of membership including voting rights. And when DSA, following its constitution, cancels the memberships of inactive clubs and institutions, there is this huge hue and cry; if the sports has to expand and flourish, all the associate members need to be accommodated.
Singh firmly stands on his decision, saying that there's no personal interest behind it. If it requires pursuing other avenues, Singh says, he would certainly do that. But the membership shall remain cancelled, and new members will be inducted into DSA to replace the canceled ones.
He also responded to questions relating to the Assam Olympic Association's general secretary, Lakhya Konwar. "He is intentionally putting a different angle on the incident," said Singh. Adding, "I never spoke any ill of Lakhya Konwar, never cursed him personally. Why is he accusing me then? I never demeaned personalities like Radha Gobinda Barua; I have high regards for these personalities, so why AOA secretary is bringing them into the row?"
He went on to say, "How Lakhya Kaur dared to threaten a reputed organization like DSA with letters? Has he forgotten Silchar DSA, established in 1957, by the contributions of personalities like Captain N M Gupta, Tuku Banerjee, Sunil Mohan Endaw, J C Das Gupta. How could Lakhya Konwar threaten us to remove the affiliation of Silchar DSA? He has slandered DSA, and I think other members of AOA are not aware of what is happening."
Lahya Konwar had told Barak Bulletin that Cachar Sports Forum might be an alternative to the DSA in an interview a few days back. In this context, Bijendra Singh said, "I welcome the statement of AOA Secretary, I would say why only Cachar Sports Forum, they should approve many other organizations too. Especially to Lakhipur, they have been active without approval for a long time. I am requesting AOA on behalf of DSA to approve Lakhipur."
Singh Informed that DSA responded to each letter from AOA since 2019 and worked according to their instruction. However, DSA didn't receive a response to the last letter sent to the AOA secretary. "We wrote a letter to the AOA secretary on April 29, 2020, to inform that DSA would not be able to hold the BGM and asked about their instruction, but we got no reply," Singh said. We are organizing the general meeting (AGM) adhering to the constitution; what was wrong with it? It was DSA's internal administrative affairs, yet AOA kept on threatening us," said Singh.
"I want to make it clear, AOA was our guide and will remain so. There is no discontent on our part because we were acting as per the constitution," Singh added.
Very recently, allegations were brought against the secretary of DSA that he avoided and ignored Local MP and MLA.  Bijendra Singh said, "We decided to honour MLA Dipayan Chakraborty and Lakhipur MLA Kaushik Rai on August 14. But Silchar MLA had to go to Guwahati on that day, and the program was cancelled. Silchar MP had attended a recent event as Chief Guest. So these allegations are baseless; whenever we will get the chance, we will invite all of them."