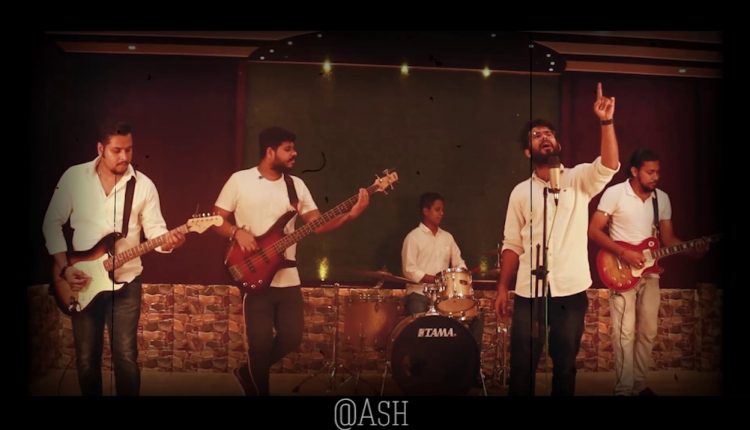 ERRUPTION band from Karimganj releases brand new single to pay homage to the Language Martyrs of the Barak Valley
May 19 is a day of historical significance to the residents of the Barak Valley. On that exact day in 1961, eleven proud Bengalis laid their lives near Silchar Railway station to protect their mother tongue and culture. Then 15 years later, on July 21, 1986, in another such conflict, Jaganmoy Deb and Dibyendu Das of Karimganj sacrificed their lives for the sake of the protection of their mother tongue. Both these incidents hold a special sentimental value to the people of all the three districts of this valley, and every year, through various social and cultural programmes, these two historical dates are celebrated all over the region by paying homage to the language martyrs of this valley.
This year, to commemorate and pay homage to the language martyrs of the Barak Valley, Bangla rock band ERRUPTION from Karimganj has released a new single titled '21 Tomar Amar' (একুশ তোমার আমার) on Wednesday, July 21. The song '21 Tomar Amar' is a tribute to the Bengali language martyrs of the Barak Valley in a revolutionary way. The genre of the band ERRUPTION is basically ballad, Bangla rock, and sometimes hard rock as well. But this time they tried something much harder and heavier, through this song of dissentient fervour expressed amid times of injustice and discrimination. Thus ERRUPTION has offered their tribute to the language martyrs of both May 19, 1961, and July 21, 1986.
The vocal duties were handled by Joyanan Bhattacharjee and Dr Moinak Das, the latter of whom also contributed rhythm guitar to the composition. Gourab Deb played the lead guitar part, whereas the bass and drum parts were played by Prosun Ghosh and Satyajit Roy respectively. In the past as well, ERRUPTION has released a song regarding the Bhasha Shahid Divas titled 'Muktiro Mondiro Sopanotole', which only goes on to showcase their deep sentiment and affection towards the language martyr movement of the Barak Valley.
The song '21 Tomar Amar' is available on both the Facebook and YouTube profiles of the band. While talking about the composition, guitarist Moinak said, "The basic motto of releasing this song is to showcase our gratitude to the Martyrs who sacrificed their lives to protect our language." The lyrics of the song was penned by Maitrayan Choudhury, who said, "This kind of arrangement was never done by ERRUPTION in early days. So, we are really hopeful that the people will like and demand such kind of own compositions in the coming days from ERRUPTION."
The recording, mixing and mastering of the song was done by Dr Moinak Das at the Sonic Wave Sound Productions in Karimganj.