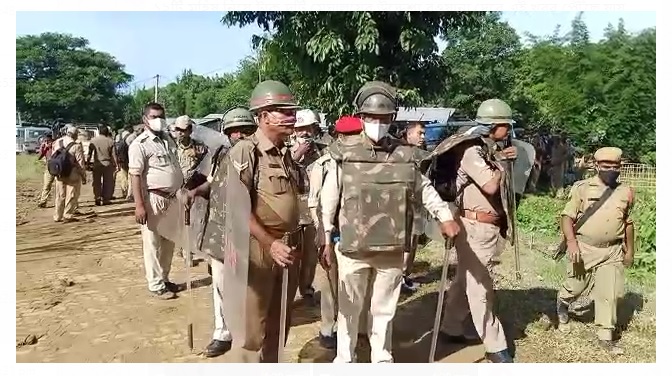 Grenade blast in Mizoram border; Miscreants attack Assam's delegation in Cachar, no reports of injury
Breaking news coming in from Assam – Mizoram border in Lailapur area of Dholai Legislative Assembly Constituency. Today, a top-level delegation involving ADGP Assam, Harmeet Singh, DC Cachar Keerthi Jalli, SP Cachar Vaibhav Chandrakant Nimbalkar, former SP Manabendra Dev Ray, and others visited the Lailapur area.
According to available information, Mizo miscreants encroached into the territorial boundaries of Assam and were obstructing men on the duty of construction of road from Dholai Dholakhal to Upper Painom. As the Assam Government's work was getting delayed, the top-level delegation visited to get the work done in their presence. Mizos obstructed them and a huge contingent of Assam Police officials pushed them to retreat. The Mizos, most of them civilians but guarded by a few armed men in uniform crossed a ditch and threw a grenade aimed at the officials of Assam. Attack was launched with slingshots too.
Multiple sources close to the development confirmed the blast. A delegate too said that the grenade attack was launched on the men of the Assam government but "luckily" no one got injured. It is worth mentioning here that a School at Upper Painom was bombed last year by the Mizo miscreants and then "DIG called it an act of terrorism."
The local police confirmed that the incident occurred within the territory of Assam and the situation remains tense. According to the police sources, the Mizos have encroached 6.5 kilometers within the territory of Assam. Officials in Dispur said that Harmeet Singh, ADGP is leading the eviction process and within a few days, the Mizos will have to retreat to their own side of the border that has been "earmarked and is sacrosanct."
When journalists reached the spot to report the incident, ADGP Harmeet Singh declared it to be a "no press zone". A reporter on the ground said, "Harmeet Singh instructed Police to barricade the zone and ensure no access is provided to the press. If someone filmed anything, Singh ensured the footage is deleted." Singh was not available for comment.
Meanwhile, following the bomb blast, the locals in large numbers started evacuating their localities with bags and baggage. "We will seek refuge somewhere. They are bombing during the day, there is no clue what they will end up doing in the night," said an old man who is leaving with his family members and cattle.