His photographs need no caption: Here's the story of Partha Seal to celebrate photography day!

"A photograph has picked up a fact of life, and that fact will live forever," said Raghu Rai, arguably, one of the best photojournalists India has ever produced. Picking up facts with meaningful compositions and making them immortal in Barak Valley is another Photojournalist Partha Seal. Yes, it is justified to mention him in the same paragraph that features the legendary Raghunath Rai Chowdhri.
Be it riot, conflict or visits of VVIP, Partha Seal is always there at ground zero. He comes out with the extraordinary click from an otherwise boring and ordinary event. What makes Partha Seal unique is what he sees through his viewfinder. When people are busy debating mirror-less or full-frame, Sony or Nikon, Rode or Boya, Seal presents his simplicity as his sophistication and stays out of the rest.
Seal's determination and love for work is what keeps him going. Despite the low print quality and poor colouring in Printing Press, Seal continues to stay associated with the daily broadsheet journalism. However, the advent of digital and popularity of social media has given another medium to express his art. His photographs not only pick facts but also promote bonhomie and brotherhood. He brings festive alive with his photographs and people fall in love with animals and birds as he captures them smile. His photos are real, honest and they need no caption. In an interview with Barak Bulletin's Jnanendra Das, Seal speaks about the art, intellectual property theft and his journey.
On world photography day, here is the story of Partha Seal.
Edited Excerpts:
Let's start from the very beginning. At what age did you first hold the camera and what motivated you to do so?
I appeared for the matriculation exams in 1986 and after that, I went to my aunt's (mashi) home in Haflong. Back then we had three months off after matric exams and I went to Haflong on a vacation. There I saw my cousin Biswajit Seal and his friends making a video film with big cameras, devices that I hadn't seen before. It intrigued me and I joined their team. This was my first confrontation with the camera. After three months, when I came back home, I bought a Yashica MF-2 and joined Sonar Cachar as a freelance photojournalist. It was a reel camera and one film had 36 shots, so I had to use it very judiciously.
Tell us a bit about photography back then and your initial assignments.
I was a student and worked for Sonar Cachar at the same time. My father passed away shortly after I passed matric and some pressure from the family came up on me. While working with Sonar Cachar, I also did wedding photography and covered some functions in the locality. Those were my sources of earning. It mostly went into buying films or developing them. Later, Sonar Cachar also started their cable channel and simultaneously, I also did video reporting for them. I freelanced with Anandabazar Patrika too. It was in 2007, I became a permanent staff member of Jugasankha. I also made documentaries and films for Doordarshan Silchar and Guwahati at different times.
How did you learn photography and camera? Was it purely experimental?
I don't have a mentor or guru who taught me the technicalities of the camera or photography. I learned on my own, experimenting with cameras and their settings. From time to time, I would consult with my cousin Biswajit Seal about framing. That's it. I am self-taught largely.
Was your family supportive of your decision back at that time? Did it change after you got married and now that you've children?
I won't say they were not supportive. I was doing it on my own, I didn't ask for help that much and to a large extent, I was never stopped from doing anything. I tried to support my family with whatever I earned from freelancing jobs. Right now, my twin daughters are the most supportive, they appreciate my work and it motivates me. At times my wife questions me and says I'm wasting money and that I've to get my daughters married. Then I ask her why do you watch Gopal (a daily soap)? She says, gives me relief and I learn a lot from TV; I reply to her the same, that my job gives me peace and then she's out of rebuttals (laughs).
Was the COVID pandemic whick locked everything down or scared people, harsh on you? What's your experience of photojournalism during COVID?
When the lockdown began, my daughters and wife warned me that I can't go out in such conditions. Initially, I agreed and stayed at home. After three days, I had chest congestion and several other problems. I had to consult a doctor, who was known to me. He suggested ECG and several other tests. I had severe gas. The doctor then said, maybe staying indoors isn't for you. The very next day, I went out taking all the precautions with my media pass. I saw pictures which devastated me. In Srikona, there were several monkeys, who would survive on the left-out vegetables from the daily market but due to lockdown, they were starving. I fed them for many days, that was a relaxing experience.
How were the two recent waves of floods?
The flood was brutal for everyone, including me. But I went out to click photos because it's not just my passion, my daily job as well. I tried to portray various perspectives which I saw in different flood-affected areas of Barak. One such photo is where a sadhu draped in red was being helped by a Muslim man with his raft. I was actually going to take another picture but on the way, I saw the scene and since I am always ready with my camera, I could get the shot.
How do you time your photos with such perfection? 
As I was saying about the earlier picture, it is a matter of luck as well and one has to be very aware of his surroundings. Eyes and ears should be on high alert, like a deer. Some of the photographs are planned and some photos are just a matter of keen observation. Nature has a lot to offer and you can't set nature's mood, it acts on its own and you've to be ready. Some photos take long hours, so it is a matter of patience as well.
What is the objective behind your picture and what motivates you to press the shutter?
I believe photos tell stories, there can't be photos without stories. My objective is to tell stories and provide messages through them. Through some pictures, I try to raise awareness like water wastage, the friendship between humans and animals and different images connected to the history of Barak Valley and my town Silchar. I talk to people whenever I go out to click pictures and I try to bring out stories based on those conversations. Many people say that my photos are sad and I agree it is. Sadness is also an emotion and for a storyteller it is as important as applause.
How does the daily routine of Partha Seal look like when it comes to photography?
I don't think there is any routine when it comes to my photography. I have an office and report there on time and take note of all the assignments. I am someone who doesn't like staying at home or indoors for long hours. I go out with my camera and I have this habit – I don't tell at home where I'm going. I go out unannounced because I don't want to be disturbed by anyone while at work. I roam around from place to place, village to town. I talk to everyone on the way and that's my only routine. You need to hear the people and their stories. But other than photography, I have a strict routine. Every night, I go on a walk from 10 to 11 and then I take a shower, watch the news, have dinner and sleep at 12:30ish. Doesn't matter if I go home at 6 or 7 in the evening. This routine is fixed.
So is it safe to assume that you are a very disciplined and punctual something that is rare among creative gems?
Yes, you can say so. There is a story behind this as well. When I started initially after matric, I used to do wedding photography for side income. One day I had two projects. One was supposed to end at 4 PM and another was supposed to start at 4:30 in the evening. The first client did some delay with the function and I got late. When I reached the second client's wedding venue, there was absolute silence. It was a bit weird for me to see such silence at a wedding. I rang the bell and the client came out and asked what I was looking for. I said I came to take photographs of the pre-wedding day. The client asked me to return as the event was over. I was late. It shattered me to the core. I was wearing an HMT watch with a golden chain. I was so disappointed that I opened the watch and threw it away. To this day, I don't wear a watch but I'm never late, rather reach 5 Minutes ahead for any appointments.
Tell us a bit about your struggle in the early days, both professionally and personally?
I don't like recalling those days much. It makes me very emotional. After my father passed away, things became a bit difficult. I had responsibilities as I had younger siblings to look after. I had a very simple life, with hawaii sandals and old clothes, back then we called them Bangladeshi clothes. We had a friend Abhi, who would sell these clothes at a discounted price and there was a tailor, where I went for fitting. He charged five rupees per trouser or shirt. That was my life in early days. To this day, I live a simple life. I am glad that my daughters also got this trait and I am very proud of them.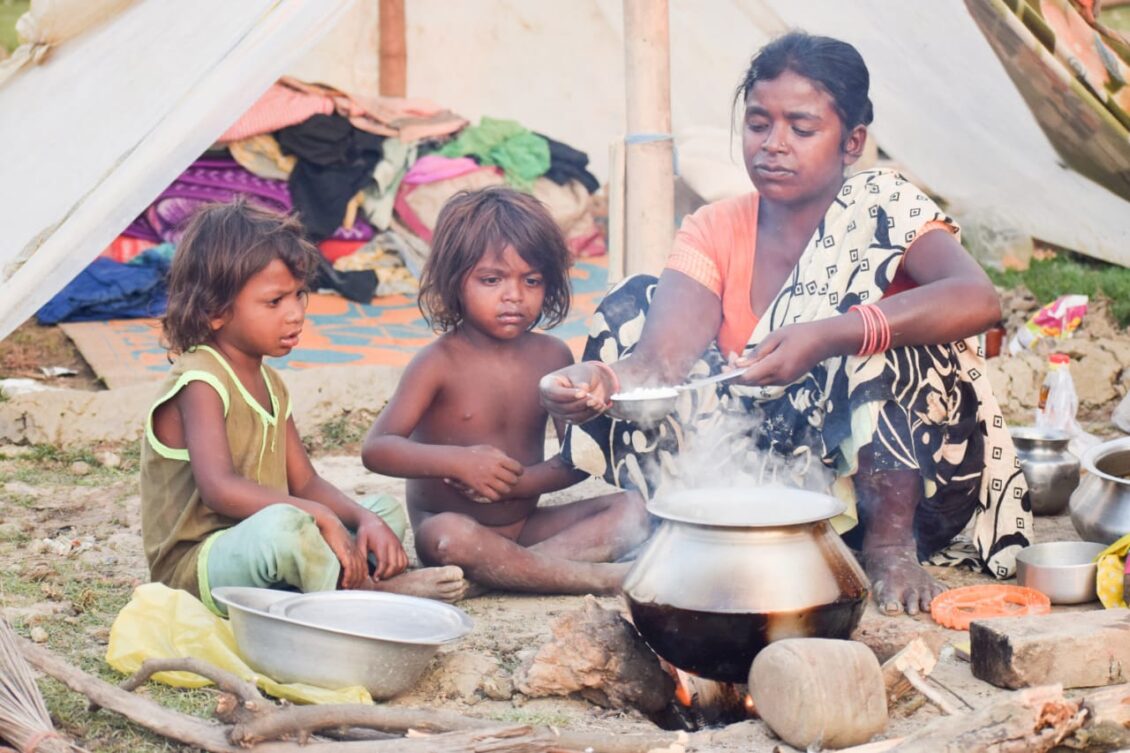 How does it feel to see your photos displayed in national and international exhibitions and magazines?
I will be honest, it makes me happy to be recognised. I don't run after money but these recognitions make me very happy. But it also makes me sad at the same time because those magazines highlight stories about my Barak Valley but my Barak doesn't highlight such stories. Photojournalists are never given the recognition they deserve. Many pages and even established newspapers publish my photos without asking my permission and this is stealing intellectual property. I wish the people of Barak Valley also gave equal importance to the place where they grew up.
You've been on the field for over 30 years and you've gained a lot of experience, would you like to pass on the wisdom to young talents?
No. I don't want to share this knowledge. My thinking is very outdated and I don't think young people have the same mentality as me. My past experiences were not that good where I had to work with new people in the field of journalism. But I would like to give them a message, keep your eyes and ears open and you'll find perfection. No one can teach you storytelling, it is an acquired art. Respect the place from where you belong, be rooted and highlight stories from this place. People don't want to learn about the history of this place, but if we don't document it and preserve it, the glorious or horrendous chapters will all fade to oblivion and history will get distorted?