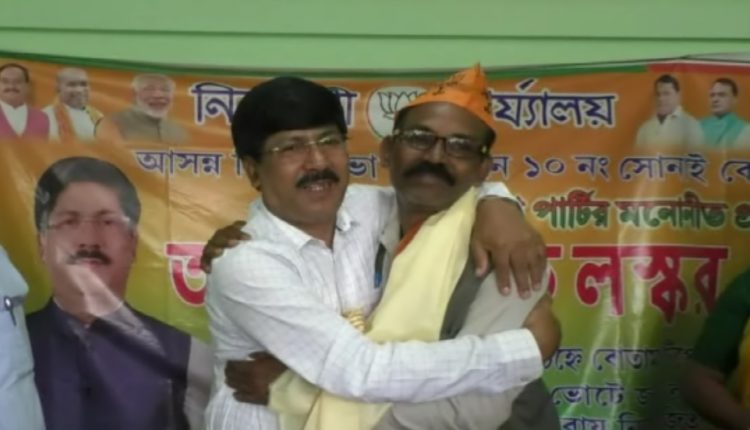 Holding Aminul Haque Laskar's hand, Ind candidate joins BJP after filing nomination; "Saw lotus in my dreams," he says
Former GP President from BJP, Dilip Kumar Das who is popularly known as Dulu Das had resigned from the party in 2018. He had asked for the Zila Parishad's Ticket which the party did not trust him with. Dejected by the snub, Das went on and resigned from the party. A popular figure in his Panchayat, Dilip Kumar Das decided to contest the general election to Assembly independently.
With his followers, he went to the election office and submitted his nomination papers. After scrutiny, his nomination to contest in the Vidhan Sabha election got accepted. He got Slippers (sandal) as his symbol and was campaigning in his constituency to secure votes. However, on Friday, he walked into a BJP office near Fakirtilla (NIT) holding Sonai candidate Aminul Haque Laskar's hand and joined the BJP.
Wearing BJP's sidecap, he held his hand over fire, chanted Bharat Mata Ki Jai and then urged his followers to not vote for him. Deputy Speaker and incumbent Sonai MLA, Aminul Haque Laskar walked up to the stage and asked Das to sit next to him. "Do not vote for me," said Das. He added, "I urge each and every voter who loves me, respects me, to must cast his/her vote for Aminul Haque Laskar."
In Sonai, BJP's Hindu vote is getting divided as a seasoned party-worker Ashish Haldar resigned to contest independently. Viswa Hindu Parishad, Hindu Samhati, and many other Hindu organisations extended their support for Haldar. Dilip Kumar Das was also rebelling on religious grounds, it seems Laskar has managed to bring at least one by his side.
Though for Dilip Kumar Das, the reason is entirely different. "After my nomination was accepted and I got my symbol, I started having sleepless nights. I saw lotus in my dreams. That is what made me realise that in this battle I am going to hurt my own people, my own team. So, I have changed my mind and decided I will campaign for Aminul Haque Laskar instead," said Das.
While it is common that the candidates leave no stone unturned while asking for votes, Dilip Kumar Das is definitely one of a kind, who is asking people to not vote for him. Election 2021, is certainly uncertain.