Immersion begins in Silchar's Sadarghat, 125 sets of idols permitted on day one
It is a bright sunny day in Cachar and the immersion process has begun in Silchar's Sadarghat. On day one of the immersions, 125 sets of idols will be immersed in the Barak river. The ghat is well cordoned by NDRF Jawans and Assam Police officials
"Today, 80 puja committees and 45 residential Durga Puja organisers have been granted permission for immersion. Till 1:30 pm, 35 sets of idols have been immersed. A few organisers reached the ghat without permission and we have allowed them to immerse idol too," informed the officials from the district administration.
The District Disaster Management Authority is in charge of managing the immersion. They have involved the National Disaster Response Force. H Praveen Gulabrao, Officer of NDRF said that a team along with four life-saving boats have been deployed. "We are here to ensure a quick response in case there is an accident. There is a deep-diving team too," said Gulabrao.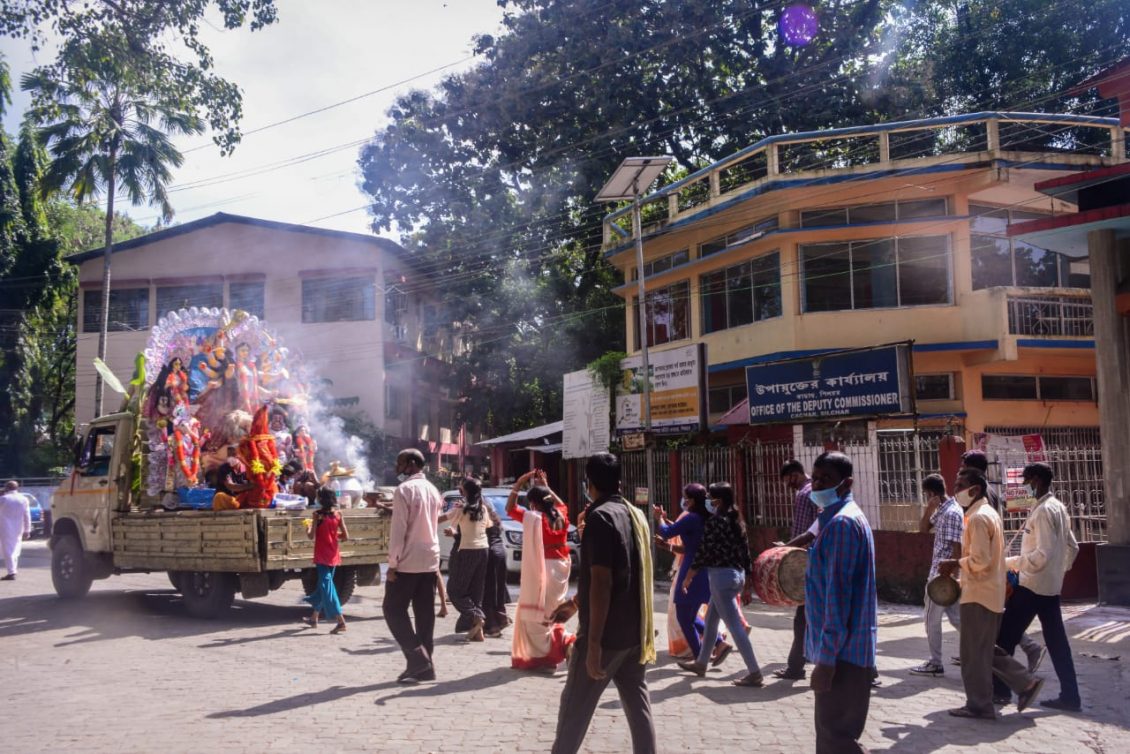 It is worth mentioning here that the Department of Health in its SOP had mentioned that no more than five individuals will be allowed in the immersion. The SOP had strictly prohibited processions, however, on the ground, there is a procession with each set of idols and most of the devotees are without masks.
"If we see a mass congregation of people, we stop them at the gate and then only allow a few people to enter with the idols," said the officials from District Administration deployed at the gate of the Ghat.
The president of a Puja Committee said it is practically impossible for five people to carry the idols to the Bisarjan Ghat from the gate. "See, we understand the protocols and appreciate the safety measures but it is just impossible for us to follow all the guidelines. For example, if they want only five of us to enter then they should help us with manpower," he added.
Keeping the COVID guidelines aside, the immersion process is going on peacefully. "People are on the roads but it is not like previous years. The number of people marching with the procession is fewer than what it normally is. There is no stopping, each and every Puja Committee is on the move towards the ghat. The people of Silchar has shown signs of responsibility, however, masks are missing," said our correspondent covering the immersion.