Indian Express rewards former Cachar DC S Lakshmanan for his "Debo Na Nebo Na" initiative
In the recently held Good Governance Awards, an Indian Express biennial event, the finest work done by the women and men at the forefront of governance and change across the country were celebrated.
15 district magistrates out of 249 entries received from 84 districts in 24 states were rewarded at the event. The mementos were handed over by four Union Ministers—Nitin Gadkari, Ram Vilas Paswan, Ravi Shankar Prasad, and Jitendra Singh.

The winning entries include projects like a cluster of solar panels installed on a hillock as an alternate energy source; a neo-natal unit in the heart of Maoist territory and an anti-corruption drive along the international border.

In the Border Districts category, the jury adjudged former Cachar deputy commissioner, S Lakshmanan as the winner for his 'Debo Na Nebo Na' (neither will I bribe nor will I take a bribe) initiative.
Debo Na Nebo Na, as explained in the entry is, "An Anti-Corruption Movement along with Mobile Phone Application launched by the District Administration Cachar, Silchar." The entry stated that the project was launched in May 2017 and since then, authorities say, 13,075 complaints were registered through phone calls, 30,000 through forms dropped in drop-boxes and 472 complaints were received through the app.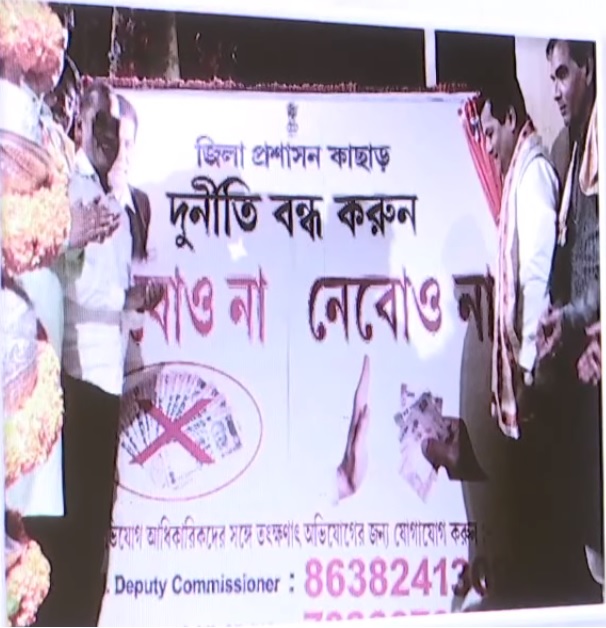 "The simple motive behind the project is to ensure that there is no absence of facilities to communicate about a corrupt practice or its possibility immediately from the point of occurrence," S Lakshmanan former deputy commissioner of Cachar district was quoted by Indian Express.
Drop-boxes are placed outside offices of all government departments in the districts. Posters promoting the campaign adorn the entrance area of most offices.
Here is the full list of winners as released by Indian Express
Kartikeya Misra (Skill Development and Left-wing extremism district)
Sandeep Nanduri (Implementation of Central schemes)
Ayyaj Tamboli (Health)
Astik Kumar Pandey (Community Involvement)
Raj Kr. Yadav (North East districts)
Vivek Yadav (Energy)
Dr. A.Sharath (Education)
Tukaram Mundhe (Technology Implementation)
Dr. Prashant Bholanath Narnaware (Agriculture)
C. R. Kharsan (Inclusive Innovation)
Rakesh Kanwar (Social Welfare)
Dr. Madhavi Khode Chaware (Child Development)
Ashish Saxena (Women Development)
Dr Shahid Iqbal Choudhary (Jammu and Kashmir districts)
Dr. S. Lakhmanan (Border districts).