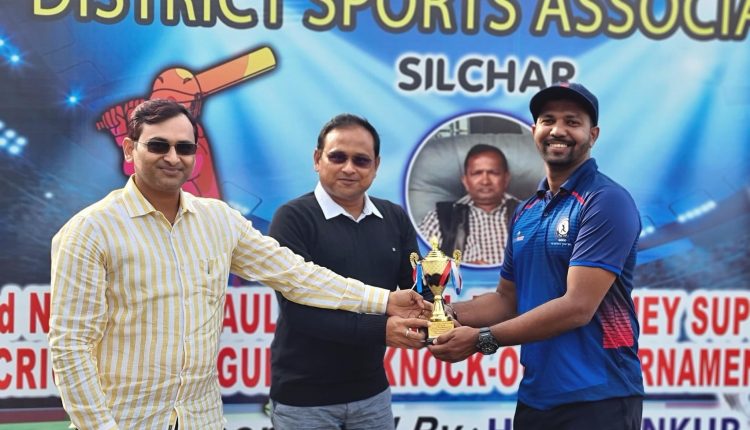 Itkhola secures third consecutive win; Defending champions United Club loses three in a row
0,0,8,3,8,0… this is what the top order of United Club managed to put on the board before in their match against Itkhola AC. Playing their third respective match of the Super Division championship organised by Silchar DSA, Itkhola won the toss and their skipper Samik Das asked United Club to bat first.
Two times champion, United Club is missing their star batsman Raju Das for sure. In his absence, last year's player of the season, Sukanta Dey is opening the innings for United along with captain Masarob Hussain. It is not working! Both of them returned to the pavilion without opening their accounts. Wachir Ahmed scored 8, Prasenjit Sarkar scored 3, Ambar 8, Anubhav Das 0. 19 for 5, 28 for 6 and at 59 for 7, it looked like United won't cross the 100 mark. However, batting at number 7, Sanjib Dutta (48) stitched a partnership with Abhik Lala (24) and took the team's total to 113. Mantu Das picked up three wickets while Samik Das and Sudarshan Sinha bagged two each.
It needed a miracle for United to stop the in-form Itkhola AC from sailing to 114. Subhajit Paul (3) got runout early but Aman Singh (29) and in form Sunzow Bramha (33) took the team closer to the target. Captain Samik Das who is experimenting with the batting lineup by trying himself in different positions batted at number five. He scored a 20-ball 39 to seal the third victory for Itkhola AC. Vivek Yadav got two wickets and was the only bowler to taste any success.
With this win, Itkhola AC seals their berth in the semi-final. On the other hand, with only two matches in hand – one of which is against the mighty India Club, defending champions might just have to fight to escape relegation. On December 31, India Club will take on Town Club and kickstart their Super Division campaign with the derby match.