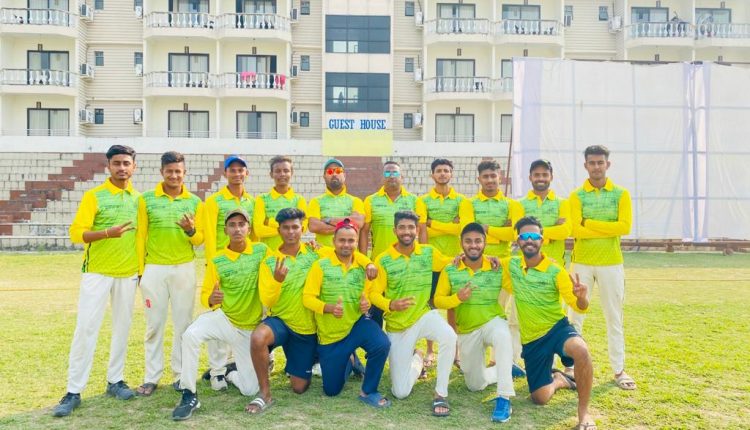 So far, Silchar has performed consistently in the JK Barua Trophy Inter-District Under-19 Cricket. The middle order and lower order were performing well even though they did not get much run from the top order. Though the top order failed in the final round at Golaghat, Silchar scored big against Guwahati and Dhemaji. However, at the most important juncture of the tournament, the batsmen of Silchar were extremely disappointing. On Monday, the first day of the J K Baruah cricket final, they showed poor performance against Nalbari. As a result, Nalbari is in the advantage position at the end of the first day. On stumps, their score is 94 for the loss of one wicket. They are 96 runs behind Silchar's first innings score and have 9 wickets in hand.
Silchar decided to bat first after winning the toss this morning. Earlier, the boys of Tathagata Debroy had taken the same strategy against Guwahati and Dhemaji. In the final, Silchar made a great start. It seemed that they would score a huge first innings score once again. Two openers Pervez Musharraf and Dibakar Goala were batting in a very good rhythm. However, Musharraf (35) brought his own downfall while trying to sweep and Silchar lost their first wicket for 63 runs. And that was the beginning of their downfall. Then they started losing wickets at regular intervals. Dibakar was dismissed for 32 runs. Left-handed Krishanu Dutta (7) also disappointed. Aman Singh (21) and captain Shubhajit Paul (8) threw their wickets away after playing bad shots.
Roshan Tapno was in great rhythm at the other end even though wickets were falling from one side. He scored a brilliant half-century (56). However, as soon as Roshan returned to the dressing room, the hope of Silchar's big innings also ended. Eventually, they were all out for 190 runs. Nalbari's Nihar Deka (5-58) bowled really well. Besides, Sandeep Rabha and Rahul Kumar Thakur took two wickets each.
The match for Silchar is not over yet. If a few wickets can be picked up quickly in the first hour tomorrow morning, Shubhajit's boys will return to the fight. So far Nalbari has batted positively. They have already scored almost 100 runs in 22 overs. So to turn around from here and make a comeback, you have to play aggressive cricket tomorrow, which Tathagata Debroy accepted. "Our batsmen have failed in their duty," he said. However, the match is still a long way off. Fate was not with us today, otherwise, we could have easily taken four or five wickets. Anyway, that is now a thing of the past. Tomorrow morning we will jump for the wickets."