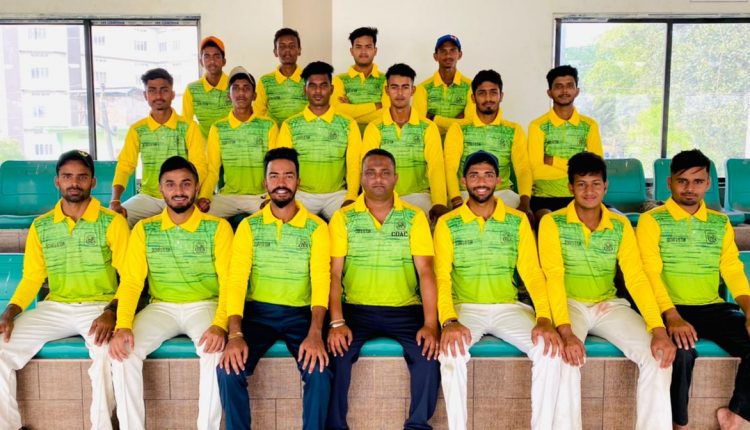 The stage for victory was already set yesterday for Silchar, hence only the finishing touches were left to do on Tuesday. As expected, coach Tathagata Debroy's boys got done with the job pretty effectively. With that, Silchar went one step further towards the J. K. Barua Trophy U-19 Inter-District Cricket Final. Now, the only obstacle in front of them is Dhemaji. Silchar will play against Dhemaji in what has now seemed to be a semi-final match on March 26. The winners will qualify for the final from this group.
On Tuesday in the first match of the final round of the J. K. Baruah Trophy, Silchar beat Guwahati by first-innings lead. They were already in the driver's seat at the end of the first day at Golaghat against Guwahati. On Day 1 stumps, Guwahati was struggling at 26 for two wickets. They were still trailing by 364 runs behind Silchar's first innings score. It was very difficult for Guwahati to take the lead over such a huge score, which is exactly what happened. Guwahati was bowled out for 246 on the second day on Tuesday.
Guwahati's first innings concluded at around 2 pm, resulting in a huge lead for the Silchar team. Hence, the situation of the match indicated that Silchar's victory was inevitable. As a result, the two umpires ended the match with the consent of the captains of the two teams. With that, Silchar was declared the winner on the basis of 1st innings lead.
Silchar's right-arm off-spinner Parikshit Banik bowled brilliantly on that day. Playing under-19 inter-district cricket for the first time, he made it memorable by picking up 6 wickets against a tough team like Guwahati. His bowling figures were 26-10-49-6. Another spinner of Silchar, Pervez Musharraf took 3 wickets. Guwahati's Rohan Hazarika scored a brilliant century even though he could not help his team overtake Silchar in terms of runs. In the lower order, Rakesh Das (25) and Pala Karunakar (19) fought really well. Guwahati was able to hold onto the match for so long mainly because of these two lower-order batsmen.
Silchar coach Tathagata Dev Roy is very happy with the boys' performance. He told Barak Bulletin that he was happy to leave the field with a win against a formidable team like Guwahati. "The boys performed really well. Especially, Parikshit Banik's performance deserves special mention. What a great spell it was. Simply unplayable."
Tathagata further said that even though he was happy with the team's batting and bowling, the fielding did not make him happy at all. "I think we could have won the match directly. But it was not possible mainly due to bad fielding. We missed three or four catches today. Otherwise, they could have been all out earlier. We have to pay special attention to this department before the Dhemaji match."