Kali Pujo theme of the Apostle Club Malugram "The role played by the frog in maintaining the environment"
Kali Puja of Apostles' Club of Malugram is always a special attraction to the Puja visitors of Silchar. For the last few years, they are working on environmental awareness with their Puja theme. This year, they do not burst fire crackers even in their Puja pandal.
This time the theme of Kali Puja is that, 'there is a huge role played even by the small animals like frogs to maintain balance in the nature. Club President Satyajit Dey, Secretary Sanjay Debroy, Advisor Parthankar Choudhury and Office bearer Sreekishan Das spoke about their Pujo plan in a press conference yesterday.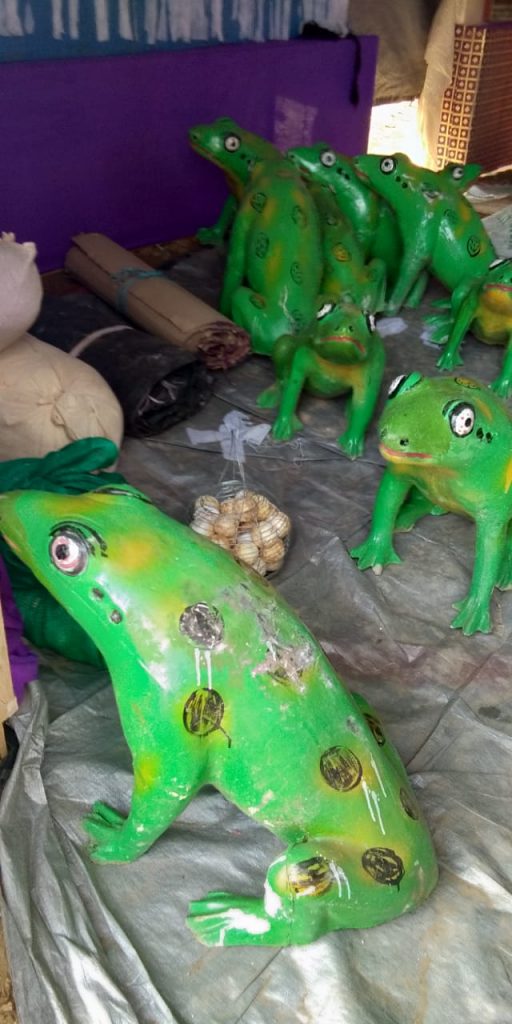 Advisor Chowdhury, professor of the Department of Environmental Science, Assam University, said, "Although frogs are a small animal, it is called 'thermometer of the environment.' There are many insects on the earth, frogs survive on these insects and protect the environment. This truth will be presented to children through this theme. Secretary Sanjay Debroy said in this context, "This Pujo of Apostle Club, which has been completing 30 years, has prepared big garden in the Mandap premises. The laser show will show how frog helps to maintain the balance of the environment by eating insects."
The idol is being made according to Scriptural rules; Panchanan Debnath, the artist from Nabadwip West Bengal, is going to make this theme a reality. Nabadwip artist Ajay Barman has been working to implement LED lighting works. Puja budget is 6 lakh. Sandipan Endow, advisers of Pujo Committee, said that the Apostle Club is always trying to create awareness about noise pollution and will not burst firecrackers in the pandal premises.