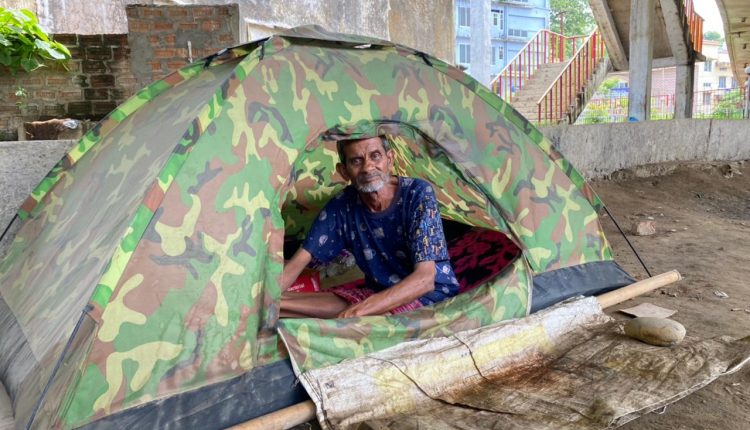 Relatives everywhere but yet he lives inside a tent right under the Sadarghat bridge in Silchar. His name is Arabindo Paul. Throughout his life he lived with his family in Gopal Paul's house in Panpatty. Gopal Paul is his maternal grandfather, who donated the house to his mother where he stayed with his brother. He got married, is father of a son and daughter. His mother died and misery hijacked his life.
Arabindo Paul got kicked out by his elder brother. He started living at a rented house. All his life he ran a pan shop with his brother. Then after his brother kicked him out, he became a hawker and started selling stuff roaming here and there. His wife died, daughter got married to the man of her choice and left him. His son Ajay Paul works as a driver, also got married and started living with his mother-in-law.
"Whenever I go to the motor stand or his wife's house, he misbehaves with me. Abuses me. He shooes me away calling me a swine. His behaviour hurts me more than the situation I live in," Arabindo Paul breaks down into tears.
The tent he lives in was provided by an NGO. He has no source of income and after hurting his leg, he finds it difficult to walk around. "Many times I thought I will simply jump into the river. Despite having so many relatives all over the city, I live by the road. I don't even get to eat three times a day. More than my poorness it is the insult that pains me. I am a broken, betrayed man," Arabindo Paul adds.
People he sold pan to or the ones who saw him grow up helps him. The food comes from passerby. With lockdowns now imposed, there is a total ban on the movement of individuals. The lonely man is all the more deserted. "Now there are no passerby so no food. There are boys from NGOs who come every now and then and provide me some food. Sometime I sleep hungry," Paul adds.
His daughter never looked after him nor did he ever try to reach out to her for help. He used all his savings to pay off his son's loan at Bandhan Bank. "He came and took money from me so many times. I gave it to him too as he is my son. He took the money from me and gave it to his mother in law. Now, he cannot even tolerate my shadow. My niece and nephews also took money from me and I happily gave it to them. However, when I didn't have a place to live, they refused to spare a bed for this old man," shared Paul.
His son, Arjun Paul left him a phone number. Today, that number was initially switched off and then it went out of network coverage area. "Maybe, he has changed his number and won't give me his new one. I know his colleagues in the Lakhipur traveler stand. Gone there a couple of times. I think his mother-in-law has motivated him against me. Otherwise, why would my son behave like this with me," Arabindo Paul survives with the hope that his son still respects him and somewhere has a space for him in his heart even though not at his home.
Recently, Arabindo Paul went to meet his brother Dilip Paul at Gopal Paul's house from where he was kicked away. "I needed my NRC paper. I got to know that my name has made it to the National Register of Citizens but didn't get the paper. My brother refused to give that to me. I got it printed from the store by myself," informs Paul.
Before moving under Sadarghat bridge, he used to live on the footpath near the Silchar Sadar Railway Station. It has been six months he is living under the bridge. No house, no relatives, just a tent, a walking stick, broken leg and disturbed mind. 15 days back, he found a companion. On a handcart, three-four individuals wrapped an ailing old man with newspaper and threw him next to Arabindo Paul's tent. "I asked them what they were doing. They told me that they are keeping a man and they simply went away. That man was ill. Yesterday, he died here under the bridge," said Arabindo Paul.
That man was 65-year-old Gopal Dhar. A resident of Kumarghat, Tripura. Local Police recovered his dead body yesterday afternoon. As per the conversation Paul had, Gopal Dhar used to work as a cook at one of the hotels. When he fell sick, the people of that hotel threw him under the bridge.
Arabindo Paul says his poverty or state of living is not what keeps him awake. He does not even want to shift to an old age home. "I just want my son to behave nicely with me," he says. Arabindo Paul concludes, "I am not the only one, there are many like me all over the city."