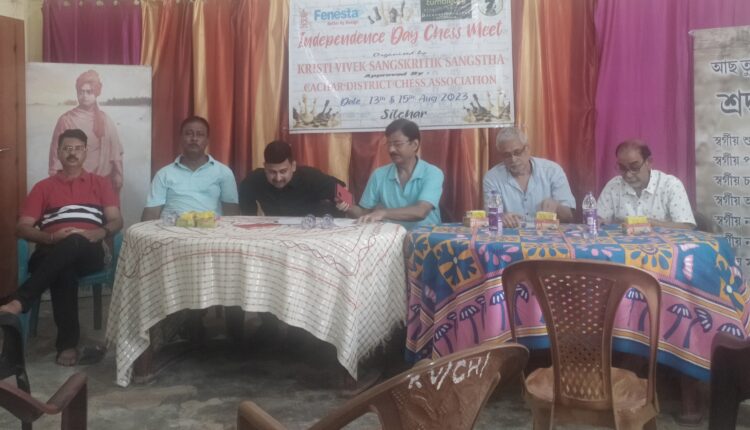 Kristi Vibek Sangskritik Sangatha, a socio-cultural organization of Silchar is going to organize the 4th edition of Independence Day Chess Meet on 13 August and 15 August, 2023. The organisation always promotes sports as a healthy way of life particularly among youngsters. The tournament has earned a niche for itself among sports lovers of Barak Valley and the past three editions held in 2018 2019 and 2022 were met with overwhelming response.
This year the Independence Day Chess Meet, jointly organized by KVSS and Cachar District Chess Association, will be an inter-school competition. The champion school will be awarded with the Sudhanghsu Mohan Dutta Memorial Trophy along with a cash prize of 3,500 rupees. The runner up school will receive the Paresh Chandra Chakraborty Memorial Trophy besides a cash price of 3,000 rupees. A special Open Group competition will also be held which is open to only FIDE rated Chess players and those who are above 16 years age. The first, second and third prize winners of Open Group will receive 2000, 1500 and 1000 respectively. The fourth and fifth position holders in Open Group will receive trophies. Apart from that a Women's Category competition will be held eligible for interested women above 16 years of age.
The competition to be held in the Swiss League format invites participants in the Under-9, Under -13 and Under -16 age groups in the interschool level events. The first, second and third position holders in all the categories will be awarded trophies along with exciting goodies. All participants will be handed over certificates and medals from the organizers.
List of Prizes
Under-7 Rudranrayan Sengupta Memorial Prizes Under-9 Chandan Malakar Memorial Trophies Under-13 Nabendu Das and Arati Das Memorial Trophies Under-16 Bibharani Bhattacharjee Memorial Trophies Open Group First Prize Ratna Dey Memorial Trophy 2nd, 3rd, 4th and 5th Prize winners will recieve Narendra Chandra Memorial Trophies Emerging Talent, Best Rookie Chess Player, Best In-house Talent: Sukhendu Bikas (Bhanu) Shome Memorial Trophies,
In the press conference General Secretary Biswajit Dutta sought everyone's cooperation to make this competition a success, Sports Secretary Nirmalya Chakraborty highlighted various aspects of this competition.
Shibabrata Dutta, President of District Sports Association, Silchar and advisor of Kristi Vivek, described the history of chess in the light if ancient traditions of India.
Fenesta is the title sponsor and tumbledry is an associate sponsor of the tournament