Maa Durga holding D voter placards, searching for land; "She had to flee her country once," Kolkata's NRC theme Pandal
South Kolkata's Barisha Club in Behala is acclaimed for hosting Durga Puja with unique and thought-provoking concepts; they reflect on contemporary socio-political and human rights issues in their Pandal and the idol of goddess Durga. This year, Barisha Club stepped on its 33rd year. They portrayed the perpetual fear of statelessness, loss of legal citizenship, and becoming a refugee under the Government of India's highly contested process of National Register of Citizens (NRC) that has been executed in Assam.
"We do not merely organize the festival only for entertainment and refreshment purpose, we believe, we have a social responsibility to address the critical social issues that need attention and try to take it to the larger audience," says the president of the Puja Committee.
This year, Barisha Club placed their symbolic idol of Dugra inside a rusty iron cage; a miniature idol of Durga can be seen on the lap of a mother accompanied by her children in a metaphorical 'No-men-land' somewhere along international border of India and Bangladesh. The Goddess is portrayed as a mother with her children being taken to a 'Detention camp in a truck where other household remains can also be seen. The goddess is named 'Bhaager Maa' (Divided mother). The idol of the goddess is symbolic of the plight of countless mothers who have had to leave their dwellings and head for uncertainty.
The scars and trauma of partition are very much alive in the collective memory of millions of Bengalis whose lives were changed forever after the partition. The events of partition are marked and remembered with the trauma of mass exodus, communal pogroms, loss of property, family, and kinship. The NRC, detention camps and the chain of events in Assam only scratched the wounds of partition.
As, while talking about the concept of this year's theme, Sudip Poly, president of Barisha Club, said, "Our concept is rooted in a legend about King of medieval undivided Bengal Ballal Sen (13th CE), the King saw an idol of goddess Durga in a dream. The King then discovered the idol of durga in a forest, made of Astadhatu (an alloy of eight metals), which was covered in clothes. The King then established the idol in the city temple and named it goddess Dhakeswari (as it was discovered covered in clothes); that's how the city of Dhaka got its name, and the temple still exists in the modern city Dhaka in Bangladesh. But when India was partitioned in 1947, the descendants of Ballal Sen shifted to India, and they carried the original idol of goddess Dhakeshwari along with them. The idol was then placed in a temple in Dinendra Street at Kumartooli, Kolkata."
He adds, "Now, the way the Government of India is planning to implement NRC and CAA, is nothing but creating a partition-like scenario again. We drew an analogy that goddess Durga had to flee her country once, now are we heading towards the same fate again? We have decorated the backdrop with dangling dusty portraits of peoples looking for land documents, legacy data, barbed wire fence, and people holding D voter cards. They are helpless, unsure about where to go and what is to be done; this is a crisis of existence. We tried to convey the fact that with all of our helplessness and struggle for existence, somewhere our mother (goddess durga) is also helpless and clueless like us."
Certainly, the issues that Barisha Club portrayed in their concept Puja are also part of lived experience and present history of people Assam and Barak valley. Terms like Detention camp, D voter, Legacy data, citizenship is not unknown to the people of Barak valley and Assam. NRC has Assam excluded 19 lakh from the newly updated citizenship register. Many have been detained and sent to the detention camps before the publication of the draft, infant-bearing mothers to physically disabled individuals to the century approaching old-aged man; no one was spared from the wrath of NRC and state machinery.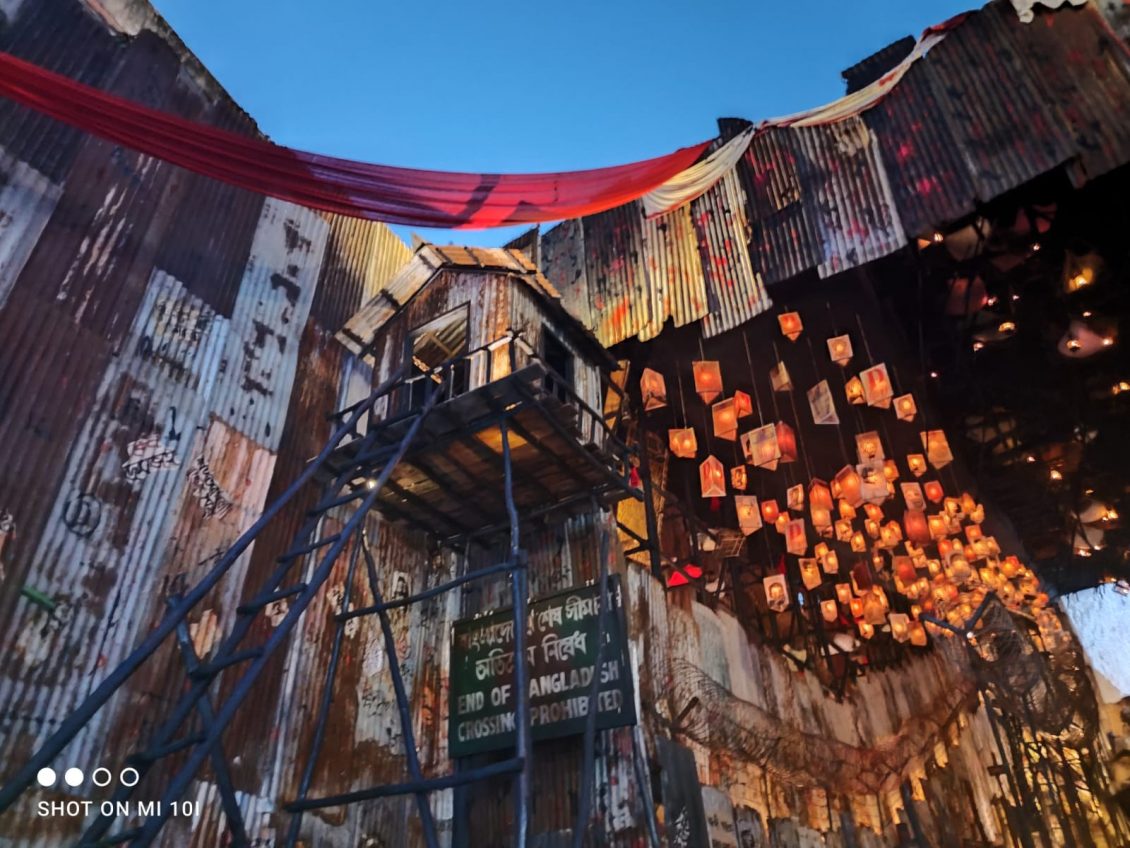 On being asked about the fact that Kolkata and Bengal intelligentsia's silence and indifferent attitude on issues of discrimination against Bengalis in North East, president Sudip Polly said, "We don't agree with this statement; we never kept silence on any incident of Bengalis not only in north east but anywhere around the globe. We have taken this critical crisis to our Puja theme, which is noted by the global media like 'The Guardian', one Human Rights team from Europe will visit our venue tomorrow. We are doing our part responsibly."
Rinku Das is the art director this year, and the sculptors of the idol are Debayan Pramanik, Pratap Majumdar, and Sumit Biswas, students of Government College of Art and Craft, Kolkata, Sudip Polly informed Barak Bulletin.
Their puja has already attracted the focus of netizen. It is being widely discussed and circulated on social media platforms too. This has also drawn irk from the conservative sections. "We are not afraid of any intimidation, we will do our puja the way we want," said Polly.
Bharat Chakra Sangha Puja committee in Dum Dum has been summoned by a legal notice for hurting religious sentiment on the plea of a local lawyer, this club made their theme depicting the ongoing farmers protest against three farm laws enacted by the central government.